In honor of the beginning of Advent (which was yesterday for my family), I am posting kid-friendly Christmas traditions all week this week.
I love traditions. I love predictability, knowing exactly how things are going to work. It's just my personality.
When Grace was born, Joe and I began traditions for our little family.
I asked Joe what traditions we honor in our family, and he said, "I don't know. We put a tree up."
Men.
Gifts from Momma & Daddy
On Christmas Eve, our children get two presents from Joe and I. One of those presents is a new, special pair of Christmas pajamas. The other is a toy or game.
This year, Grace saw a laser light thing that she really really wanted, and we agreed to buy it for her as her Christmas Eve gift from us. She thought that was a nice idea, and she's been using it every night since. The empty box will be wrapped under the tree. I hope it goes over well when Christmas Eve comes around.
3 Gifts from Santa
This tradition has changed each year, but we've finally settled on something that will stick.
I think.
For Grace's first two Christmases, we attempted to stick to 5 gifts.
Does this look like 5 gifts to you?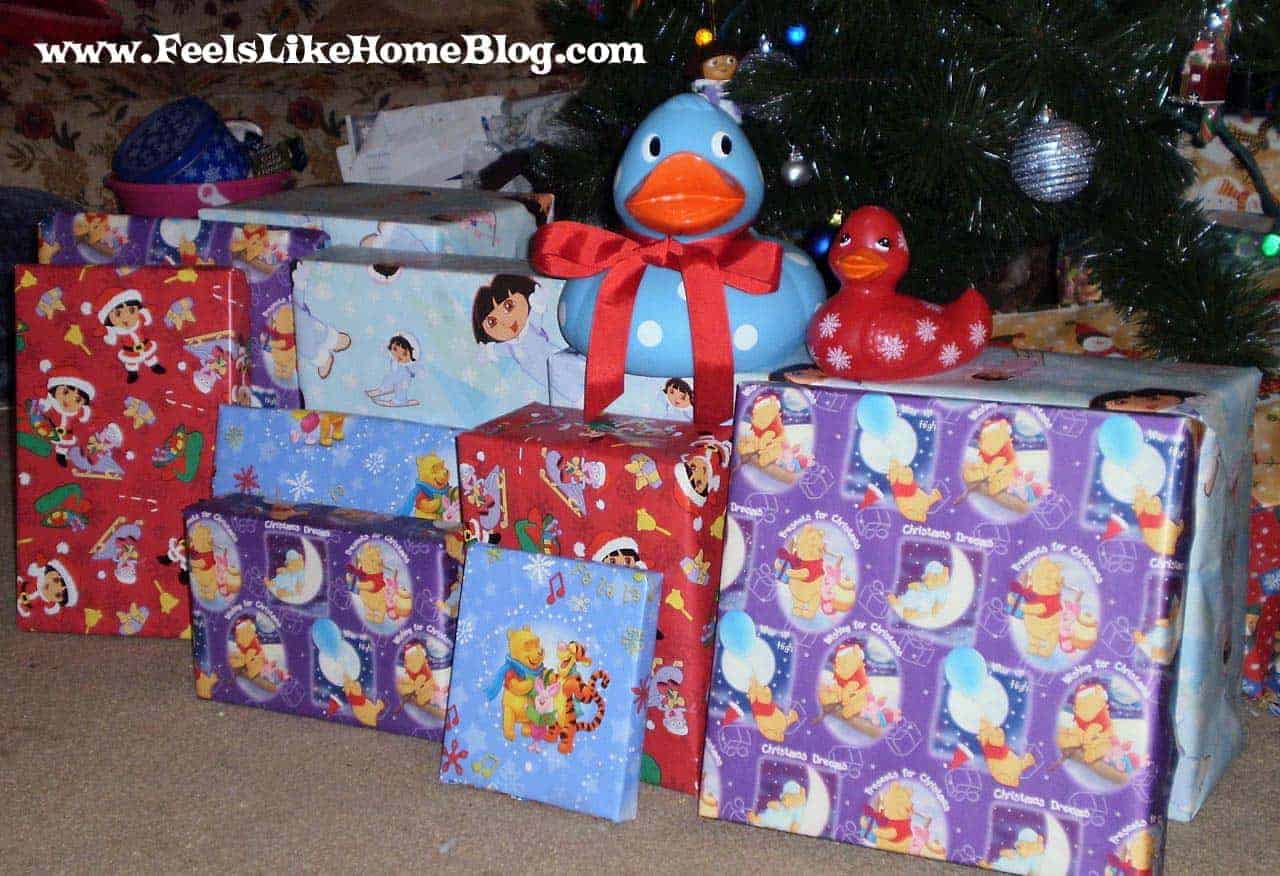 Pin
This year, and in the years to come, Santa is going to bring 3 gifts. For real, 3 gifts, not 3 categories of gifts that I've deluded myself into believing are just 3 gifts.
Our rationale is that Jesus got 3 gifts on the first Christmas. If it was good enough for Him then, it's good enough for us now.
It's really hard for me to stick to 3 gifts, but it's also liberating in that we don't have to search and search for things.
Reindeer Food
This is a Christmas Eve tradition that we started thanks to some creative and wonderful preschool teachers. We've made and sprinkled reindeer food on Christmas Eve every year since.
Light a Candle
Does everyone do this on Christmas Eve? My mother always lit a candle on Christmas Eve night, so I do, too.
Advent Calendars
I love, love, love Advent calendars. We do several different things during Advent (that I'll talk about the other four days this week), but we also use an Advent calendar that hangs near our front door. It's a felt tree, and we hang little felt ornaments on it each day in December. Here are some other options: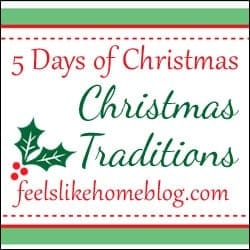 Pin
5 Days of Christmas Traditions
To celebrate the first week of Advent, I'll be talking about Christmas traditions every day this week.
Monday - Our Christmas Traditions (that's today!)
Tuesday - Jesse Tree
Wednesday - Advent Wreath
Thursday - Coloring the advent
Friday - Christmas countdown chain and other countdown ideas
Other blogs celebrating 5 Days of Christmas this week
All of these bloggers are participating in the 5 Days of Christmas this week. Go see what they're doing:
A Slob Comes Clean - Getting Your Home Company Ready
Somewhat Crunchy - Christmas with Dairy Allergies
Spell Outloud - Children's Books
Mama's Learning Corner - Children's Crafts
Many Little Blessings - Edible Gifts
Sunflower Schoolhouse - Decorations
An Oregon Cottage - Christmas Cookies
Catholic Icing - Wishing Jesus Happy Birthday
The Traveling Praters - Traveling
The Homeschool Classroom - Gifts Kids Can Make

Mama's Laundry Talk - Laundry Gifts