I saw this craft... somewhere.
I thought it was in this month's Family Fun magazine, but I have since thrown it out, and I can't find it on their website. Oh, well. Suffice it to say that this isn't my own creation.
The results were cute, and this was one of the easier and quicker crafts to make. A couple spots of glue, press, press, and it's done.
After the glue dried, I used a needle to thread a string through the pom poms to hang it on the tree.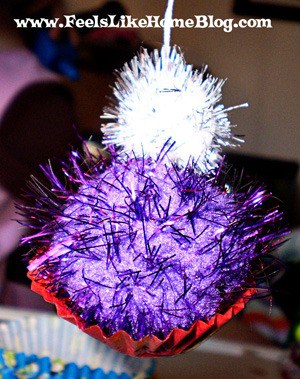 Pin
Pom Pom Cupcakes Christmas Ornaments
Materials
Pom poms - it turns out that I bought a few too many of these, so we have made lots and lots of pom pom crafts
Miniature cupcake wrappers
Thick tacky glue
A sharp needle
Thread
Instructions
Squeeze a large dollop of tacky glue in the bottom of a miniature cupcake wrapper.
Choose a medium or large pom pom that fills the cupcake wrapper. Press it into the glue and hold for a few seconds.
Squeeze another dollop of glue on top of the pom pom. Press a small pom pom into the glue and hold for a few more seconds.
This step is for an adult.
After the glue has dried completely, use a sharp needle to run a piece of thread down through the small pom pom and into the larger one. Pull the needle out close to the small pom pom, then thread it back up through the small pom pom again. (I ran the needle into the larger pom pom to make the thread more stable; I didn't want it to pull the smaller pom pom off.)

Tie a knot in the thread.
Done!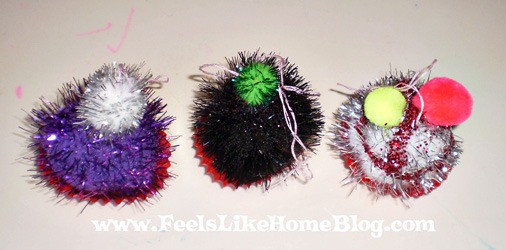 Pin
A note about crafting with a preschooler
I was envisioning pretty silver pom poms topped with sparkly red pom poms - looking like a little silver cupcake topped with a little cherry.
Like all of the other ornaments we've made, my vision wasn't Grace's vision.
Of course.
Looking for more ornaments to make with a preschooler? I compiled all of our ornaments crafts on this page.