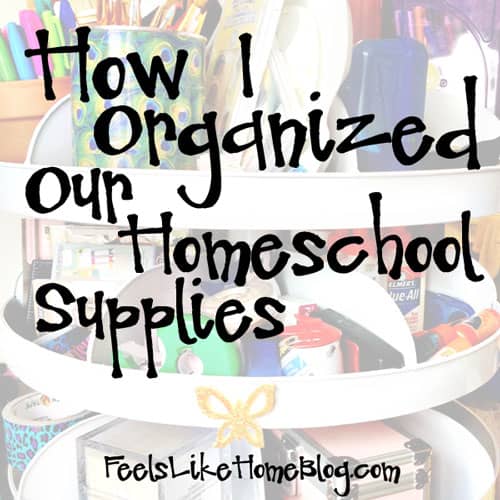 Pin
We homeschool in our dining room.
It's also the room in which I have quiet time and do crafts and dig in the dirt and do macramé and sew and write in my journal and do pretty much everything else we do.
We have a lot of stuff packed into our dining room, and it's usually all over our table.
I didn't take a before picture because it was a mess. Use your imagination. It was an insane mess.
We could never find a pencil or a roll of tape. The scissors were never where I thought they should be. The paint palettes were against the wall, next to the china cabinet, but the brushes were hanging in a rack above the kitchen sink.
The Sharpie markers were in a zippy bag on the floor, which caused a problem every time Allie happened upon them.
And? I bought a bottle of white cow glue every time I went to the store.
Because I thought we needed it.
In short, there was stuff everywhere, and I didn't even know what we had.
Create-ologie sent me this awesome 3-tiered stand, and it has solved all my homeschool supply organization problems. Here's what I learned in the process.
Organizing Your Homeschool Supplies
1. Gather up all your crap. Go get everything from everywhere. Find all the bottles of glue, all the rolls of tape. You will be amazed at how much you find when you father it from all over the house.
2. Find some containers. Your containers don't have to be pretty. I used a couple of flower pots (which I am about to swipe and put plants in), some pencil boxes, and some drink mix containers.
If your containers are ugly (such as mine were), cover them with some pretty duct tape or scrapbook paper or something easy.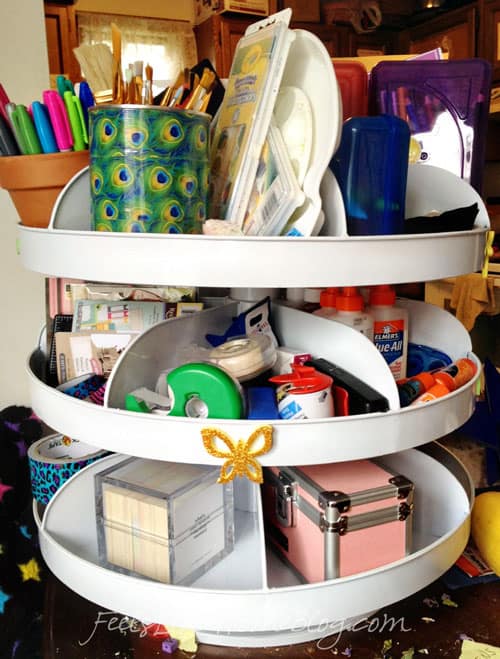 Pin
3. Group all the like items together.  I filled up a pencil box with colored pencils, another with highlighters, a third with twistable crayons. Paint brushes went into one of my ugly-turned-pretty iced tea mix containers, Sharpies into the flower pots, and crayons went into a ceramic bowl. Pencils went into a tall box, pens into another recycled container, and coins (for our math lessons) into a pretty little dish.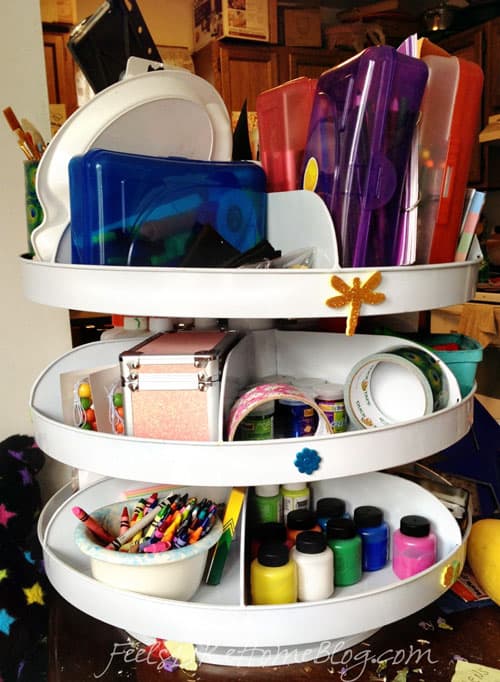 Pin
4. Think about everything you need in your school space. In our school space, we need pencils, pens, sharpeners, and erasers. We need rulers, scissors, and markers. We need crayons, colored pencils, and highlighters. We need white and colored chalk, erasers, paint brushes, and water colors. (That's all on the top shelf.)
I wanted to have a few scrapbook supplies handy, so I put them on the second shelf. I also put our fancy duct tapes (our favorites are peacock and Hello Kitty, glitter, all our different kinds of tape, and all our different kinds of glue on the second shelf.
On the bottom shelf, I stored our many, many, many rolls of decorative fabric/ribbon and washi tape, our math supplies (coins and dice), stamps and stamp pads, a small notebook and Post-It notes, lots and lots of Crayola's washable paint, and our two dinner-time conversation pieces - our scripture memory box and our box of questions.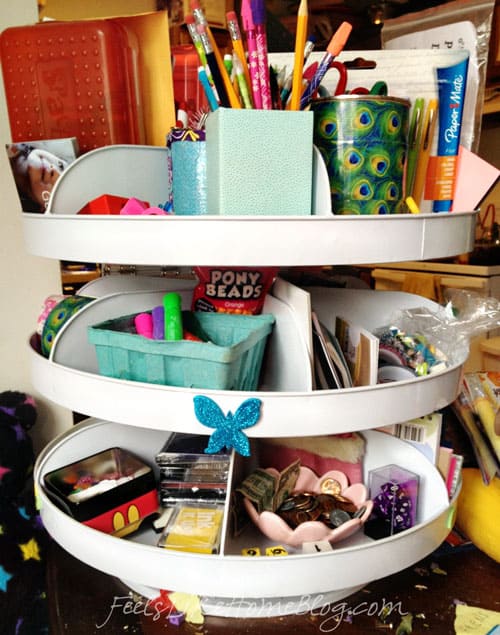 Pin
Of course, this has all changed because I took this pictures three weeks ago. We added a few things here and there and it is stuffed full of goodness.
This 3-tiered stand of amazing has cleared off our table. It has allowed Grace to get things out and put them away. It has prevented me from buying tape or glue when we didn't need it and staved off many a Momma! I need some tape! Where's the tape! dilemmas.
How do you organize your homeschool supplies?