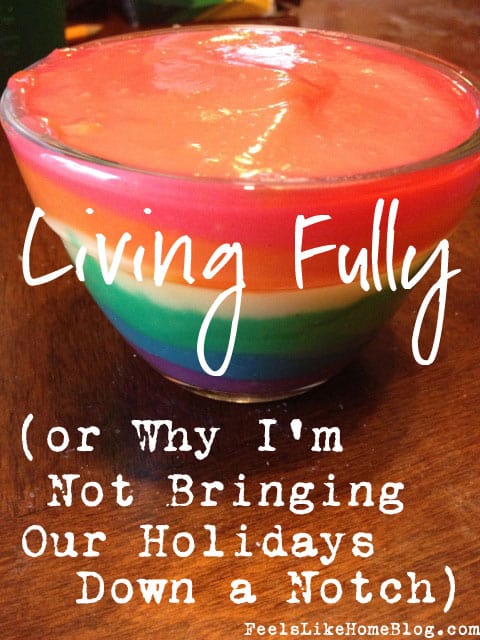 Pin
Yesterday, I refused to take Grace to Girl Scouts because it was snowing and the roads weren't plowed or treated. She was disappointed.
Last week, I broke the news to Grace that we are not going to participate in the homeschool co-op next year. She was disappointed.
Last month, Grace's friends at church went to Disney World (for two weeks!). They came back and told her all about the rides and the food and the characters. Grace asked if we could go to Disney World. I told her that maybe, some day we could, but it's very expensive and will require years of saving all our extra money. She was disappointed.
When I was still working, we went out to eat two or three times a week. Grace remembers that, and she asks why go out to eat so rarely now. She's disappointed; she feels like she's missing out.
My point is that our kids are disappointed because of the decisions that we make all the time. Handling our kids' disappointment is another part of parenting, just like dealing with wiggly teeth and scraped knees and stinky feet.
Oh, the stinky feet in this house.
Kristen at Rage Against the Minivan posted yesterday about her kids' disappointment because no leprechaun visited their home on St. Patrick's Day. She writes:
I don't like the feeling of disappointing my kids. But I refuse to give into this holiday overkill. I'm overwhelmed enough as it is... I can't have these haphazard, once-monthly overblown holidays take over my life.  I can go big for Christmas and Easter. That's all I can handle.

But I can't do this alone. Fellow parents . . . teachers . . . sunday school workers . . . I beseech you. BRING IT DOWN A NOTCH.  Y'all are setting up expectations that I just can't maintain. Wouldn't we all be just a little happier if we returned to the slacker days of store-bought valentines and kit-dyed eggs and JUST WEARING A GREEN SHIRT AND CALLING IT A DAY?

For the sake of overwhelmed parents like me, I beg you. Stop the madness.
Her post touched a nerve. It has 1,000 comments and has been shared 121,000Â 135,000 times on Facebook. Readers are divided - some gave the post a standing ovation, others lashed out in anger, calling Kristen lazy (among other more colorful things).
In the wake of the post, Kristen posted an addendum, stating that it was sarcasm and hyperbole and adding this:
If you are feeling offended, that wasn't my intent. But it might be wise to consider why the offense is there, and in what ways we all (myself included) might be contributing to a culture in which mothers feel like the need to "do more" is distracting from the main event: quality time with our kids.
I am typing this with a green boob. (Well, sort of green. It's faded some.) I believe in holiday magic. I go out of my way to make it happen, not at the expense of quality time with my kids, but to its enrichment.
My children will be children for a very short time, and I want to pack as much fun and excitement and magic into their childhood as is possible.
Is every day fun and rosy?
Obviously, it is not. This is life, after all. People get sick. Pets die. Children misbehave. Disappointments come in so many forms.
I can't control them, and I gave up trying a long time ago.
You know what I can control?
Lucky the Leprechaun. The Tooth Fairy. Christmas and birthdays and Easter and Valentine's Day and tea parties and Rice Krispie nests.
I can live fully. I can teach my kids to celebrate their days, to enjoy life, to have fun. I can teach them leisure and affection and resilience by watching the disappointments roll by and still choosing happiness.
I'm not going to bring our holidays down a notch.
I'm sorry that other people's kids might be disappointed by my choices. Each family makes its own decisions, and doing more is what's right for mine.