My kids are weird.
Last week, Grace was grumpy and tired and - being too old to lie down and take a nap - I suggested we watch a movie and just relax for a little while.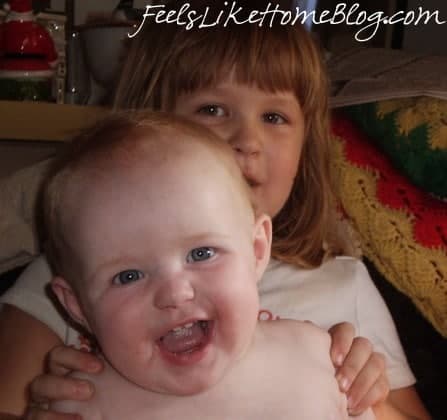 Pin
Okay, she agreed.
"How about Tangled?" I asked, trying to come up with something we hadn't seen in a while.
No, she responded. Looking over the DVDs, she asked, How about the Sound of Music?
We watched The Sound of Music. On one hand, I was proud of her for choosing a quality classic film over a Disney Princess flick, but... that's kind of weird, don't you think?
The next day, the girls and I were eating lunch together when Allie noticed my moussaka.
Eggplant, zucchini, potatoes, ground beef, and a creamy custard topping - YUM!
Allie thought so, too.
Allie won't eat homemade baby food. She rarely eats anything that's typical for babies or toddlers.
But she loves moussaka. That's kind of weird, don't you think?
I remember clearly a remark my brother-in-law, my older sister's husband, made when I was about nineteen.
"... if you weren't such an old lady..."
At the time, I scoffed. "You're much older than me!" I objected.
"Maybe I was born before you, but you're about sixty-two!" he reasoned. "You listen to Louis Armstrong. You play Yahtzee and Scrabble with Grandma. Those aren't normal teenager things.
Even then, I had to admit that he was right. I'm not a normal person my age, and I never have been.
I'm an old soul.
My kids are old souls.
At least we're in good company.