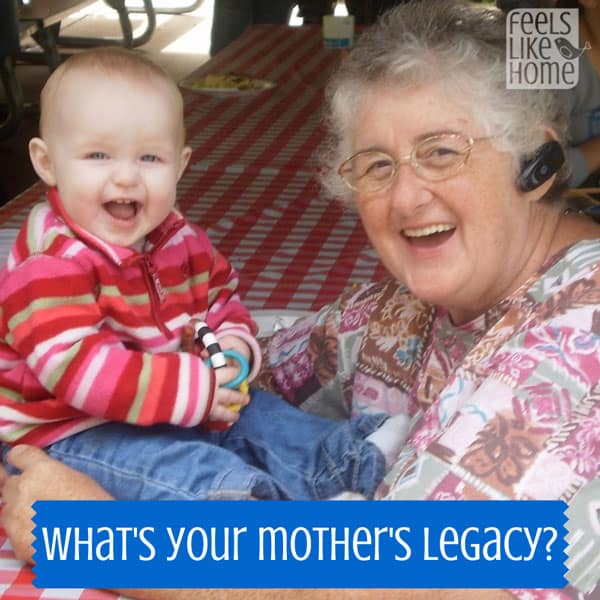 I thought I was going to write this post about the legacy I'm leaving for my daughters, a legacy of warm hugs and playing together and lifelong learning and I love you frequently spoken.
Then I was talking to my sister about essential oils of all things, and I realized that our legacies are directly related to our mom's legacy. I can't write about mine without writing about hers.
If you're a new reader, my mom passed away in July 2013 after a fierce nine-month battle with pancreatic cancer. She fought hard until the last hour on the last day. I grieved for her when she was diagnosed, and I grieved as she was sick, and I still grieve that she's gone.
But my mom did not leave a legacy of sadness.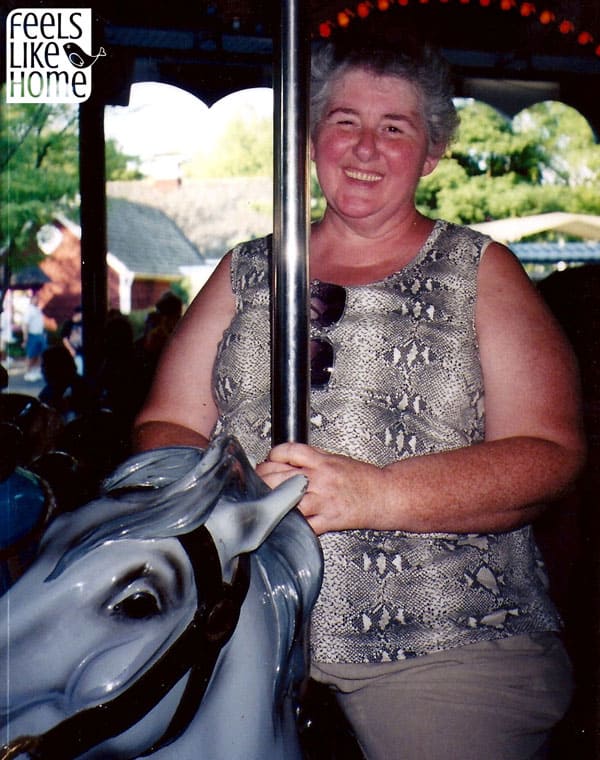 My mom left a legacy of laughter. She often said, "Well, that was dumb." to herself or to others. She always meant it, but it was almost always followed by laughter. Loud laughter. Genuine, kind, good-spirited laughter.
One January day circa 2000, my mom, her friend Jeanne, and I drove to a ceramics shop an hour away.
I need to back up and say that I hate ceramics shops. I have hated them since I was little; I don't like to paint ceramics or clean them or participate in the process. It's just not my thing. But my mom loved them, and she liked to go to ceramics shops.
I only went along for the food; she never went anywhere without a meal in a restaurant.
Anyway, on that January day, we were an hour from home when the snow began. The snow was so thick our headlights chiseled it away a few feet in front of the car. The roads were slippery and soon covered with half a foot of snow, then more. A fire truck crawled by us, only to get stuck a few miles up the road.
"I cannot believe we are on the road! We are the only car on the road! THE FIRE TRUCK IS STUCK IN THE MEDIAN!" I whined.
"You just wait til we get to The Cracker Barrel," she said. "We'll have the whole place to ourselves." And then she laughed that laugh. It was the kind of laugh that you had to work really hard to pout through.
"I guess," I begrudged.
She was right. As the fire crackled in the fire place, we all laughed together about the snow storm and the miserable driving conditions and the foolhardiness of it all.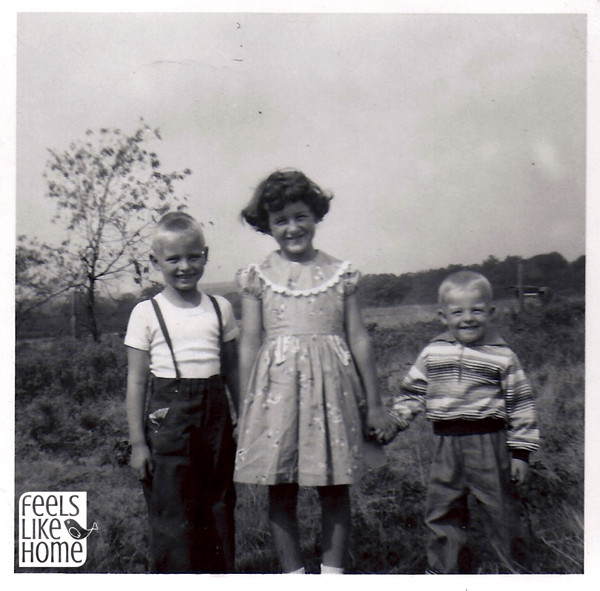 My mom left a legacy of determination. Whether she was disappointed or hurting, knocked down or trampled, she picked herself up, dusted herself off, and held her head high. She plowed forward in everything she did.
Never was her determination more obvious than in her battle with cancer. Her first doctor told her that there was a very small chance of chemo being effective, but she did it anyway. She thought she'd be the one for whom it worked. When it wasn't effective, she tried again. New doctor, new chemo drug. When that chemo didn't make a difference, she asked for radiation treatments. Even when the doctors gave up, my mother pressed on. Something would make her better.
She asked to be put on life support even as she lay dying, kidneys and liver failing and blood pressure bottoming out. Keep me going. I'm not done fighting! she said.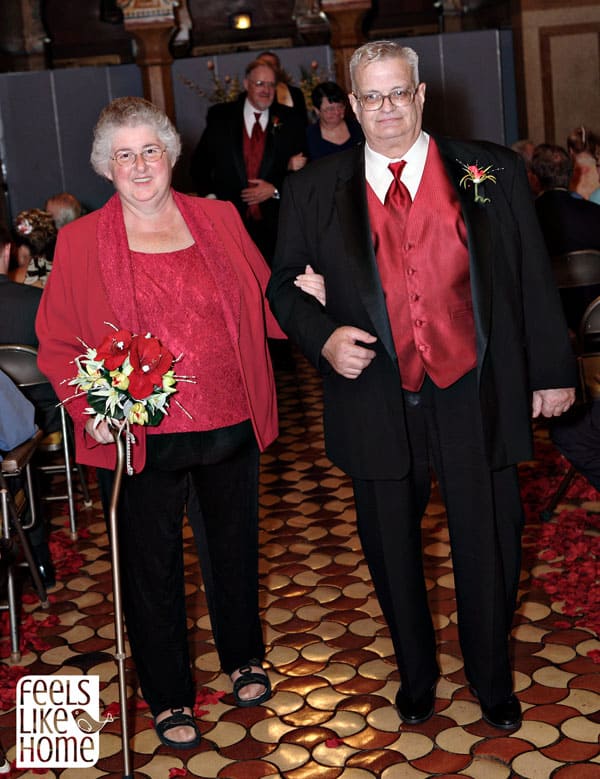 My mom left a legacy of devotion. My parents were married for almost 35 years. They fought like a proverbial cat and dog. When I was young, they had real fights. I remember her once knocking him out the door of our trailer, but they both mellowed as they got older. They spent more time apart. Nothing she said was right in his eyes, nothing he said right in hers.
Bickering was their love language. When my dad had a near-deadly heart attack while working in Delaware in 2004, my mom was at his bedside within hours. She stayed there with him for a week, through ICU, through the step-down unit, as he came out of the fog, and as he grumped about not having any cigarettes. She was there for him when he needed her, and she looked out for him even when she felt like knocking him upside the head.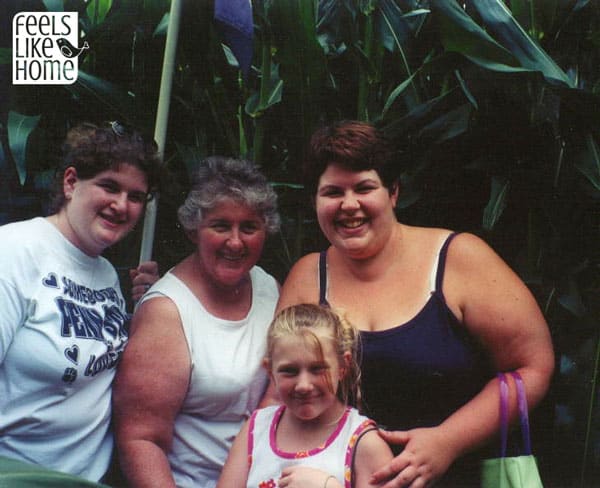 My mom left a legacy of adventure. My mom was always on the lookout for an adventure. She got lost just about everywhere she ever went, and she would laugh and laugh.
One summer, one of us decided it would be great to take my niece to a corn maze. It was about a thousand degrees in the pathways between the 10-foot-high corn that day. The air dripped with humidity. We all wanted to quit, but she pressed on. She looked at that map; she gave suggestions. She laughed. We eventually gave up, but – more than I remember the miserably hot weather – I remember her laughing and laughing about our being stuck in the corn forever.
When the school I taught in had snow days, my mom and I went out to lunch. Every time. One that I remember clearly involved me in my car sliding down a hill backwards into my mother – who was standing in front of her car to protect it from the impact. Life with her was always exciting.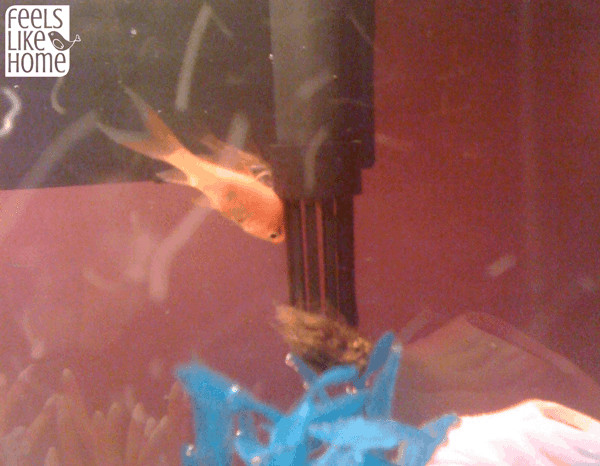 My mom left a legacy of tenderness. My mom was not always kind and cheerful, but she had a kind and tender heart.
When my extremely sensitive 4-year-old got a pair of carnival fish, she lovingly and excitedly set up the fish tank on a Sunday afternoon. She was beside herself - a pair of fish! She named them Orangey and Brownie, and she decorated their tank with as much eagerness as I've ever seen.
On Monday morning, I woke up to find two fish in rigor mortis, stuck to the tank's filter. I texted the picture to my mother and asked her to find replacement fish as soon as the Walmart's pet department opened, so that we could slip them into the tank and Grace would be none-the-wiser. She agreed, asking me to get Grace out of the house so that she could come in and make the switch.
When she got to the Walmart, they had only fancy-finned goldfish, nothing at all like the 25-cent feeder fish dead in the tank. She came over and explained to Grace that the fish died because the carnival people didn't take good care of them, and that Grace gave them the best life they could have had.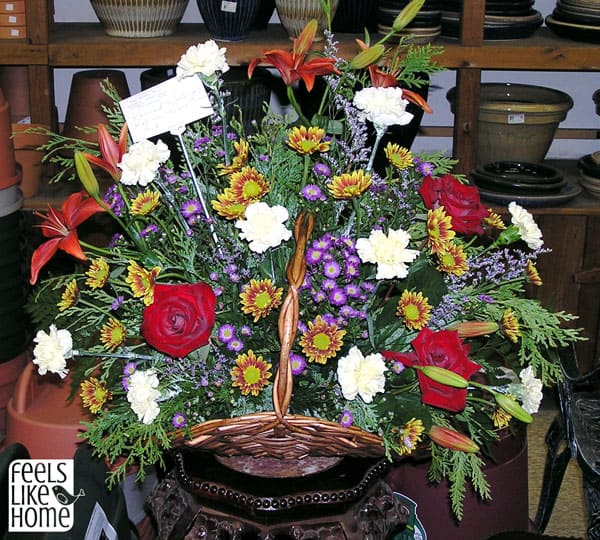 My mom left a legacy of flowers. She traveled to Oklahoma to become a certified floral designer, and her skills were unmatched. She planted a large flower garden every spring, and she always had plants sitting around because she bought more than she had room to plant. Everyone who knew her knew that she loved flowers and her grandchildren more than anything. She was always surrounded by flowers.