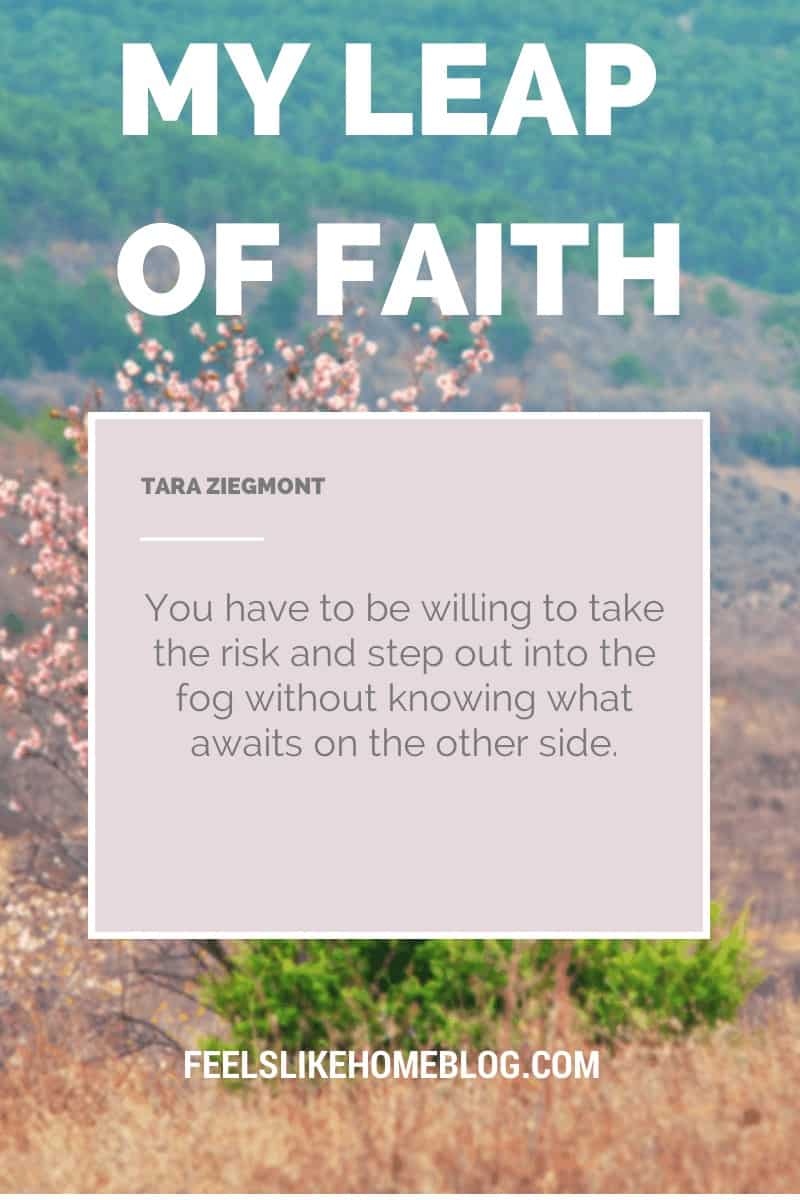 Pin
I often get asked how I came to be working full-time from home. Let me tell you the whole story.
I wrote a book about how to make money blogging, but getting to a point where I could write that took a huge leap of faith.
Afraid to Answer the Call
I knew that God was calling me to be a stay-at-home mother before Grace was two months old. I knew with everything that I am that I was not supposed to go back to work that fall.
The lure of a $60,000 salary, excellent health insurance, generous retirement, and great work hours left was too tempting, and Joe convinced me to return to work. Someone close to me said, "You'd be a fool to give up that job," and those words have always stuck with me.
Yet, God called.
And called.
And called.
Every day, I cried after dropping Grace at daycare. I knew I could make my online business a real business if I only had the chance. I knew daycare was not what God wanted for my family, but the material benefits of my teaching job kept me bound in chains.
Close Your Eyes
When I found out I was pregnant with Allie, I took a hard look at our finances. Daycare for two children cost more than half of our salary, and it simply didn't make sense.
Joe wanted me to go back to work, to make daycare work, to stick to our comfortable lifestyle, but I just couldn't do it.
I fretted about resigning from my job. I didn't want to resign – resignation is very permanent. The pay was so good. The benefits! The retirement!
The Leap
A week before I had to submit my letter of intent to return from maternity leave, the human resources manager from my school district called me at home.
"We haven't received your letter of intent yet," she said.
"I know. I was hoping since there are only three weeks of school left that the board will allow me to return in the fall," I answered.
"No, they decided that you have to return May 15. I need a letter by next Friday that says you intend to return on that date, or I need a letter of resignation." She was very polite, and the letter of resignation seemed like an afterthought, almost like an ultimatum to force me into agreeing to work the last three weeks of the school year.
Without giving it too much thought (because I knew I would talk myself out of it), I wrote a letter of resignation and dropped it off at the school district's main office the next day.
I had no idea how we'd pay our bills. I had been on maternity leave for 4 months with no pay, and we were already getting food stamps and WIC. We hoped it would be temporary, just until I could get a part-time job that would make up the difference between Joe's salary and our bills.
Failure
I was not willing to accept failure. I never saw my decision as failure, even in the hardest of times.
Was being in the welfare system failure if it was part of God's plan to bring me home to my children and help other mothers to do the same?
Was my mental breakdown failure if it was part of God's plan to give me a heart for moms battling mental illness?
Have our financial difficulties been failure if they've helped us to become more responsible in our buying and spending decisions?
All I knew at the time was that I was doing the right thing. It was the only thing that made sense in my heart, even if it didn't make sense to anyone else (and it didn't).
The Other Side
I had to start getting paid, and I had to start getting paid quickly. I had already been speaking on SEO in the blog conference circuit, and that led to a part-time job with AboutOne. A few hours a week gradually grew into more and, before I realized it, we no longer qualified for welfare.
(Oh, happy day, happy day!)
Then, as now, I knew that God wouldn't let us fall. I was following the calling He placed on my heart, and He was alongside me, guiding my path to the other side of the chasm.
Once, we had to collect the change from Joe's spare change jar to make our mortgage payment, but we never missed a payment on anything. We never got behind. God lifted us up and cleared the way.
Regret
Have the last three years been easy? NO. They have been downright hard. I was in a psychiatric hospital. My mom got cancer and died. We have struggled and struggled and struggled with finances, debt, and unexpected expenses.
Have I ever regretted my decision to quit teaching? NEVER.
Even on the bad days (and there are bad days), I have never looked back and wished I'd kept my job. I've never wished I'd put my kids in daycare. I've never wished Grace went to regular public school.
I couldn't spend another year in a comfortable life and an uncomfortable job when I knew God had something else in store for me.
Living Into God's Vision
I am so lucky that God's vision lined up with my dreams. I am truly living my dream life.
It's not perfect. I work hard – usually more than 50 hours a week – to make the money I need to make, build my own successful business, follow through on my commitments to AboutOne, and achieve the goals I've set for myself. This has not been the easy road.
Any homeschooling mom knows the demands of this lifestyle. We are responsible not only for caring for our children 24/7, but also educating them, creating an enriching, socially diverse environment, managing our homes, caring for our own well-being, and about seven hundred other things.
I am fortunate at this point to have enough money to hire a babysitter who comes twice a week to help out so I can work fewer hours in the evenings. I'm hoping to be able to budget for someone to help with cleaning as well. (Because that is so not getting done right now.)
The Truth
God blesses those who are obedient to His call. You have to be willing to take the risk and step out into the fog without knowing what awaits on the other side. You have to be willing to accept help. You have to be patient and consistently work and pray hard.
You have to ignore the critics. You have to ignore the people who tell you you're a fool. You have to rest in the knowledge that you are being true to God's calling.
Troubles will come. People you love get sick and die. Your kids won't behave. You may experience financial difficulties, job losses, and unexpected expenses.
You may fall.
Rest in the truth that even our falls are part of God's plan. He has a plan for you, for your life, and for your gifts.
Are you willing to live out His plan?