How to homeschool preschool without a curriculum - These free and low cost resources will work for any parent who is teaching her preschooler at home. Easy ideas and set up for a 2, 3, or 4 year old.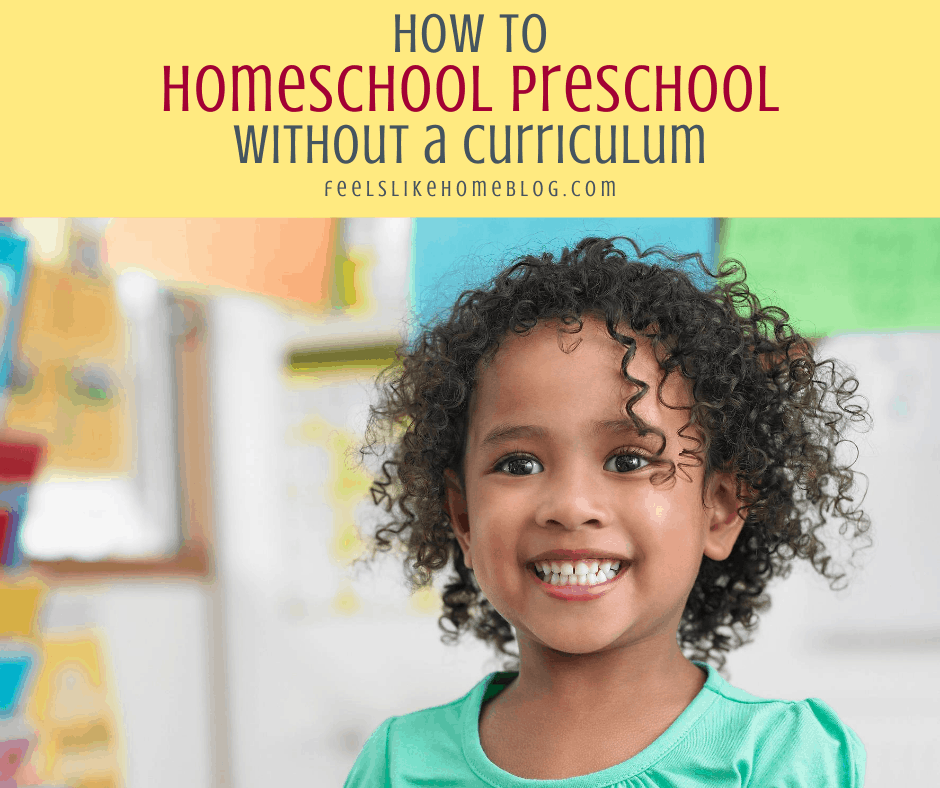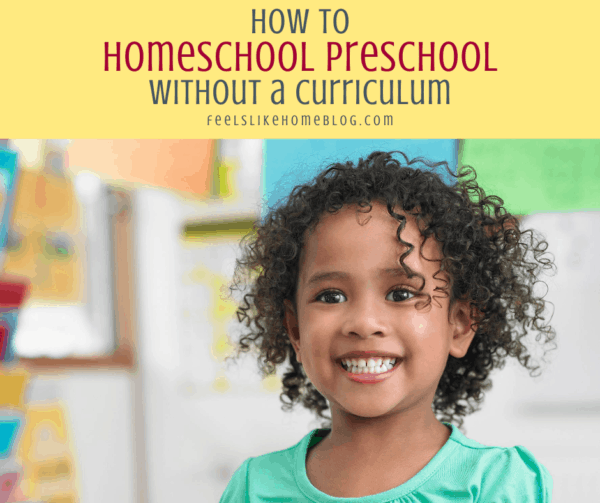 Did you catch my mini revelation in yesterday's announcement?
I'm homeschooling my children.
Joe and I came to this agreement a year or so ago, but we were mum about the decision out of respect for my (now former) employer. (I was a teacher in a public school.)
How We Have Been Doing Homeschool Preschool
In the fall, I wrote a guest post for Amy at Raising Arrows about how I was doing homeschool preschool with Grace. As the year (and my pregnancy) progressed, our plans changed out of necessity.
At first, I thought we needed curricula. We started with
By November, we had completely given up on Hooked on Phonics. During the third lesson, Grace announced, This is dumb and I don't want to do it anymore! Though I tried to pick it up a few more times, she said a version of the same thing each time.
Something similar happened with Before Five in a Row.
Expedition Earth and Discovering God's Animals were a little too old for her. We'll come back to them next year, I think.
The DVDs and workbooks were always a big hit. She went back to both frequently and finished the books by Christmas.
Somewhere along the way, I realized that I don't need a pre-written curriculum. I can piece this together and do a really good job of it.
Just before Allie was born, I changed things up. Grace wanted to have school time at home, so I set up a weather board, a calendar, and a letter of the week board. We sang songs and looked out the window each morning.
We started out doing one letter a week, but that quickly slowed to one letter every few weeks.
Since Allie was born, I have added Trekking Across the States and some activities from Confessions of a Homeschooler's Letter of the Week, and Raising Rock Stars.
We still do school only when Grace wants to, and I never push.
She has always refused to do anything that resembles writing practice or spelling or sounding out words, preferring that I read to her or write for her.
Until today.
Grace never writes. She reads and enjoys reading, but she only does it when she wants to.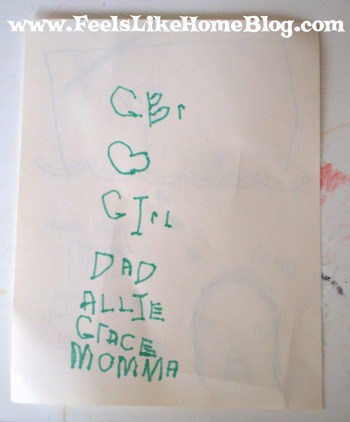 So imagine my surprise when she sat down and wrote today. First, she asked me what G-B-R spelled. I told her that it was not a word.
She was excited to tell me that she'd drawn a heart.
She asked how to spell girl, so I spelled it.
She asked how to spell Dad and Allie and Momma, so I spelled each one.
And then she showed me the whole thing.
WHAT?!? I thought to myself.
At first, I thought this meant we were done with preschool, but that would have been a mistake.
We are going to continue to do the letter of the week and lots of reading and scissors practice, and she can write whenever and however she wants to. Low pressure is the name of the game.
Here are a few more homeschool preschool activities that we have done: