I keep a gratitude journal. I have, on and off, since 1998.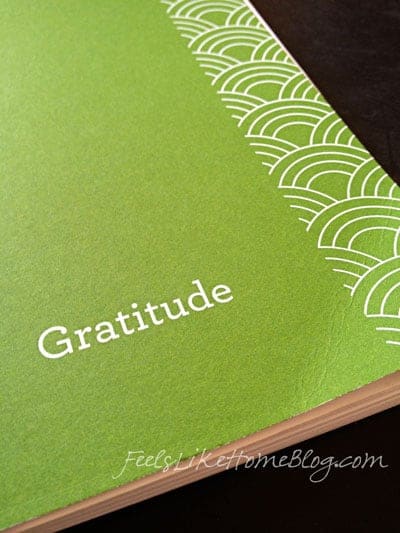 Pin
My first gratitude journal, filled with saccharine sentiments of a boyfriend who eventually turned into a louse (or maybe always was a louse, and I didn't notice at first) met its end at the curb many years ago.
I have other journals, some half-filled and forgotten, some full from cover to cover.
My current gratitude journal, begun just after BlogHer (because I'd lost the one before and finally gave up looking for it) looks a little different from the ones before.
I was diagnosed with rheumatoid arthritis about two weeks ago after having joint pain for a month or so. The pain in my hands has changed my handwriting. It's harder now to write than it was at the beginning of the summer, but I do it anyway.
My gratitude journal is therapy on long days, painful days, days overflowing with minutia, overwhelmed with mundane, and inundated with frustration.
I want to do my great work, and all of this nothing feels like a whole lot of work without any great at all.
On these days, my list is long.
On these days, I want nothing more than to throw a temper tantrum.
I want someone - my husband, specifically - to care that I have bathed two children three times each today, that I have been pooped on twice today, that no one folds the laundry but me, that I spent an hour trying to clean the goo out of the crack in the bathroom floor only to have it peed on by a toddler, that the dining room floor needs to be tidied then swept and mopped, that he left his laundry in the washing machine overnight and now it smells like trash, that I can't ever get ahead.
I want his heart to hurt like mine hurts. I want him to feel as hopeless as I feel.
I can't wait for him to get home so that I can tell him just how overworked and unhappy I am, how hard it is to move my fingers today, how much I am disgusted by the work that never gets done.
And then a little voice in my conscience whispers, "Grateful is the opposite of angry. Grateful is the opposite of overwhelmed. Grateful can't coexist with furious and frustrated.
Just be grateful."
I picked up the gratitude journal that had been sitting atop a mountain of unfolded laundry on the couch, and I scribbled and winced.
Gas money to take the kids to the picnic this morning.
Warm sunny weather.
Cat purring on my chair.
Television.
Disney Jr, a half-hour's peace on a day full of crazy.
The hope of pain-free days even though today isn't one.
Tylenol Arthritis.
Not going off to work every day.
Not leaving my kids at daycare every day.
Diapers and disposable wipes.
A fancy washer and dryer.
Google Calendar.
Clothes to cover our bodies no matter what the weather holds.
A friendly face at a picnic.
Miss Nancy, the librarian who dotes on my kids.
Grace's gratitude of my sometimes lousy mothering. She tells me at least 10 times a day that I'm the best momma in the whole wide world.
Electricity.
That my kids have toys to play with and books to read.
I keep writing until I'm not mad anymore, until I know I can look at Joe without verbally assaulting him, until the tension is gone from my shoulders and I can smile at my kids without feeling fake.
This is my great work, and there is so much great in it. My gratitude journal helps me to remember, one little bit at a time.