My witty and charming post follows this sponsored message from BlogHer and Green Works®.
---
I broke up my first sibling fist fight last week.
It was not the first time that my dear, sweet 4-year-old became a scary, mean ogre, intent on causing harm to the interloper sucking away her beloved mother's attention and energy. That happened frequently in the first weeks of Allie's life, but it's happened only occasionally since.
It's always been in the back of my mind. Fortunately, the ogre resurfaces only when Grace is feeling hurt or cheated or rejected.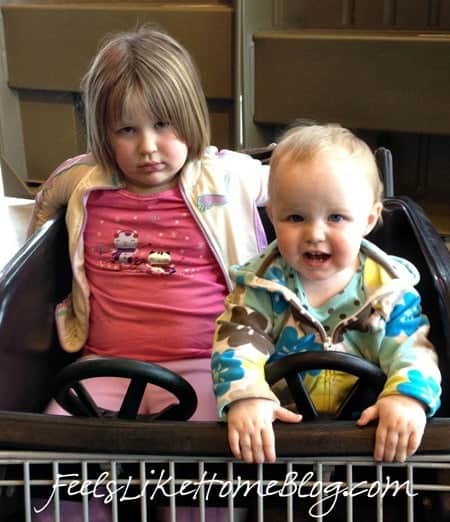 Pin
Like when Allie wakes up an hour early from her nap, cutting short the precious Momma-Gracie time that we enjoy each day.
Most days, I exercise as soon as Allie is asleep, then Grace and I do school and then play, doing whatever she wants to do - doll house, Barbies, Mary & Laura, playing outside, sometimes even cuddling on the couch and reading Little House books.
So when Allie woke up a full hour earlier than normal, and Grace went running for the garage (because Allie was asleep in her car seat), I moved quickly.
NO! Grace shrieked. Then she changed her tone. Don't worry, Mom. I'll get her! she yelled over her shoulder as she raced down the stairs.
I worried.
By the time I rounded the corner into the garage, the car door was open, and Grace was pulling her hands down across Allie's precious face.
"GRACE!" I screamed. "STOP IT! Get down from there RIGHT NOW!"
Grace looked at me with the remorse of a serial killer.
And then she laughed.
As mad as I've ever been in my thirty-two-years, seven-months, and twenty-one days on this earth, I grabbed Grace by the shoulders, heaved her up off the car, set her inside the house, and shut the door.
By now, Allie was crying. Probably because her mother came screaming into the garage. There were no marks, no scratches, but she was wounded, well aware that she had been abused.
After unbuckling her from the car seat, I held and soothed and hugged my sweet Allie.
All the while, Grace was shrieking at me from the house.
I turned the door knob that would allow me to come into the house, prepared to keep the perpetrator away from the victim.
The door knob wouldn't turn.
Because Grace had locked Allie and I in the garage.
Thinking quickly, I put up the garage door. I had no intention of leaving, but I was certainly not going to beg Grace to unlock the door for me. At the worst, I thought I could go around the house in my bare feet and enter through the back door.
Well. As soon as the garage door began to rise, Grace threw open the house door and wailed as if she'd been wounded.
Mommy! I want you to hold me! Waaaaaa!
By now, Allie had recovered, and she looked at Grace as if to say, "Are you kidding me?!"
The three of us went upstairs to the living room, and I held both of my girls as they whimpered and whined.
And then Allie grabbed her sister by the hair and smacked her in the face.
Allie! waited for her chance! and retaliated!
My baby! She's just 13 months old, and I never would have imagined that my refereeing would begin so soon.
"Allie! No hitting!" I said. So after that, Allie pushed instead of smacking. Over and over, she pushed her sister away, off of my lap, out of her space.
I read am not prepared for this sibling violence. I think I need to reread Siblings Without Rivalry.
*****
The day after this madness, we happened to be at the public library and happened to find two books that were perfect for a big sister who is having some frustrations about her little sister.
If you are having this kind of sibling drama, you need to check out these two books. They were perfect. Grace identified with the characters, and the books helped her put into words some of the things she's been feeling but unable to express.
Julius, the Baby of the World - Oh my! I was not expecting to laugh out loud while reading a book about a jealous big sister. This book is absolutely magnificent. We've read it so many times that I could almost recite the whole thing. I love it. In it, the big sister is just plain jealous of the baby brother. She does all sorts of naughty things to him to make him cry, and she spends a lot of time in the corner. The end is really good. You'll like it.
That's Mine! - This one didn't tickle me the way Julius, Baby of the World did, but it was just as powerful for Grace. Maybe more. In this one, the older brother is tired of his baby sister messing with his stuff and taking his toys and sucking up his mother's time.