Are you familiar with Muffin Tin Monday?
Every Monday, parents all over the world post their muffin tin lunches.
What's a Muffin Tin Lunch?
A muffin tin lunch is lunch served in a muffin tin. Easy enough, right?
A muffin tin requires small portions, small foods, and a lot of offerings.
Some parents go to great lengths to cut fun shapes, use food picks, and decorate the muffin tin. Being that I'm just getting started, I'm not going that far. Yet.
Most of the time, the muffin tin lunch has a theme. I picked up a plethora of colorful, local fruit over the course of the last week, so I decided on a rainbow theme for our first muffin tin lunch.
Grace's Thoughts on the Muffin Tin Lunch
Grace told me all morning that she did not want a muffin tin lunch. I just want to eat my food!
I made the muffin tin lunch anyway, and she loved it. She ate her lunch, and then asked me to leave it on the table. She munched on the the lunch for the next two hours.
When Joe came home, she said, Daddy! Look at my muffin tin!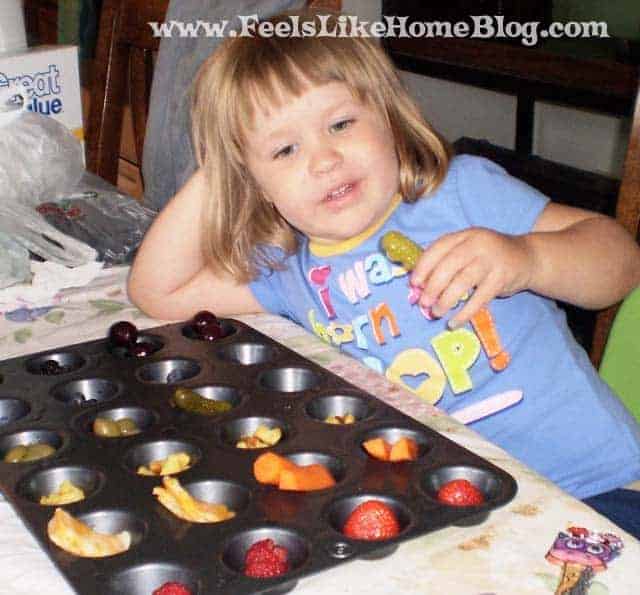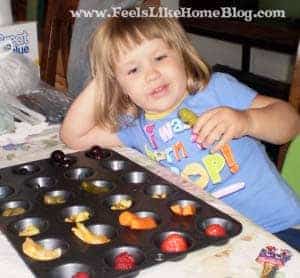 Pin
I would have preferred not use a 24-well mini muffin tin, but my 12-well muffin tin was looking cruddy.
Our Rainbow Muffin Tin Lunch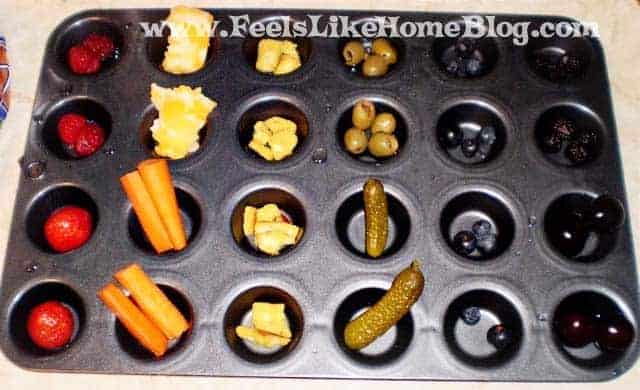 Pin
Grace's rainbow was made of the following:
Red - strawberries & red raspberries
Orange - colby jack cheese, torn into pieces & carrot sticks
Yellow - honey mustard pretzels pieces
Green - green olives & petite kosher dill pickles
Blue - blueberries
Purple - sweet cherries & black raspberries