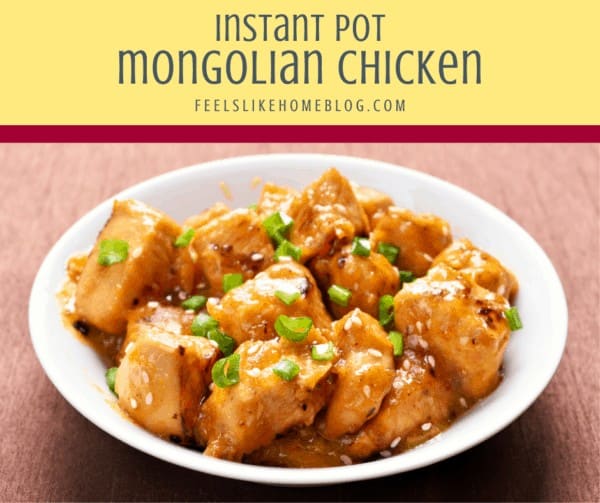 Mongolian chicken is a quick and easy Instant Pot recipe with a sweet and savory sauce that is best served over rice or cauliflower rice. The finished dish can be as spicy or as mild as you like, and it is suitable for paleo, keto, gluten-free, and low carb diets.
What is Mongolian chicken?
The restaurant chain PF Chang's sells a famous Mongolian beef recipe that is sweet, salty, spicy, and smothered in a delicious sauce that's amazing over rice. I don't eat much beef these days, and the closest PF Chang's is an hour from me, so I recreated the recipe with chicken and made it at home.
The original dish is fried crispy. Obviously, it's hard to fry the meat crispy and simultaneously make it a quick and easy and healthy weeknight meal, so I recreated the sauce with a sugar substitute and sautéed the chicken right in the Instant Pot to crisp it up a bit (although it's not going to be as crispy as the original which is fried in oil).
What is the Instant Pot?
I don't think you could be a living, breathing, internet-browsing human and not know what the Instant Pot is, but just in case you've somehow missed it, let me explain it to you.
The Instant Pot is an electronic pressure cooker that allows home cooks to prepare meals in a fraction of the time it would take to bake or broil the same foods. The chicken for this curry, for example, is done in less than 10 minutes plus an additional 10 to thicken the sauce. The whole thing is done right in the Instant Pot, so it's a simple and easy one-pot meal.
In addition to being a pressure cooker, the Instant Pot has other functions, like sauté, slow cooker, yogurt, chili, and rice. Some, like the one I linked above, can also bake cakes and keep foods warm. Instant Pots are pretty much the fairy godmothers of the kitchen.
Check out these other delicious Instant Pot recipes:
Recipe