In my post on Ornaments to Make With a Preschooler, I mentioned that these pom pom ornaments were my favorite.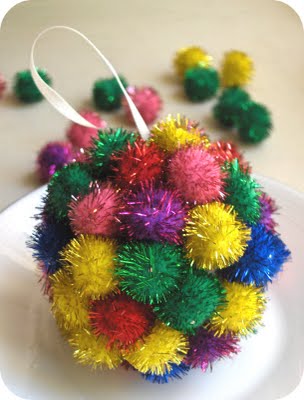 Pin
They still are my favorite.
They were a lot more expensive than I expected - $8 for a bag of sparkly pom poms and $4 for a bag of red jingle bells - but the effect is pretty cool.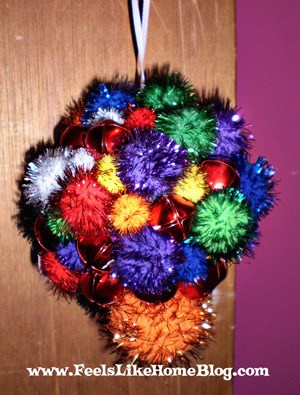 Pin
Jingly Pom Pom Christmas Ornaments
Materials
4-inch styrofoam ball
A large bag of sparkly pom poms
Jingle bells
Ribbon
Straight pins
Super thick tacky glue
Instructions
Grace wanted to use every single jingle bell, so we glued them on first. We started by putting glue on the jingle bells then pressing them into the styrofoam.
We waited overnight for the glue to dry. Otherwise, the bells were falling off as we did the next step.
Next, we put straight pins in the pom poms as the original tutorial suggests. The pins were a bit too short, and they didn't grip the styrofoam as well as I wanted, so I put glue on the pom poms, too. The pins held the pom poms well enough for the glue to dry and set.
Once the ball was entirely covered, I cut a length of ribbon and pinned and glued it to the biggest empty spot on the ball.
Done!
A note about crafting with a preschooler
Obviously, Grace's sparkly ball does not look much like the original.
I wanted the ornament to have all the same sized pom poms on it, interspersed with jingle bells. It would have been so pretty.
But it was not Grace's vision of the ornament.
Grace wanted to use tiny pom poms and huge pom poms and the middle-sized ones, too.
She worked on this project longer and more earnestly than any other project she's done. She's proud of her ornament.
Unfortunately, a 4-inch ball covered with jingle bells and pom poms is too big and heavy for Grace's little Christmas tree, so my mom encouraged her to put it on her door knob. She did, and she jingles it every time she walks by.