This project did not appear in Ornaments to Make With a Preschooler.
Probably because it's so ugly that nobody else would ever dare make one.
I asked Grace if she wanted to top her Christmas tree with an angel or a star. I explained the significance of both stars and angels.
She chose an angel.
I researched crafty angel projects online, and I found beautiful angels made from doilies, scrapbook paper, and even beads.
None of them would really work for a 3-year-old.
So. I made up something else.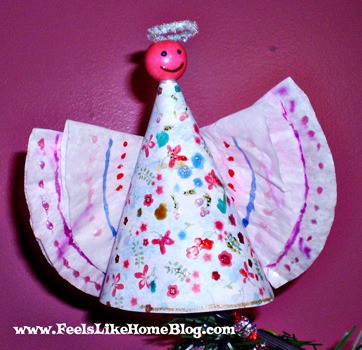 Pin
Angel Tree Topper Craft
Materials
1 sheet of 12x12-inch scrapbook paper
A metallic pipe cleaner
One large bead
Glitter glue or paint pens
Double-sided tape
Tacky glue
2 large, round coffee filters
Washable markers
A spray bottle of plain water
Instructions (though, come on, do you really want to make one of these?)
Cut a semi circle from the largest part of the scrapbook paper and wrap it into a cone shape, leaving a small hole at the top. Use double-sided tape to secure the cone.
Thread a silver pipe cleaner through the hole in a large bead and bend it into a halo. Squirt some glue down into the hole in the bead to secure the pipe cleaner.
Thread the bottom of the pipe cleaner down through the hole in the cone.
Use glitter glue to decorate the scrapbook paper and make a face on the bead.
Flatten out the coffee filters and draw an ink-heavy pattern on them. Lay the colored filters on top of some newspapers and spritz with water to make the ink run. When they've dried, cut each in half then fold the semi circle in half to make a triangle. Stagger the triangles and glue them together to make a pair of wings.
(We weren't happy with how drab our coffee filters came out - we hadn't colored them enough - so we jazzed them up with glitter glue.)
Glue the wings on the back of the angel.
Allow the whole thing to dry, then place on top of your Christmas tree.
A note about crafting with a preschooler
Grace loved this project. It went together quickly, leaving no room for her to become bored.
She loves using little glitter glue and paint pens, so she was very involved in that step.
Even though I think this angel is one of the ugliest crafts I've ever made, Grace adores it. She's proud of her little angel, and I'm sure it will adorn her Christmas tree for years to come.