Grace has a Christmas tree in her bedroom, and my goal is for that tree to be decorated solely by ornaments Grace and her father have made for it.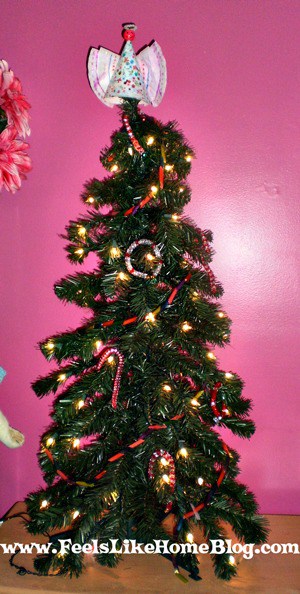 Pin
It's become a significant project for Grace and her dad.  I love seeing them work together.
Even when one or the other of them throws a big fit. It's still a worthwhile project.
It's good for them.
Using many of the tutorials I featured in Ornaments to Make With a Preschooler, Joe and Grace have been crafting almost every day.
Earlier, I shared the beaded candy canes that they made. Today, I'll explain how they made a pasta garland.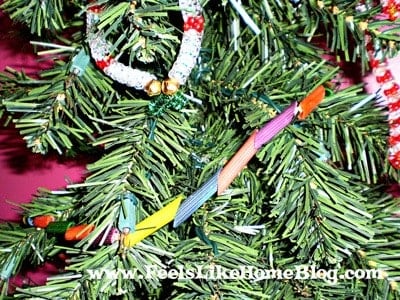 Pin
Colored Pasta Garland
Materials
Penne pasta (or any shape that you can thread on a string)
Pretty ribbon, string, or yarn
Small jingle bells
Instructions
Dye the pasta. I followed the instructions in Angie's pasta dying tutorial.
Honestly, we did this step in August and the pasta sat around in our craft supplies all this time.
Measure your string. Joe wrapped the ribbon they used around the Christmas tree a few times, so that he could see how long a garland they would need.
To begin, tie the end of the string around one end of the garland and knot securely.
Thread the pasta shapes on the string, alternating with jingle bells after every 5th (or 10th or whatever) piece of pasta.
When the string is filled, tie the string around the last piece of pasta and knot.
A note about crafting with a preschooler
Grace was really excited about stringing pasta on the pretty gold ribbon. For about three minutes.
Then she was finished. She grabbed it and ran upstairs to her bedroom, to the tree.
Joe followed and brought her and the garland back to the living room.
In the time she worked on the project, Grace strung only 10 or 15 pieces of pasta. And then she went to play.
Joe strung the vast majority of the pasta on the garland.
Grace believes that she made the garland, and she proudly shows it to everyone who comes to our home.
If you're going to craft with a preschooler, be prepared to do most of the work.
And be okay with it.