Two weeks ago (on the first day of the Type-A Conference), a man came into our yard and destroyed all the plants in front of and beside our house.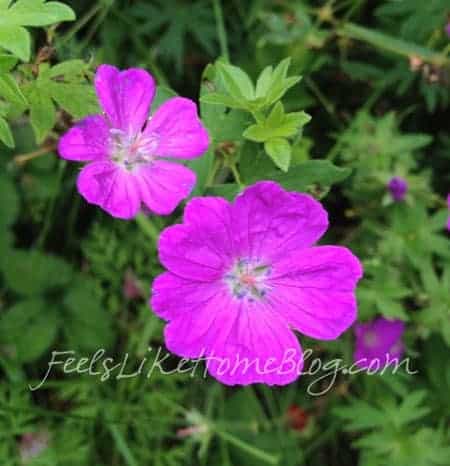 Pin
Grace watched from the window (the girls were home with a babysitter) while the man's weed eater mowed down plant after plant.
Purple coneflower, black-eyed susans, cranesbill geraniums, dianthus, liatris, balloon flower, bee balm, peonies, columbine, roses, all gone.
Asparagus, gone.
Raspberries, gone.
Shrubs, gone.
He did leave half of my lavender bush, a few sticks of one rose bush, most of a yucca, and about a third of a hellebore.
In an afternoon, he destroyed eight years' worth of planting and tending and mulching. He cut it down and hauled it away like garbage.
Not knowing what to do, Joe called me. I sat on a red chair behind the AboutOne table at the conference expo, having trouble digesting his words. As if words from a foreign tongue, vandalism and decimated rang through my ears without connecting to my brain.
Some minutes later, the words did drill down into my conscious, and I began to cry. How could someone come onto our property and ravage everything I've worked for?
For hours, I cried. I felt vulnerable and then violated and then just wounded. But at the same time, I felt ashamed.
I should not be so upset over flowers, I scolded myself. They're things. Joe's okay. Our girls are fine. Our pets are fine.
They're just flowers.
The more I scolded, the more wounded I felt.
What is wrong with me?
I must really be crazy.
I went up to my empty hotel room and cried. I prepared to wallow in sadness for the rest of the evening.
Not long after, just minutes, God tapped me on the shoulder.
You've traveled almost 600 miles from home to attend this conference, catch up with friends, and make new business relationships. You aren't going to do any of that crying in this hotel room.
When God speaks, I listen. I washed my face, fixed my makeup, and texted my friend. She told me where she'd gone, and said I should join the group.
I began to walk toward the restaurant, clad in jeans and a long sleeve dress shirt - in Charlotte, North Carolina where the temperature must have been 90 - but I got the direction wrong. I walked a total of 12 blocks before I oriented myself and figured out where I was supposed to be going.
I spent the long walk in prayer, asking God why this happened and what I'm supposed to be learning from it and to prop me up through the process because I didn't feel like I could push through it on my own.
I arrived at the restaurant, needing solace and grounding that a talk with an understanding friend could provide. Immediately, I found my friend, but she was seated at the end of a packed table and skooching over didn't appear to be a possibility. I looked instead for another friend who was eating at the same restaurant. Just as I found her table, I realized that she was sitting next to the one person at the conference who I just couldn't bear to spend time with.
So I did what any reasonable person would do.
I left the restaurant in tears.
Well, there you have it. Nobody likes me. No one wanted to talk to me anyway, and why should they? If I couldn't keep myself together in a restaurant, I must really be losing it. I'm hundreds of miles away from home, and I am having a mental breakdown. I can't believe this is happening to me. What did I do to deserve this?
The thoughts kept coming, faster and faster.
If I'm going to get this upset over some flowers and a dinner, maybe I should just kill myself.
.
.
.
It always happens when I'm that upset. Those thoughts, that thought, crowd their way into my conscious and dance around in front of me.
Woah! Stop right there! I scolded anew. I will not be killing myself today or any other day.
I passed a construction site and spotted a Panera Bread where I could eat a quiet dinner and compose myself.
I am not going to have a mental breakdown. I am going to enjoy this conference and do what I came here to do.
I wasn't convinced; the words were empty.
I began to pray again. I prayed for God to give me strength to handle the situation and to see His greater purpose in it and to learn whatever it is that He wants me to learn so that I wouldn't have to go through this lesson again some other time.
I would like to say that I felt better then, after I prayed, but I didn't. The answer came later, in the form of an email that asked me to check in on a friend who was struggling. I made myself be okay as to not upset her, and then I was okay.
I would like to say that His grace brought me peace and comfort in the middle of that upheaval, but it didn't.
The next day, after I'd had a good night's sleep, I felt stable. I felt confident and competent; I knew I could handle this situation with God's help.
I had been sad and scared and shaken and angry and lonely but I was never alone.