How to make the best Mexican layered chicken casserole from Weight Watchers WW - This quick and easy recipe makes a healthy but filling dinner with corn tortillas, shredded cheese, black beans and salsa. Main dishes that are creamy, cheesy, and baked in the oven.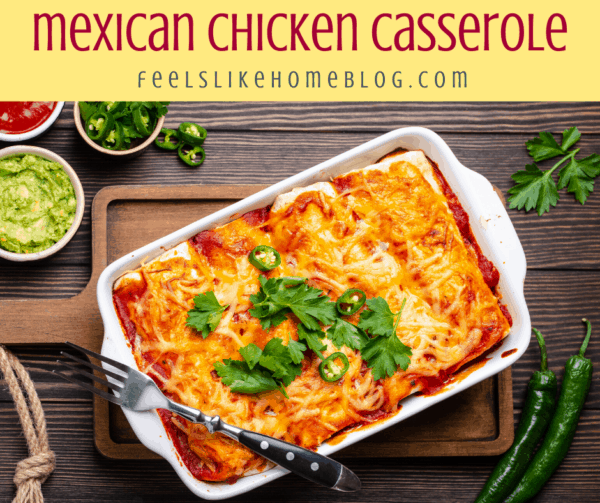 When I first started doing Weight Watchers almost fifteen years ago, I found a slew of WW-friendly recipes. Some were keepers, and some... well, they weren't worth talking about.
I no longer do Weight Watchers, but I've held on to the good recipes because they're healthy: low calorie and generally low carb.
We eat a lot of Mexican-inspired recipes, and I enjoyed the flavors in this one, even more so because it's a relatively low calorie meal.
Have I ever told you that I love cheese, Dear Reader? I love it. I love all cheese, but especially melted, yummy cheddar cheese. One of my favorite guilty indulgences is a grilled cheese with 5 slices of cheddar, 2 slices of ham, and 2 slices of WheatNut bread. I love it so much, but it's generally not in a low calorie diet.
What follows is one of my favorite Weight Watchers recipes, due in large part because of its ooey gooey cheesy goodness.
How to make Mexican layered chicken casserole
Preheat the oven to 350º.
Boil the chicken breasts in a saucepan until cooked through, usually 10 to 15 minutes. Drain, cool, and cut into one-inch chunks. Alternately, you could sauté the chicken or cook it in the microwave. You could also use canned, shredded chicken from a can if you're in a pinch and need a quicker meal.
In a large bowl, combine cubed chicken, black beans, garlic, Greek yogurt, salsa, one cup of shredded cheese, peppers, cumin, and black pepper. Mix well.
Arrange half of the tortilla strips in a 9x13 pan, overlapping them to cover the bottom. Top with half of the chicken mixture. Then layer with more tortilla strips and the rest of the chicken mixture. Sprinkle the top with remaining shredded cheese.
Bake until filling is bubbly and cheese is melted, about 30 minutes. Let stand 5 to 10 minutes before slicing into 12 pieces.
Serve Mexican layered chicken with one of the following veggie sides:
One thing to note is that a serving of this casserole is 1/12 of a 9x13 pan - pretty small, but it is rich. So if you're going to make this (and you should!), plan on having a salad or one of the above vegetable sides to go along with it. You won't be able to fill up on the casserole and stay within your calorie or point goal for the day.