I want to make a keepsake quilt from my favorite among Grace's baby clothes. With our new baby girl expected in early January, I wanted to get the quilt finished as soon as possible.
I started by gathering and sorting the baby clothes in order to find the ones that I really had an emotional connection to. Next, I found inspiration by looking at other baby clothes quilts online.
How to Make a Keepsake Quilt from Baby Clothes
Step Three: Design the Baby Clothes Quilt
Given the volume of clothes I had in a variety of sizes, I decided to make something similar to this one.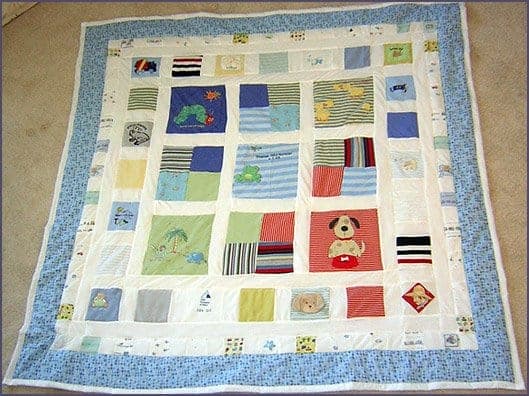 Pin
It has everything I liked - a small border between the clothes squares, big squares to maximize precious outfits, small squares to minimize waste, and a coordinating border around the whole thing.
Decide on a Size for the Baby Clothes Quilt
Grace's day bed is a 5-in-1 that turns into a full-size bed when she's ready for that. After finding a helpful tutorial at Craftastical, I realized that I had enough baby clothes to make a queen-sized quilt. I thought about sticking with a full-size one, but the dimensions for the queen size worked out better given my design for the inner part of the quilt.
Design the Quilt Pattern
Here's what I started with -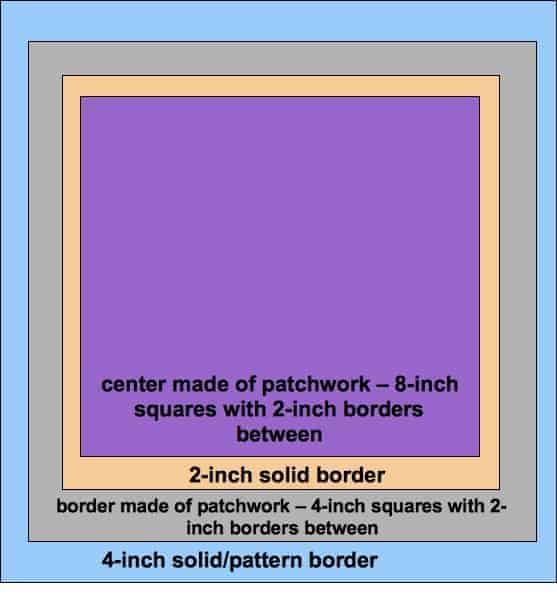 Pin
For that to work, I'd need the center to be 7 squares by 8 squares, a total of 56 8-inch squares, each bordered by a 2-inch strip of solid material. The patchwork border would need to have 76 4-inch squares, each bordered by a 2-inch strip of solid material.
Around the whole quilt will be a 1-inch binding, but I didn't figure that or the quilt backing in the calculations above. Let's do one thing at a time, okay?
According to my calculations, the finished quilt will be 90"x100", just a bit bigger than a queen-sized bedspread.
This is going to be a big job. I'm a little concerned about that, but working on one step at a time should make it doable.
I hope.
Oh, and I decided to add a pillow sham. It will require 4 2-inch squares and 24 4-inch squares.
I'm insane.
Step Four is to cut the outfits into appropriately sized squares. More on that next week.