This rich butter shrimp recipe uses Old Bay, butter, and lemon juice to prepare the very best shrimp you'll ever eat! Once you've had buttered Old Bay shrimp, you'll never prepare shrimp another way.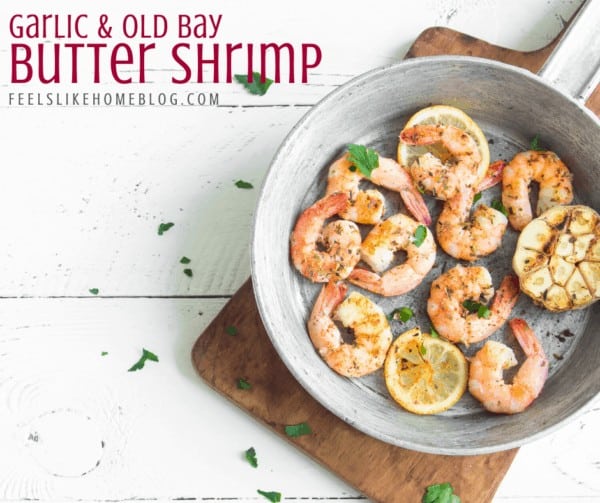 Joe prefers his shrimp steamed with Old Bay, but I prefer mine buttered. I'll admit that this recipe isn't very healthy, but I only eat it once a year, on New Year's Eve, so I don't mind too much.
There was a time when I didn't like seafood at all, but I have come around to its flavors and benefits in the last few years. When I say benefits, I mean that seafood is super high in protein and super low in calories (although maybe not so much when you drown it in butter, but the protein remains). I have to carefully track my protein, so it matters to me.
Even if you don't track protein, seafood and specifically shrimp is a great way to celebrate a holiday or special occasion.
This recipe uses Old Bay seasoning which I thought was everywhere, but I have learned that it is unique to the eastern and southeastern United States. If you can't find Old Bay, you could substitute Seafood Seasoning, but Old Bay is much better and available on Amazon these days. Just be careful and make sure you're ordering 1 can and not a pack of six. It should be under $8. (This link will take you to a single can purchase.)
WHAT IS OLD BAY?
Old Bay seasoning is sold by McCormick and was originally created by the Baltimore Spice Company in Maryland. In the eastern US, it is synonymous with seafood dishes, but I've eaten it on popcorn, French fries, corn on the cob, fried chicken, potato salad, and many other dishes and meats.
Old Bay is a blend of celery salt, paprika, and black and red pepper. It is smoky, salty, and a little spicy, so a little goes a long way.
How to Make Old Bay Buttered Shrimp
Melt the stick of butter in the largest skillet you have. Add the garlic, lemon juice, and Old Bay. Stir it around to combine and sauté for a just a minute until the garlic is fragrant.
Add the shrimp and sauté for 2-3 minutes, until pink. Be careful not to overcook the shrimp or it will get rubbery and be tough to peel.
Remove shrimp from skillet, devein, and serve with cocktail sauce. Some people like to sprinkle with additional Old Bay right before serving.
Try these other shrimp recipes while you're here: