As a mom, you may end up feeling inadequate and a total failure in your mom life, but when you feel like you're failing, mama, I promise you're not. Sometimes, we set ourselves up for feeling this way by having unrealistic expectations. You got this, mama.
"Oh no!" Grace yelped as she jumped out of her car seat.
"What?!" I responded.
"I'm not wearing any underwear!" she said, and she giggled.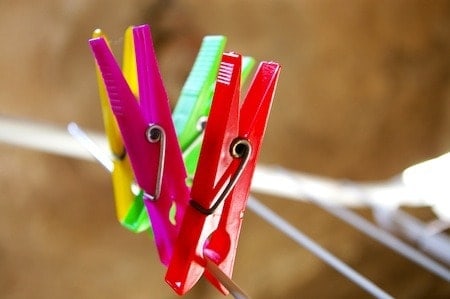 Pin
I stopped and looked at her. "You're right. You sure aren't." I remembered then that she'd asked me to help her find a pair of underwear before we left home, and I forgot.
I grabbed her hand and we walked through the parking lot together anyway. I was thankful she was wearing a maxi dress.
Sadly, this was not the first time she's gotten out of the house without underwear - this week. Sometimes, I say to myself, "Who is her mother? Why hasn't she got herself together?!"
It's then that I feel most delinquent.
Let's take a moment to consider how many parenting failures must happen in succession to produce an underwear-less 5-year-old in the parking lot of the Olive Garden.
I work way too much. Add 20-25 hours a week for AboutOne to writing this blog and working with private coaching and SEO clients, and I very easily spend 45 hours a week behind my computer.
I don't take care of my family and especially our home. We're behind on all of the housework, but especially the laundry and the general mess. I used to do a load or two of laundry every day of the week, but now, I'm lucky if I do a load or two once a week.
Instead of washing clothes and immediately putting them away, I have started piling clean clothes on the couch. But then, when someone wants to sit down, the clothes get moved.
I don't know where the clothes end up. At least one entire load of laundry (containing all of my summer shorts and some of the children's) has vanished into thin air. I've looked for them everywhere I can think to look, and they are simply missing.
Grace has plenty of underwear, but she changes it every single time she uses the bathroom. It's like she can't put them on after they've come off. As a result, all of her underwear is dirty or in laundry limbo, lost someplace in our messy home. Her underwear drawer is completely empty save a couple of pairs of thick winter tights and a few pairs of socks.
She asked me this day at least once (but maybe two or three times) to get her a pair of underwear, and I really did intend to find her a pair, but we were in a hurry and I couldn't find anything to wear myself because half of my clothes are missing I don't know where.
So combining my working too much with dismal housekeeping abilities, a complete failure to follow through a task begun, and haphazard organizing efforts, and my kid has been in public twice this week with no underwear.
It is at these times that I feel least like Super Mom. I don't even feel like Good Enough Mom. I feel like Inadequate Mom, the one whose house is so messy that her kid can't find a pair of clean underwear.
I know that beating myself up won't fix anything, but trying to devise a plan is hard. I sit on the chair in the living room, looking past my laptop at toys and clothes and papers and books and dvds and towels and a pillow, and I defeat myself before I even begin.
The stuff is overwhelming. We have too much, and despite two years' worth of sorting and purging, it feels like there's as much stuff here as ever.
I can't really cut back on my work hours because I have made certain commitments, and we need my income.
Maybe I can find a way to work laundry back into my routine so that washing and folding and putting away is just another thing the girls and I do each day, like brushing our teeth and eating our lunch and having school time.
Routines make the work easier, right?
(I wanted to end this post on a positive note, with a plan to clean up this awful mess and get my house together, but I don't have a plan.)