I have a confession, and I'm hoping that someone among you will have some advice.
I have a problem with food, mostly junk food like cookies and candy.
My problem is eating compulsively. If it's available, I will eat it. I can't stop. I'll make myself sick and still keep eating because the food tastes good, and thoughts of that good taste will consume me.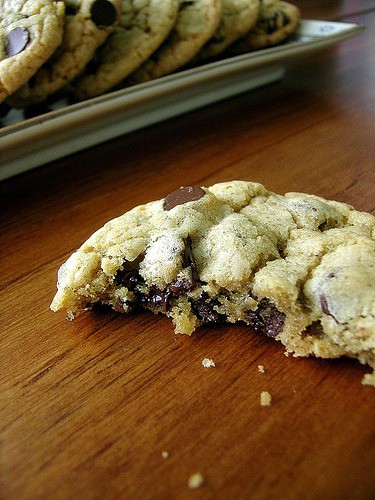 Last week, while I was in Utah, our hotel had chocolate chip cookies at the front desk around the clock. They were tasty, soft and full of chocolate chips.
I couldn't stop eating them. Even when I wasn't eating them, I was thinking about eating them.
The cookies were always there, in unlimited supply, and I ate and ate and ate them.
The same thing happens at home when I buy cookies or candy.
Yesterday, the Halloween candy was 50% off at Walmart, so I bought a bag of Almond Joy bars. They're all gone. Every one.
Just like with the cookies, if I wasn't eating an Almond Joy bar, I was thinking about eating an Almond Joy bar. I couldn't work or read because I couldn't push the thoughts of the candy bars out of my brain.
I don't think this is emotional eating.
I feel silly to be asking for help, but I feel powerless to control this. If I know there is candy available to me, I think about it constantly until I eat it.
So I'm hoping that someone among you, my Dear Readers, will have had an experience like this and give me some suggestions on how to stop the madness.