A week or so ago, I found a pretty picture on a blog I like.
It said, "I can do HARD things," and I thought it was so appropriate given the fact that I'm still going to the hospital every day for treatment. I'm still learning how to deal with bipolar disorder and have the life I want: positive, uplifted, happy, stable.
In other words, I have been doing hard things.
Sometimes, it sucks. Most of the time, though, it's okay. Some days, it's even great.
I feel like I'm learning to live again.
Learning.
To.
Live.
Again.
It's unbelievable to me that I ever forgot to live, forgot to have joy, forgot to enjoy and love and embrace my babies and my husband, but I sure did. I remember the dark place I was in two weeks ago.
I had forgotten to live.
Anyway, I went to this blog to look at the printable doodle placemats she shared a while ago, and I found this and printed it and hung it on our school board. It's right behind our couch, right next to Grace's Bible verse of the week, right where I will look at it thirty-seven times every day.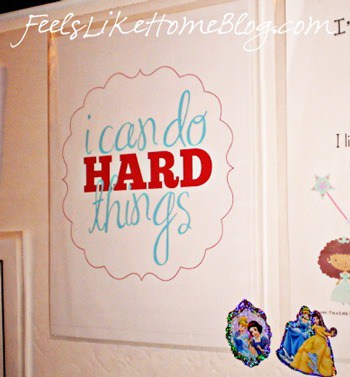 Pin
Because I can do hard things.
And I am doing hard things.
And I am better for it.