We spent the whole day today in Washington, DC with our friends from Washington.
All five of us had an amazing day. There's definitely an art to creating a fun day for a two-year-old, a three-year-old, and three nerdy adults in a place as enriching as Washington, DC.
The only sour part of our day was driving home. Grace and I were sad that we won't be seeing Allie and her son, the Philosopher, again tomorrow.
Such is life.
How We Enjoyed the Day in Washington, DC with Our Kids
The last time Joe and I were tourists in Washington, DC, we took the metro all over town. That was fun, but with a pregnant woman and two small children, we decided that a car might be best this time.
The only downside of driving our car is that we drove around the block again and and again looking for a parking spot. If it had been a day other than Sunday, we would also have had to feed the parking meter.
And I had trouble parallel parking.
More than once.
In the interest of leaving our SUV parked in the spot I (finally!) got it into, we spent our day walking around the Smithsonian Museums and the National Mall.
Joe, Allie, and I knew that we wanted to take in some museums today, but that can be tricky with small children.
It would have been nice to see the museums as adults, reading the captions and taking some time to look at each exhibit, but that's totally unrealistic when you're toting two tots. Cognizant of their limitations, we chose museums with big, eye-catching exhibits.
Our First Stop - The Air and Space Museum
Both kids liked the lobby of the Air and Space Museum. They thought the rockets and spacesuits were really cool. I was in heaven; I teach astronomy in a high school.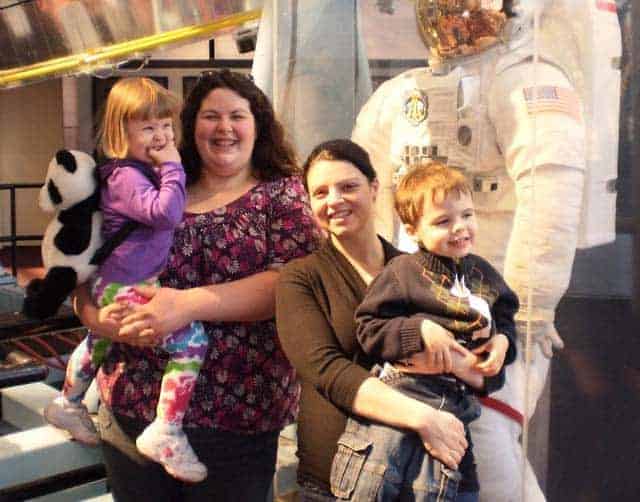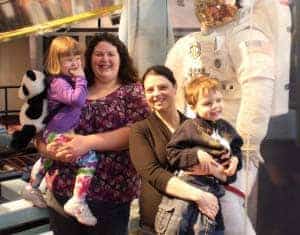 Pin
There was a free guided tour of the museum available, but we thought it would be ill-advised for our group. Instead, we toured the building on our own, avoiding things that the kids found scary or boring.
We stumbled upon a museum employee who told us all kinds of cool facts about a cluster of the exhibits. He also directed us to a special section for children.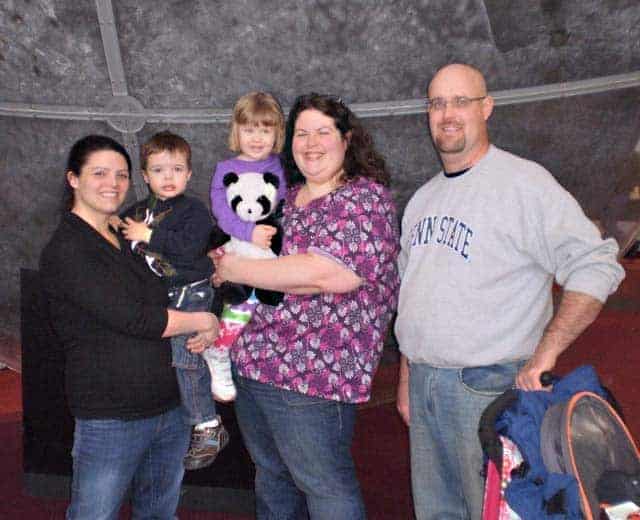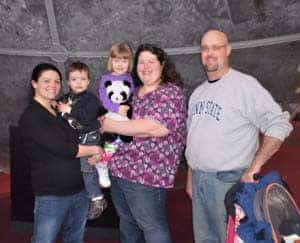 Pin
There was supposed to be an airplane for the kids to climb into, but it was all roped off. Not long after that, however, Grace and the Philosopher found something else to climb on. It's one of the tracks from the super-sized transport vehicle that moves the space shuttle around at Kennedy Space Center in Florida.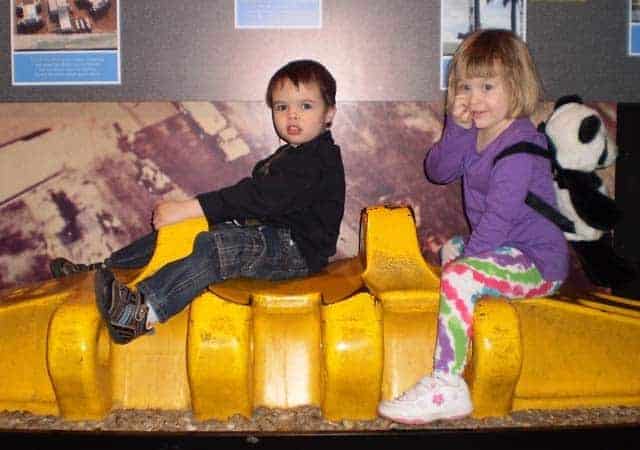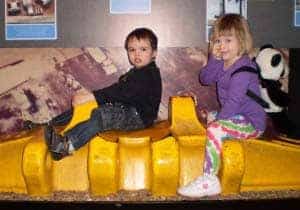 Pin
I could totally have said, "Hey! Get off of that! This is a museum!"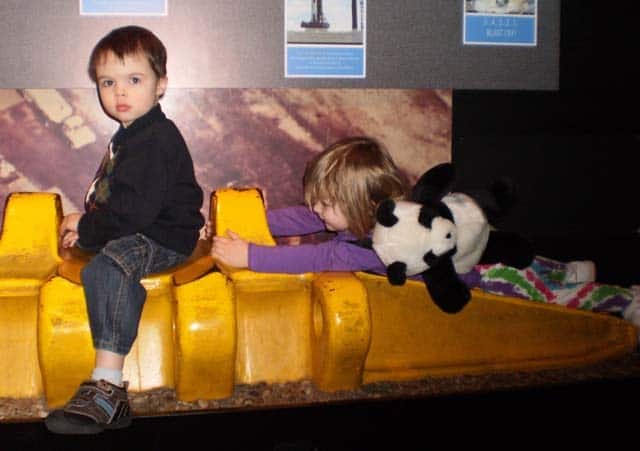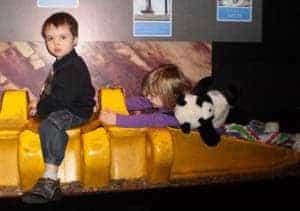 Pin
Obviously, I didn't. This tread carries machines that weigh a gazillion tons, so seventy pounds worth of kid was not going to hurt it in any way.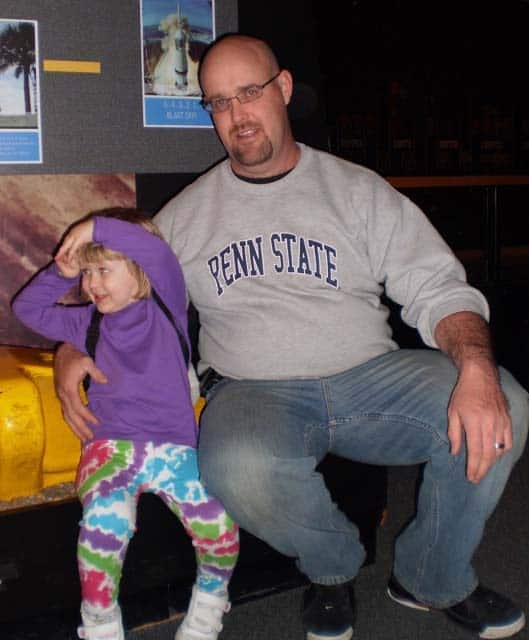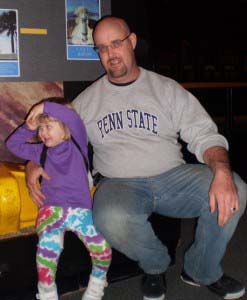 Pin
Allie, Joe, and I sat down on the floor and regrouped, planning out the rest of our day.
When you're traveling with small kids, you have to be flexible. You have to be content to see a small fraction of the museum. We saw maybe a third of the National Air and Space Museum before the Philosopher and Joe Grace got hungry and wanted to eat some lunch.
Our Second Stop - The National Mall
Do you know what I mean when I say the National Mall?
The National Mall is the grassy park in between the Capitol Building and Lincoln Memorial, right in the center of Washington, DC. The Washington Memorial is in the middle of the Mall, and most of the adjacent buildings are part of the Smithsonian Institute.
The Mall is made up of long, straight sidewalks and paths and long straight lawns. It's perfect for walking or biking or walking a dog.
We intended to pass through the Mall, but it was a big attraction for the kids.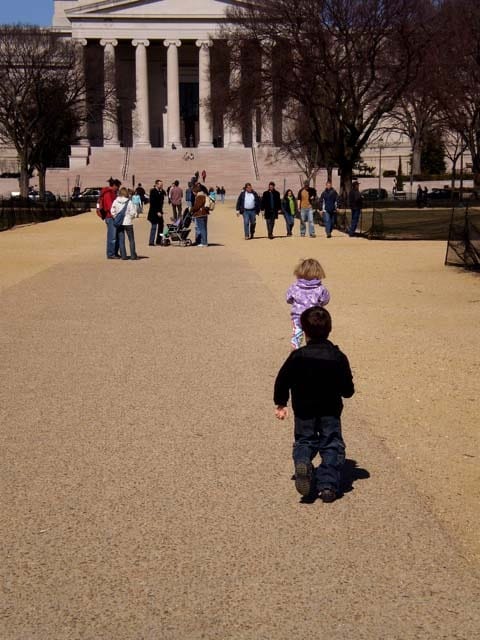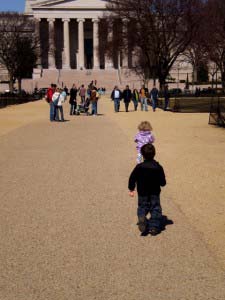 Pin
Or running.
We ran. A lot. Joe pushed the stroller while Allie and I ran with our tots.
People on the Mall today were flying kites, tossing footballs, and having picnics. It's such an awesome space.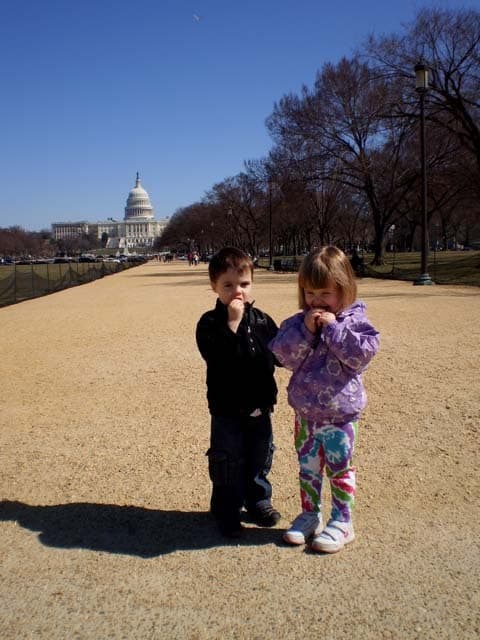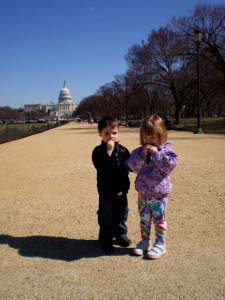 Pin
There is a big carousel in the National Mall, and Gracie thought it was awesome. She would've ridden it many times if we'd given her that option. (Look for pictures of the carousel on Wednesday.)
I do want to mention that every person who rides the carousel pays the $2.50 ride fee. A parent accompanying a small child pays just like any other rider.
Be ready with cash.
On one side of the National Mall is a sculpture garden. We would have liked to go in, but there were big signs that said "Please do not touch the art."
Have you ever tried to keep two- and three-year-olds from touching something as tempting as a silver tree? We turned around and left the garden almost as soon as we arrived.
Our Third Stop - The Natural History Museum
The Natural History Museum is my personal favorite among all of the Smithsonian museums. When I was in college, I had a tour of the "back rooms" of the Smithsonian's gem and minerals department. Did you know that the displays contain a small fraction of all of the museum's amazing pieces? Seeing the back rooms was a real eye opener.
Anyway, we weren't looking at back rooms today. We were walking with preschoolers.
Grace and the Philosopher wanted to see the dinosaur bones (but then changed their minds because the dinosaurs were too big and too scary). They also wanted to see the fish and ocean exhibit, the diamonds, and the kids' store.
There is a huge cafeteria in the basement of the Natural History Museum, and we had a nice lunch there. It cost Joe, Grace, and I $40 and change to eat (can you say ridiculously overpriced?), but it provided a lively diversion from the "let's look at something that we can't touch" routine.
Hypothetically, if there are tables abutting a wide stone ledge in the atrium of the cafeteria, parents and children are not supposed to use said ledge as a seat or a place to run, jump, or hop. If they do, security will come and scold.
Hypothetically.
Another awesome diversion from the look but don't touch routine was the Discovery Room. It's on the first floor of the museum, way in the back, and it is a closed room where kids can play - and touch everything in sight. The five of us could've spent the entire day in that little room.
The kids played with dress up clothes from around the world. They looked through binoculars, microscopes, and magnifying glasses at shells, teeth, bones, feathers, and I don't know what else. There were sounds to investigate, puppets to animate, and books to read.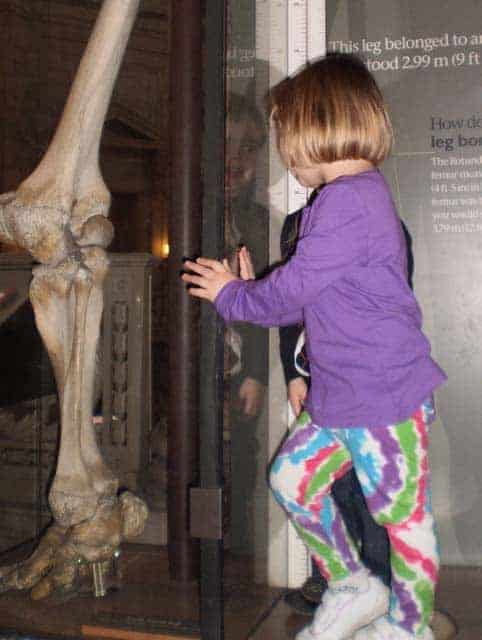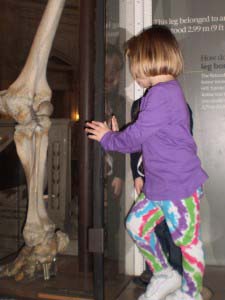 Pin
We learned that both Grace and the Philosopher are shorter than the leg of an elephant.
Good to know, isn't it?
Some day, we'll all go back to the Smithsonian museums in Washington, DC. We'll linger at the exhibits and pore over all of the captions. We'll learn a lot, but we'll probably miss our kids.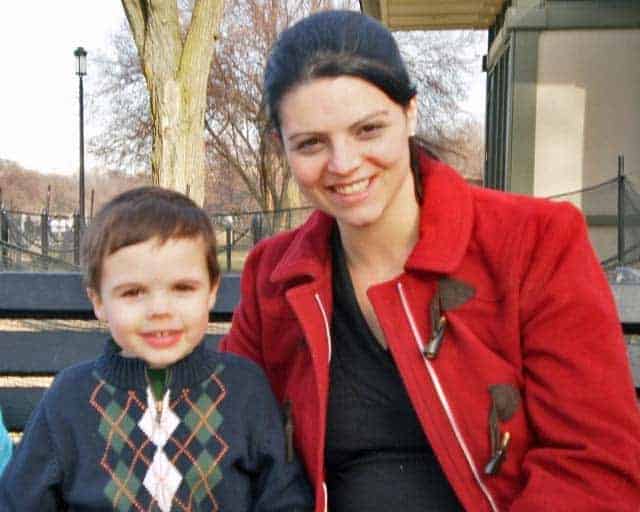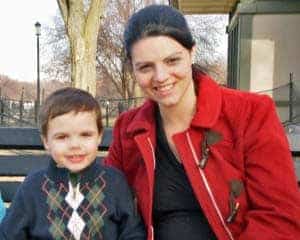 Pin
For now, we're definitely missing our friends.