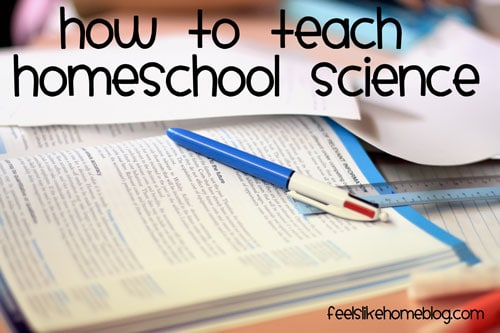 Pin
We have freedom as homeschoolers, to tailor our instruction to our kids' needs, to experiment with different methods of teaching, and to allow our kids to study their interests.
I know there's not one best way to teach any subject, but I taught high school science for 10 years. I have an undergraduate degree in science education and a master's degree in teaching. I know a little bit about how kids learn science concepts.
To help your kids learn science, I suggest you put your science textbook away.
Textbooks can be nice references, so stick them on a shelf somewhere if you want to, but science is an active subject. It's a way of thinking, not a set of facts to be read and memorized.
Get your kids doing science instead of reading about science.
Before you get bristly, I will admit that we should study the work of great scientists. That should come after kids have drawn their own conclusions by studying the natural world on their own.
Keep reading.
Traditional teaching explains concepts and then explains examples of the concept. If we were studying plants, we would probably read a textbook that would say something like this:
Plants are living things that do not move from place to place. They have 3 parts - roots, stems, and leaves. Most plants produce a flower and seeds, and some plants produce fruit.

The roots of a plant have two main functions. Roots anchor the plant in the soil, preventing it from toppling over or blowing away. They also deliver water and nutrients from the soil to the stem and leaves.
Then it might have photos or diagrams of several different kinds of plants that show their roots, stems, and leaves or diagrams of different root systems.
The type of learning I'm suggesting is exactly the opposite. It shows kids real examples or real problems, and helps them to take them apart, gather the information they need, and then understand the overall concept.
Mom asks the kids what they know about plants. Mom helps kids to come up with a few questions about plants, questions that they want to answer (probably not "what are the parts of a plant?" unless they're really little; something like "why do plants have roots?" or "why do some plants have many leaves and others have only a couple of leaves?").  The questions should be interesting and inspire kids to find out answers.

"Why do plants have flowers?" and "How do plants grow?" and "Why don't plants move around?" would also be good for bigger kids, but the key is to let them come up with their own questions.

Let's say they're trying to figure out why plants have roots.

Kids go outside and dig up a plant. (I would personally make them dig up a weed, not my rose bush.) Their mom guides them to recognize the different parts of their plant - the roots, stem, and leaves - not by telling them the answers but by asking questions.

"How are the roots different from the stem?"

"What is the main part of the plant?"

"How does the stem stay upright?"

"Are all the roots the same?"

It's not necessary for Mom to know the answers; it's only necessary for her to ask the questions. Once the kids have been at this kind of learning for a while, they'll begin asking their own questions.

Mom might take them outside to pull weeds in the garden or a nearby park, experimenting with a hoe, trowel, or 3-prong thing (Does that thing have a name? It looks like a claw.) to try to dig them up.

They might move on to looking at different kinds of plants (online or in person), growing their own plant from a seed in one of those root viewers or an AeroGarden (okay, a stretch but if you're looking for a reason to splurge), or doing experiments with where they water the plant by misting versus by watering the soil (or whatever else they dream up).
Obviously, there's a huge difference in the approach. Which kids will learn more, the ones who read the paragraph or the ones who investigate their own questions and draw their own conclusions?
I don't have to answer that, do I?
The kids who explored their own questions will have learned so much more about plants than the kids who read a couple of paragraphs in a textbook.
There's a big difference between doing science and reading about the science someone else has done. Real learning, the kind that becomes part of you, only happens when you make discoveries for yourself. It happens when you ask questions, gather information, and draw your own conclusions.
Here's another example:
You could read a website about elephants to your kids, explaining the primary features of all elephants and the differences between Asian and African elephants.
or
You most likely can't observe live African and Asian elephants, so you would have to rely on the observations that others have made, videos and photos they've taken, and their drawings or field notes. (These are called primary sources because they are first-hand observations.) You would still talk to your kids about the topic, help them to come up with interesting questions, and then guide them to figure out the answers.
If this method of teaching is best, why isn't everyone doing it?
You can probably answer this question with no further assistance from me, right? This way of teaching is hard. It's complicated. It requires a lot of planning, a lot of flexibility, a lot of hands-on teaching, a lot of materials, and a lot of work. You can't cover as much material this way.
Kids who learn science the traditional way accumulate a lot more factual knowledge.
It's a whole lot easier to hand them a textbook or read them a website. (And, to be honest, I do that once in a while, too.)
I'm going to make this into a series with advice and suggestions for teaching homeschool science. Share your questions below, and I'll answer them in future posts.