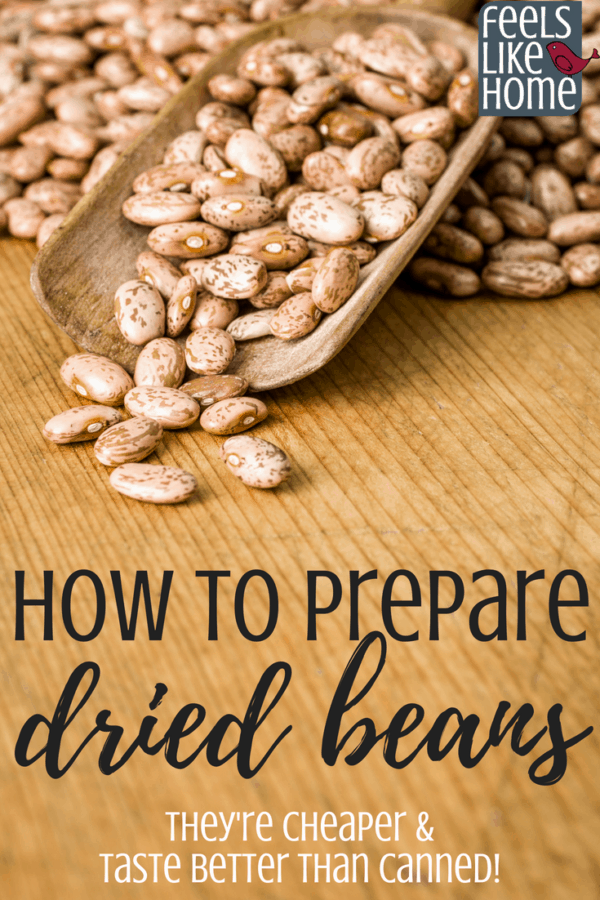 Did you know that beans don't have to come in a can?
Don't laugh; I didn't know until more recently than I care to admit.
Dried beans are very easy to prepare at home. It's also much less expensive and both tastier and healthier to buy dried beans and prepare them than it is to buy them in a can.
You can find dried beans in one-pound bags at nearly every large grocery store, even at Walmart.
You want to soak your own beans.
Why? Because soaking the beans yourself begins to process the starches that make beans offensive to your intestines. In other words, soaking them at home should lead to less bean-related tooting.
The following directions will work for any type of dried beans: black beans, garbanzo beans, pinto beans, kidney beans... Are you getting the idea?
Materials for preparing dried beans
A pound of beans, whatever type you like
A colander or strainer - make sure the holes are small enough that the dry beans won't fall through
Your biggest sauce pot - the beans will double or triple in size, so make sure it's big enough for the finished beans
Preparing the beans
Empty your bag of beans into the colander and rinse them well. While you're rinsing, pay attention for any small stones or other junk that might have gotten mixed in with the beans.
Discard any foreign objects, as well as any beans that look misshapen and any empty skins.Have your kids help with this.

Even the smallest of helpers can look over the beans, pick out the bad ones and stones, and rinse the beans. Grace really delights in this step.
Soaking dried beans
After they've been thoroughly rinsed, put the beans into a large saucepot. I like to use a 6+ quart pot. Remember, the beans will double or triple their dry size.
Let the beans sit for 6 hours to overnight. Cooks disagree on the perfect amount of soaking. I've read that anything over 8 hours is bad. I've read that anything less than 10 hours is bad. You'll have to experiment and see what produces the least amount of digestive gas for you.

Kids will love this part, too. You can see the beans grow as the hours go by. Plus, they will make some gas that will form bubbles on top of the water. It's all very exciting for the little people.

After you've soaked the beans, dump the water and rinse them in your colander. You should notice that the beans are much larger than before.

More rinsing means more help from the kids. Let them do it themselves. Be prepared for a big, wet mess, but it's just water, so you can easily wipe it up.
Or make the kids wipe it up.
Cooking the beans on the stove
Return the rinsed beans to your largest sauce pot and cover them with at least 3 inches of water.
DON'T add salt. Salt will prevent your beans from softening.

Of course, like everything else, some cooks swear that salting makes the beans soften faster. You have my permission to experiment.

Bring the beans and water to a boil. Turn down the heat on the pan, and simmer the beans for an hour or two, until they are tender to your liking. Normally, if you can crush a bean with a fork, it is done. (If your beans came in a package, you should consult it for cooking times.)
When the cooking is finished, you've essentially made bean soup. Some people eat it just like that, though I am not one of them. I drain the beans and rinse them and then use them.
After they're cooked, you can season the beans however you like - salt, spices, etc.
A typical can of beans is 15 oz, so I use 1.5 cups of my homemade beans when a recipe calls for one can.
Bean storage
If you're not going to eat the beans right away, PUT THEM IN THE REFRIGERATOR! The beans will spoil if you leave them out at this point. You will probably have to pour off a lot of the cooking liquid. You can either save it for soup or throw it out.
I like to put the whole pound of beans (with enough cooking liquid to cover them) into a very large glass jar in my fridge, and spoon them out a cup or two at a time, as my recipes require. They'll keep in the fridge for about a week.
You can freeze the beans (before or after adding them to other ingredients). They freeze well, and they are easy to defrost and use. Just add your desired amount to a freezer bag, squeeze out the extra air, and place in the freezer. They take up less space if you lay them out in sort of a flat puddle.
Alternate cooking methods for dried beans
You can also prepare dried beans in a slow cooker or pressure cooker. Here's how:
Dried beans in the slow cooker
Place soaked beans in the CrockPot or slow cooker.
Cover with 3 inches of water.
Cook on low for 8 hours or until you can smash a bean with a fork.
Note: If you have a 6-quart CrockPot or larger, you can cook two pounds of beans at one time. If your CrockPot is smaller than 6-quarts, only cook one pound so that they cook evenly and you don't have any crunchy beans.
Dried beans in the pressure cooker
Place soaked beans in a 6-quart or larger Instant Pot or pressure cooker.
Making sure you don't fill the inner pot more than half full, add water to the pot to cover the beans by at least an inch.
Turn the IP on to manual and follow the cooking time from your instruction manual. (Times vary based on type of bean. Black beans are 15 minutes, but pinto beans are 10 minutes and great northern beans are only 5 minutes.)
After cooking, allow for a complete pressure Natural Release.
While it might at first seem like a pain, I think you will find that dried beans taste better, have significantly less salt, and produce less gas (ahem) than canned beans. Once you get a system down, it will be no big deal to soak a bag of beans overnight, drain and rinse them, and then plop them into the CrockPot or Instant Pot to cook. Since one pound of beans makes the equivalent of 3 cans' worth, you'll have enough beans to last for a week or so before you have to do the process over again. It's worth the work to me.
Would you ever use dried beans?