Pin
This past weekend, Grace and I worked on a painting project.
While we painted with pink and blue and purple and green, Allie toddled around the kitchen table, asking to be held.
Not too much time passed before I realized that Allie wanted to play with the paint.
How to Paint with a Toddler
Materials required:
Toddler
High chair or booster seat
Non-toxic paint - Get the safest, most organic, most natural paint you can, just in case said toddler puts paint in her mouth - I tried this once with baby food, but it didn't work very well. If you don't care about the finished painting, you could use baby food and not worry about the ingesting of paint.
Tape
Paper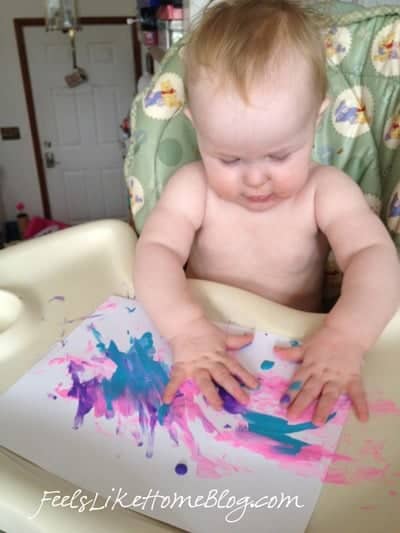 Pin
What to do:
Tape a piece of paper to the tray of your toddler's high chair (or, if you are using a booster seat, cover the table with newspaper and tape the paper to the newspaper). If you don't tape the paper to the work surface, the paint will probably not end up on the paper.
Or the paper will get turned over and paint will be on both sides.
Or the toddler will paint on the paper and then pick it up and use her face as a stamp.
None of those happened here because I taped the paper to the high chair tray.
Strip your toddler to her diaper, and then strap her into her high chair.
Drip paint on to the paper. Start slowly, just three or four drops at a time. Allow her to experience the paint, touching it, smearing it, feeling it in her fingers. Just don't let her eat it.
As she smears the paint around, drip more paint around the paper. I added more paint only when there was nothing left to play in.

When your toddler seems to have stopped enjoying herself, remove her from the high chair to the bathtub. Paint is easier to remove from children when it is fresh and wet.
And also, she will paint fewer surfaces in your house if you clean her promptly.

Allow her painting to dry, then hang it up where you can enjoy it.
Have you ever allowed your toddler to paint?