How to make the best banana pancakes - This simple and easy recipe uses only 3 ingredients to make light and fluffy pan cakes that are healthy and served with peanut butter and chocolate chips.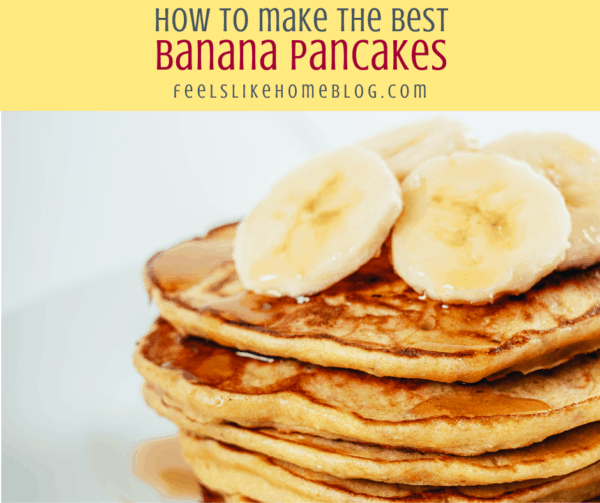 We had a lot of snow this week.
Joe was outside shoveling our driveway for the twelfth time this week when I had a brainstorm.
When he came in, I had a hot, heart-shaped banana pancake dotted with chocolate chips waiting for him.
I used pancake mix so that they'd go together quickly, and the addition of the bananas made them out of this world!
For instructions on making heart shaped pancakes, head over here.
How to Make the Best Banana Pancakes with Chocolate Chips
Whisk together the pancake mix and the water. Stir in the mashed bananas and mix well.
Pour ⅓ cup of batter into the skillet.
Before the pancake is cooked through, sprinkle chocolate chips into the the batter.
Let the pancake cook until the edges are beginning to set and bubbles are forming. If you don't wait long enough, pancake batter will run everywhere when you attempt to flip it.
Flip the pancake over and let the top brown a bit.
To serve, flip the pancake back over (chocolate chips facing up) and serve with a dollop of peanut butter and maple syrup.
My pancake mix batter made 5 ⅓ cup pancakes, just enough for Joe, my sister Amanda, Gracie, and me. (I didn't cook the first one long enough before flipping, and it was ruined.) It was the perfect amount.
We all smeared peanut butter on the hearts and gobbled them down. They were great.
For the secret to cooking perfect pancakes, head over to this post.
If you want to make your pancakes into heart shapes, check out these instructions.
And here are a few more pancake variations that you might like: