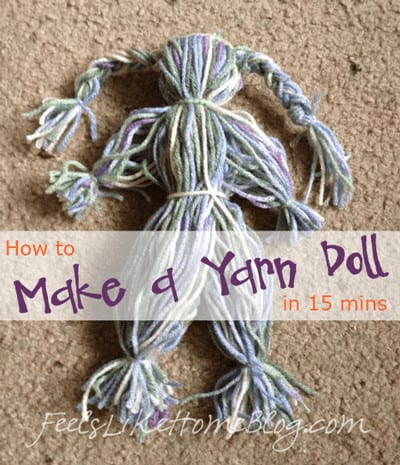 Pin
As I have mentioned a time or eight before, Grace and I have been working our way through the The Complete Little House Box Set that I got for Christmas when I was little.
I'm so excited to be working on a Little House unit to share with you, but in the meantime, I'm going to post some of the activities we've done.
This activity wasn't actually described in any of the Little House books (so far), but we did see something like it in the Welcome to Kirsten's World book that we borrowed from the library.
One afternoon, I told Grace we were going to make a yarn doll. She thought it was a good idea, and we made it in less than 15 minutes.
Because she doesn't know how to tie just yet, Grace could only do the first part. I finished the doll while she was playing with her doll house.
I should also warn you that this doll is pretty fragile. We put it way up, out of Allie's reach. I am pretty sure she would unravel it into a bird's nest of tangled yarn in about three seconds.
How to Make a Yarn Doll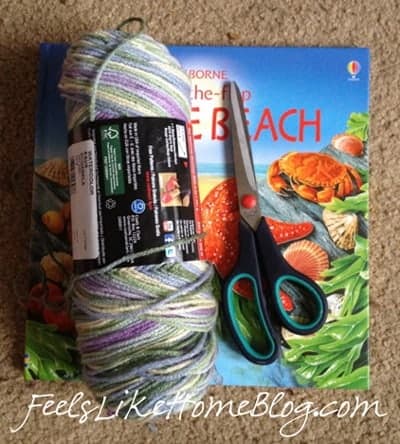 Pin
The materials for a yarn doll are very simple:
One skein of yarn (even a small chunk will work)
Scissors
A large book (ours was about a foot tall, maybe a little less)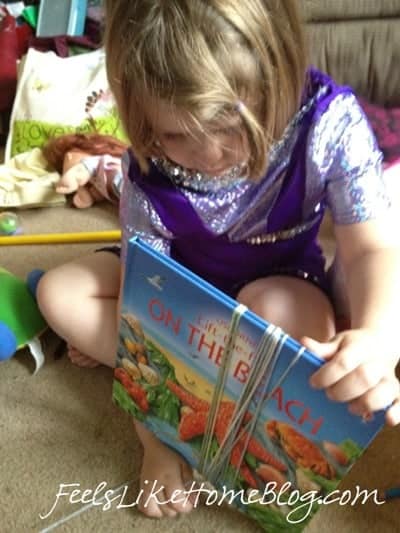 Pin
1. Wrap your yarn around the book 100 times. This was an awesome reason to practice counting to 100! Grace and I counted together in between her complaints that her arm was going to fall off.
Be careful not to wrap the yarn too tightly around the book. You want it to be snug but not to hard to slide around.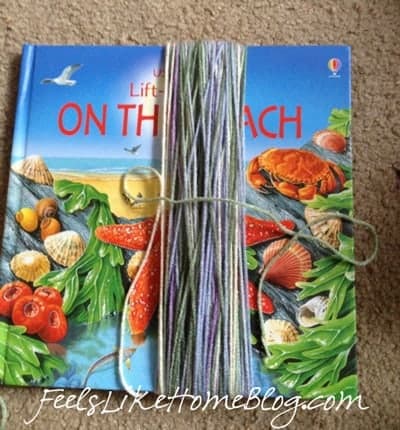 Pin
2. Cut the end of the yarn after you've wrapped it 100 times around the book. Thread the tail under the whole pile of yarn. I wrapped the tail around, tied it, and then wrapped it again.
Pin
3. Slide the tied part up to the top of the book and tie a square knot to hold it tightly. (You know how to tie a square knot, trust me.  It's like a shoelaces knot that you tie twice.)
4. Very, very carefully, slide the yarn off of the book. Lay it down with the knotted part at the top.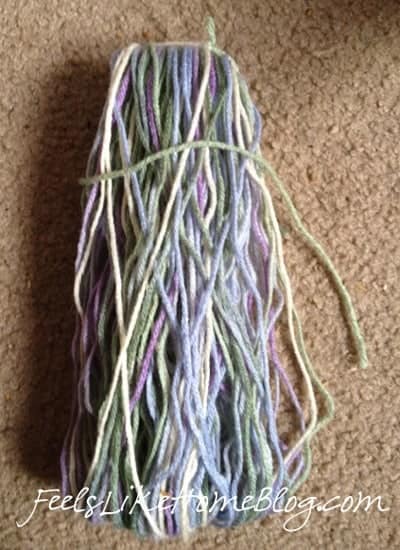 Pin
5. Cut a short length of yarn and lay it a few inches from the top loop. This is going to make the neck of your doll. Pull it as tightly as you can and tie another square knot.
Right after I took the picture above, I realized that we wanted to give our doll some hair. Make sure you pull a few strands of hair from around the top loop before you tie the neck. Trim those pieces to the length you want the hair to be. We chose to make our pieces about arm-length. See the pictures below.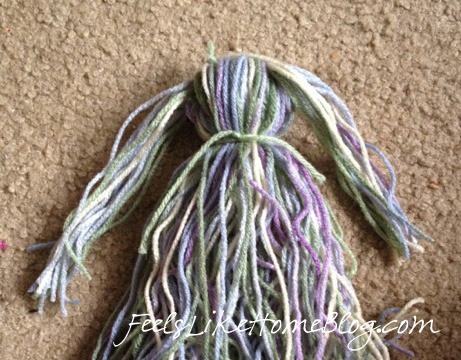 Pin
6. Before you go any further, braid that hair. If you don't, it could pull right out of the loop. After you've braided it, cut a short length of yarn to cinch and tie each braid.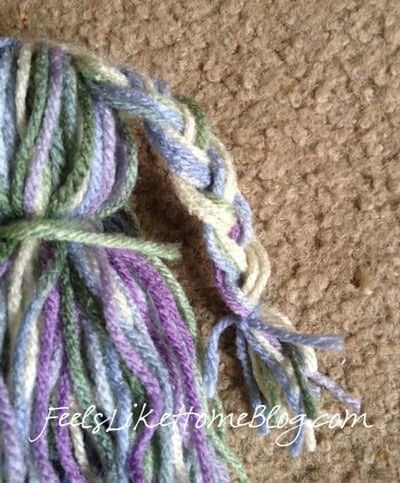 Pin
7. Flatten the yarn out, then cut the loops at the bottom. I picked it up and gently shook it out to make sure I didn't miss any loops.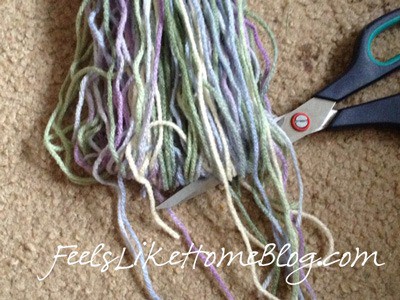 Pin
8. Smooth the yarn again and trim any ends that stick out longer than the rest.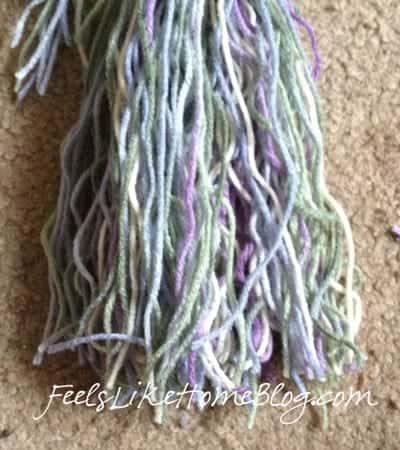 Pin
9. Next, imagine your finished doll. You will have two thinner arms and two fatter legs. Pull the arms off from the body and tie a short piece of yarn where you'll want the hand to be.  (Instead of cutting a new piece, use one that you cut off when you trimmed the hair.)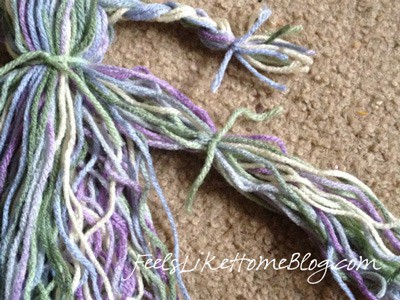 Pin
10. Trim the arm ½ to 1 inch below the tie.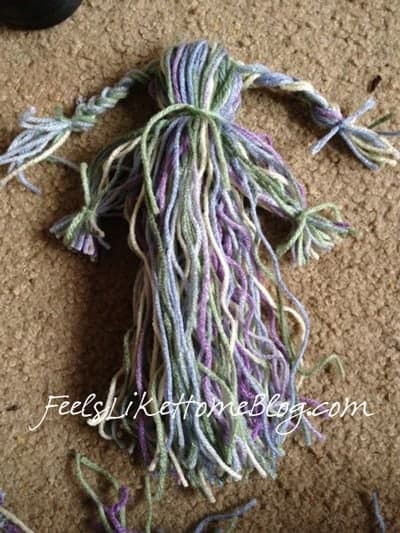 Pin
11. Tie a piece of yarn around the rest of doll's body to make her waist. You could leave your doll like this, if you wanted her to have a skirt. You could also tie a piece of yarn around the bottom to fasten the skirt together. We decided to give our girl pants, so we had one more step.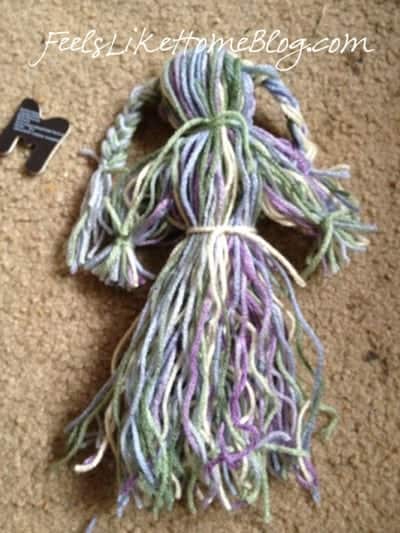 Pin
12. Separate the yarn below her waist to make two legs, and tie each leg near the bottom.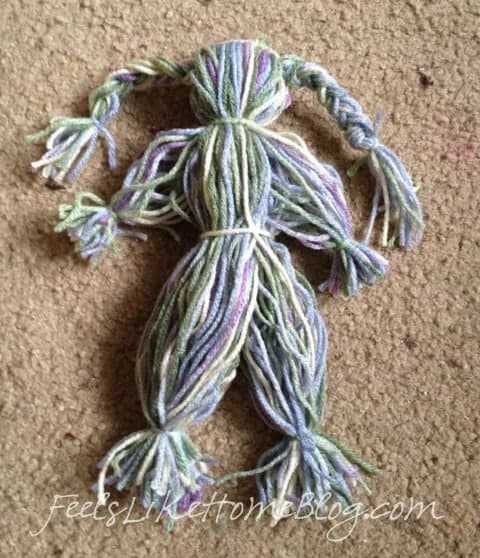 Pin
That's it! You can play with your doll.
This website uses affiliate links. Please see my disclosure policy for more information.