My easy tutu tutorial was originally posted it in 2009, and it has been viewed and shared all over the world as parents make tutus for their little princesses, fairies, and ballerinas. This easy tutu tutorial will help you to create your own No-Sew Tutu skirt for children or adults! Check out the step by step instructions with lots of photos below.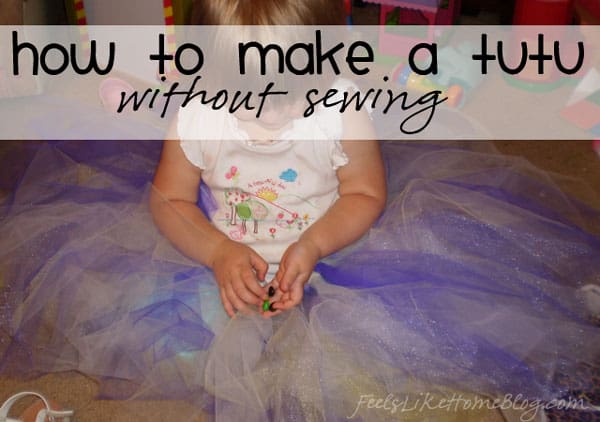 Pin
For her second birthday, I made Grace a no-sew tutu. It was one of the cutest things I've ever seen.
You know we're anti-princess around here, but I thought a tutu would be a perfect dress up piece. Tutus are all about imagination and whimsy. Tutus can work for ballerinas or fairies or special birthday girls.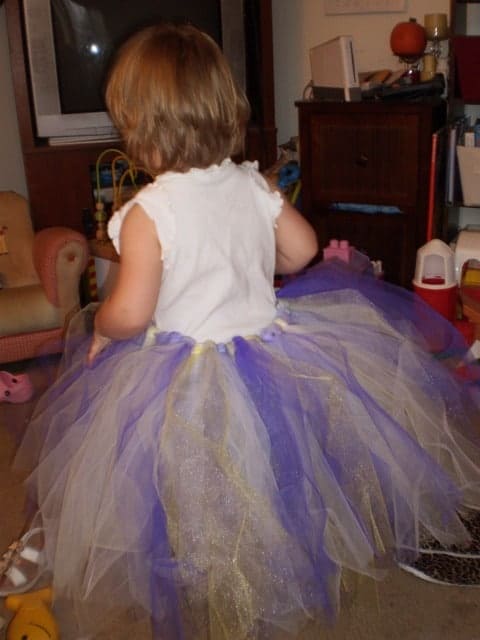 Pin
It was the perfect project for a momma who was injured and lying on the couch. It's very simple and most of it can be done while lying down.
How to Make a Homemade No-Sew Tutu
Tutu Materials
Tulle - I used about 10 yards of tulle, sold by the yard. You should be able to get rolls of 4" or 6" tulle, but I couldn't find any. I allowed Grace to choose her colors, and she picked purple and yellow. I bought 5 yards white, 3 yards purple, and 3 yards yellow, but if I was starting over, I'd just do half purple and half yellow. The white diluted my colors more than I would have liked.
A length of ½ inch elastic or ribbon
Spools of matching grosgrain ribbon
Measure Your Child
Waist - If you're going to use elastic, cut a length of ½" elastic that is 2 inches shorter than your child's waist. If you're using ribbon, you will need to cut her waist measurement plus 2 feet or so, enough to tie the tutu onto her body.
Waist to knee - This one is simple. How long do you want the skirt to be? I think Grace might have liked her tutu even more if it was shorter. I made it knee-length, but I'm thinking about cutting it off at the bottom.
Instructions
Joe did this part for me. Cut the tulle into strips that are 4" to 6" inches wide and twice the finished skirt length. I made my tutu 18" long, so my strips needed to be 4" by 36" wide. I had more strips than I thought I'd ever need. That's just about the right number. (Note - 18" is far too long. Go with 12" or even 8" instead. The longer tutu got really scraggly over time and overwhelmed my little girl.)
If you're using elastic, overlap the ends and sew. I couldn't use my sewing machine, so I did it by hand. I would have preferred my machine. No matter.

Grab 3 pieces of tulle and stack it nicely.

Fold it in half. Loop the center point under your waistband.

Next, pull the ends down over the waistband and tuck them into the loop. Pull the ends so that the top makes a loose knot.

If you pull the knot too tight, it will curl and stretch the elastic, be difficult to work with, and need to be loosened later. I'm just saying.
Repeat that process another thirty or thirty-five times. I started out with a pattern, but I abandoned it in favor of whatever looked nice. I ended up with 38 knots, and my tutu is sufficiently fluffy.

If you're going to use ribbons, you can tie them over top of the tulle in the same way. Alternately, you can tie them in shoelace-type knots over top of the tulle. Either way would look nice and leave long tails hanging down in the tulle.
That's it. Your tutu is finished.
I considered a waistband to finish off the top and make the whole thing less scratchy. I also considered gluing some little flowers or some glitter onto some of the pieces. Both would be nice additions.
Alternate uses for a homemade tutu
If your husband spends two hours cutting tulle, and then you spend four or five hours tying knots in tulle, and your child refuses to even put her feet in her tutu, you will find alternate uses.
Tulle makes nice scrubbies for the shower. I didn't take it apart. I was hoping that some day, she would change her mind (and she did!).
All of those panels would work nicely for dusting knick-knacks.
You can play peek-a-boo with a tutu around your neck.

No Sew Tutu Cost
I bought tulle at 99 cents a yard.
I bought two small rolls of ribbon, each for 99 cents.
I had elastic in my sewing stash already.
Total cost - Under $13
Try these other simple and easy crafts:
This easy no-sew tutu was a huge hit for years after I made it! I made many more using this same tutorial, and they all came out wonderfully puffy and full of fun. I did make the tulle 16" long in subsequent tutus so that the finished piece was only about 8" long. That was a lot less overwhelming for my little girls.