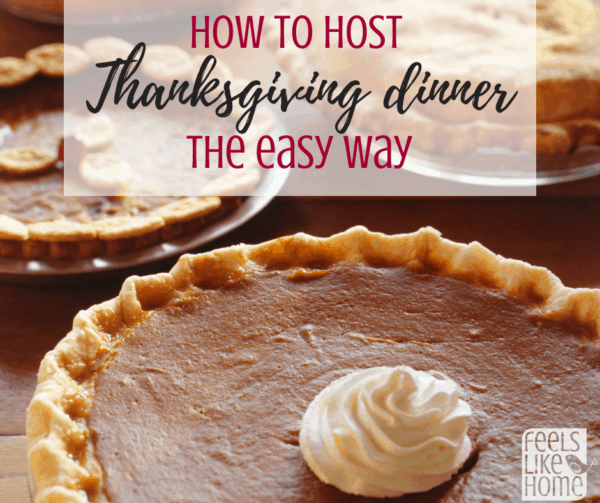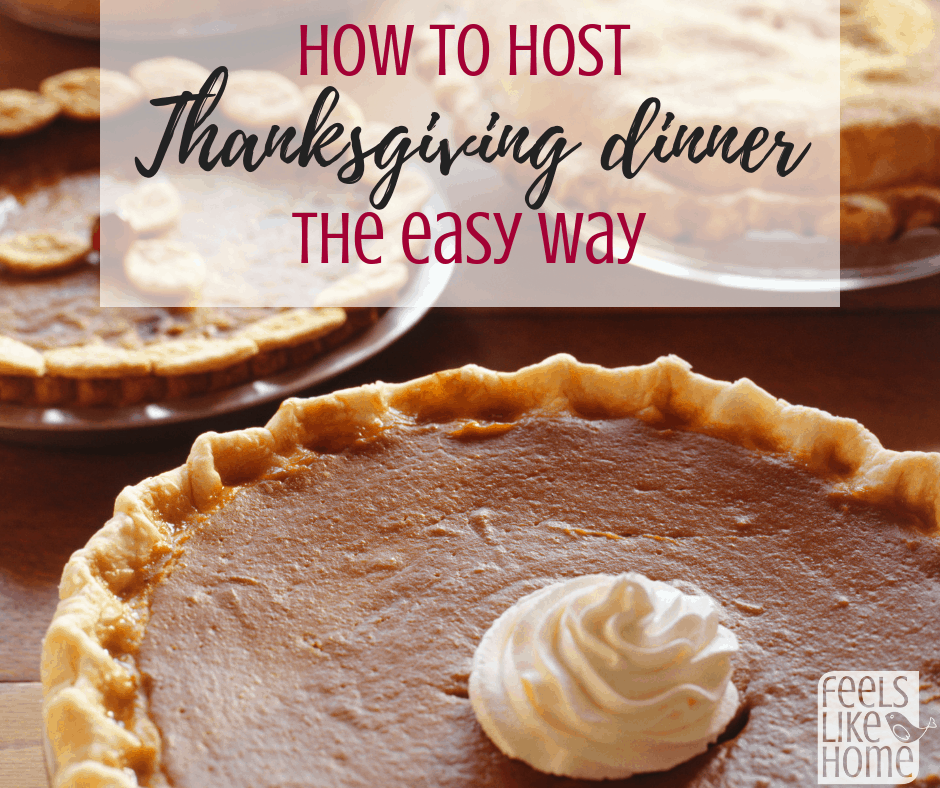 Hosting a big family dinner is a lot of work. I'm not going to sugarcoat it and make it seem like it's not.
You have to clean the house (always the biggest job for us!), prepare the menu, shop for the groceries, prep the food ahead of time, do all the cooking, clean up the meal, wash the dishes, and put all the leftovers away. And then clean the house again because inevitably, messes have been made, food has been spilled, and the tablecloth is dirty.
It's exhausting, right?
But there are some things you can do to make your meal-hosting life a lot easier.
Listen, there are no tips in the world that will make holiday meals easy. It's just not possible given how much work there is to do.
Well, I suppose it is possible if you order the whole meal from a restaurant and bring it in, but even then, you would have to clean the house, serve the meal, and do the dishes and cleaning afterward.
How to Make Hosting Thanksgiving Easier
Plan ahead. This is my #1 tip for a reason. Planning ahead will make Thanksgiving so much easier. In the pages of How to Host a Stress-Free Holiday Meal, I explain how my system for shopping, cooking, and prepping before the big day shifts most of the work away from the holiday, giving you time to clean like a madwoman

enjoy your friends and family as they arrive.

Shop early. Sales on Thanksgiving staples abound in November, so stocking up on the essentials early in the month makes good sense. The printable shopping lists in How to Host a Stress-Free Holiday Meal make grocery shopping for your meal really simple and easy, and you'll have time to pick up anything you may have forgotten or that the store was out of, so you won't get stuck making last minute substitutions during your meal prep.
Buy extra. One year, we had waited to make the dessert until the night before the holiday (huge faux pas here!), and I dropped it as I was sliding it into the oven. Fortunately, Walmart was still open (do they close on Thanksgiving? I think they don't, but that's not the point.), so Joe made a late night run to replace my ingredients. If I'd had extra to begin with, it would not have been a problem.
Get the right tools. The right tools make all the difference. So make this the year you test out the inexpensive 3-tier oven rack (for your side dishes), the 3-tier cooling rack (for your pies), and a pair of Ove Gloves (Joe got these for Christmas from my mom before she died, and he LOVES them. So much better than traditional oven mitts!). There is an extensive printable list of cooking and serving tools that you'll need in How to Host a Stress-Free Holiday Meal, so you'll be totally prepared for the big day.
Skip the turkey baster. You don't need to baste a well-cooked and well-timed turkey. In fact, opening the oven to baste the bird actually makes it take longer as you lose valuable heat every time you open the door. So, that basting habit of yours can actually make the bird drier because you end up having to cook it longer to achieve the proper internal temperature. Instead, follow my unique cooking method in How to Host a Stress-Free Holiday Meal to cook the turkey in half the time and enjoy a juicy, flavorful bird time and time again.
Consider paper plates. I know paper plates don't look as nice as the beautiful, heavy, china you got as a wedding present. It can't compete. But you can get some nice, festive paper products now, and they make cleanup so much easier. It's okay if you want to continue with your nice china habit - no judgement here. But if you want to streamline the day and skip the hour-long dishwashing session after the meal, go for paper. While you're at it, get plastic cups, smaller paper plates for pie, and plastic utensils, too.
Stock up on chicken broth (see what I did there?). Our cooking method results in a moist bird every time - unless you overcook it, which is possible, especially if you don't have a reliable meat thermometer. In this blog post, I explain when to take the bird out of the oven for more moist meat, but if you miss the timing, your bird is going to be dry, no matter what method you use to roast it. You can save a dry bird (turkey or chicken, actually), by sprinkling some chicken stock on it as you cut and place it on the serving tray. It isn't as good as actual, juicy meat, but it will cover up your cooking faux pas and make the meat a lot more palatable.
Avoid a burnt pie crust with a shield. Pie crust can be finicky. I personally use packaged crusts because they come out perfectly every time, but even if you make them from scratch, you have to worry about burning the edges before the filling is cooked through. To prevent this problem, I invested a whole $5 in a pie shield that I place over the pie. It keeps the edge of the crust from getting too brown and ensures that the whole pie is evenly cooked.
Prep the inside of the bird. As I have said above, our cooking method for the turkey results in a moist, perfect bird. That is true. But there is something else you can do to boost the flavor of the finished meat - apply butter and seasonings under the skin. In 23 Simple, Time-Saving Hacks to Make Hosting Thanksgiving Easy, I shared a method of dry brining that will give you a flavorful bird. That method is still great. But what I didn't mention in that post is that you can also apply the seasonings and butter under the skin to flavor the meat in addition to the skin. Yes, some of the seasonings and butter will soak down through during cooking, but if you want a really great bird, you should also pick up the skin and rub down the meat underneath.
Gather your ingredients. This is kind of a no brainer, unless no one has ever told you before to do it. Before you start cooking for the day, pull out all the ingredients you need so that you're not searching for that random spice mid-recipe. Put your refrigerated items on one shelf, and leave the room temperature items on the countertop or kitchen table. Cooking will be so much easier.
Wash your serving pieces the day before. Nothing is more frustrating than seeing a dead bug in a serving dish as I'm just about to pour food in. Maybe you dust your china cabinet more often than I do, and this isn't a problem. But I'm betting that some of your dishes are dusty or have a light film of kitchen goo on them. Wash them the day before so that they're ready to go and don't take precious time at dinnertime.
If you're looking for more tips to make hosting Thanksgiving dinner easier, check out 23 Simple, Time-Saving Hacks to Make Hosting Thanksgiving Easy.
How to Host a Stress-Free Holiday Meal
You can host an excellent holiday meal and spend time with your guests.
Whether you have a lot of cooking experience or none at all, you will be able to follow these instructions, plan, and host a relaxed, traditional, holiday dinner.
Does the idea of hosting a holiday meal leave you completely overwhelmed?
Are you dreading a repeat of last year's Thanksgiving?
Are you wishing you weren't the host so you could enjoy your friends and family?
Those days are over.
In the pages of How to Host a Stress-Free Holiday Meal, I will guide you through the planning and preparation of a simple, easy, and amazingly delicious holiday feast.
You will receive:
A 6-page printable planning checklist that begins in a full month before the holiday
A 4-page printable grocery list – divided by sections of the grocery store – with spaces to add your own items
3 printable checklists for the tools you'll need – bakeware, specialty cooking tools, serving pieces
12 delectable recipes – everything you need for a traditional holiday meal

Appetizer ideas
Pimento cheese dip
A new method of roasting the turkey that results in faster, easier prep and a juicier bird
The perfect turkey gravy
Crockpot mashed potatoes
Candied sweet potatoes
Chestnut stuffing
Green bean casserole
Homemade cranberry sauce
3 easy & amazing pies