How to get started Bible journaling - This post for beginners explains how and why you should start Bible journaling and what resources and materials you need. I've always been curious about it, and this was the perfect primer to get started!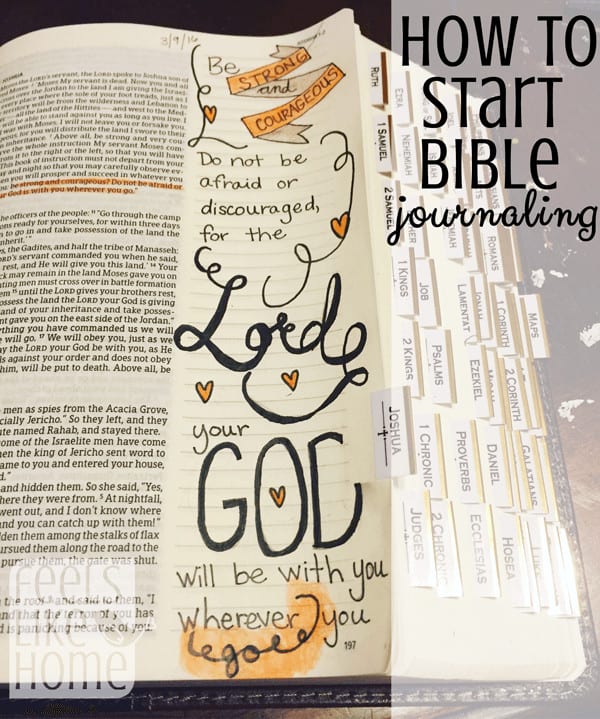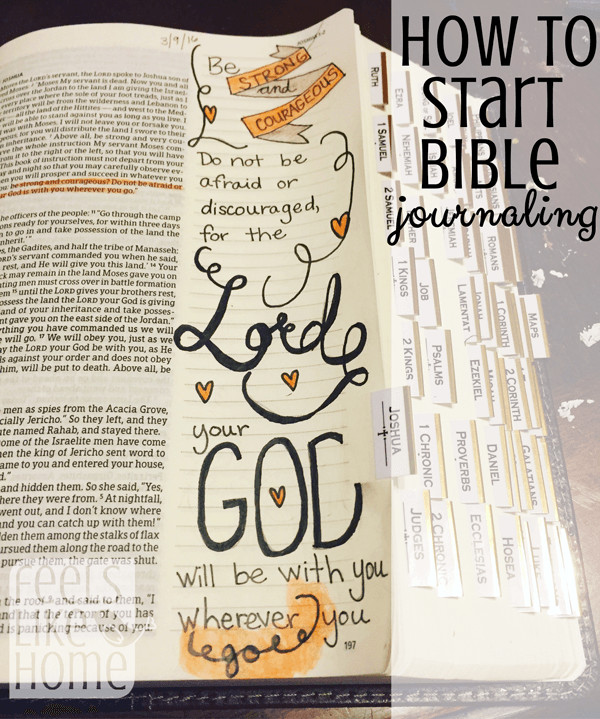 I have seen friends' journaling Bibles and thought they were so neat. I loved how they emphasized key verses, and I loved the artistic quality of the journaling. I initially thought, "I could never do that because I am not artistic!" and I left it at that.
The more Bible journals I saw, the more intrigued I became. Finally, I was there as a girlfriend showed all her tools and tricks to another lady. I decided to take the plunge knowing that I am not artistic, but I am creative, and I would do the best I could with the helps Beth had.
I bought a few supplies from Amazon and waited impatiently for them to arrive. Once I made the decision, I couldn't wait to get started!
Here is my very first attempt, and it was good enough. After that, though, I dived into some more involved techniques and tips, and I got sucked in!
What is Bible journaling?
Bible journaling is:
An artistic way to respond to the Word of God right there on the pages of the Bible.
A creative way to express what you are learning during Bible study.
A visual way to record what God is doing in your life.
A unique way to highlight or internalize a key scripture verse or passage.
An inspiring way to connect with God through the words of the Bible.
A meaningful way to highlight your spiritual journey.
A personal way to honor God through artistic expression.
Bible journaling is all about reading and studying the Word, letting it lead you to be creative in the ways you memorize and record Scripture.

Lifeway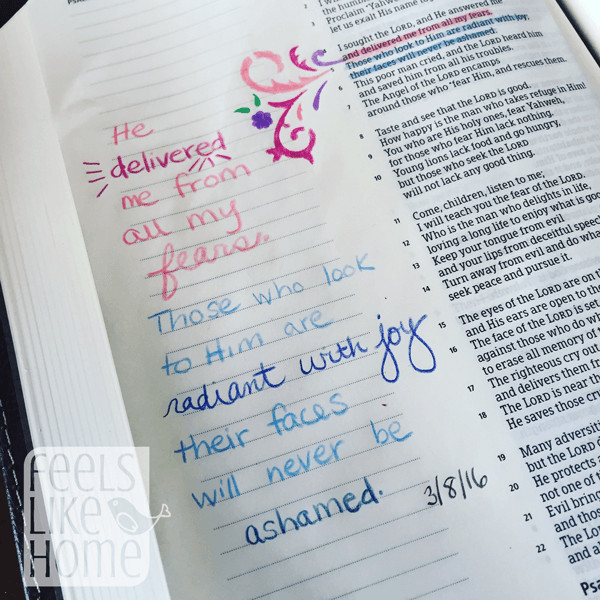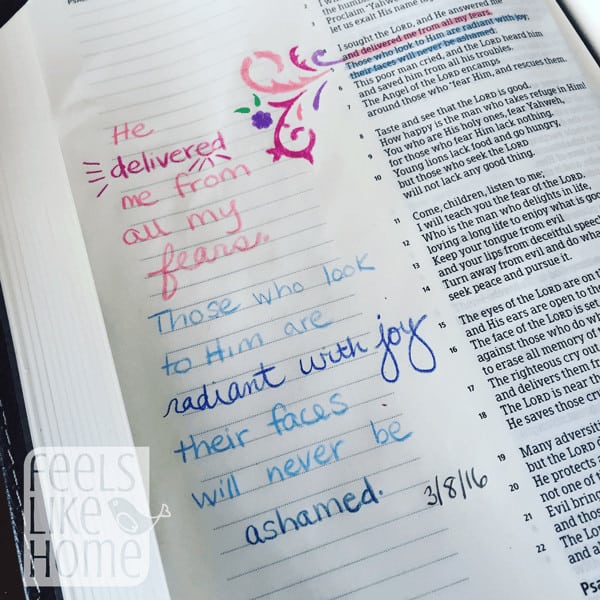 What does Bible journaling look like?
As I said above, Bible journaling is a creative and highly individual hobby, so it can look different for everyone.
For the most part, my version of Bible journaling involves writing and drawing in the margins of my Bible. Sometimes, the artwork spills over onto the text and sometimes it stays in the margins, but it is always right there on the page with God's Word.
Some people do all their Bible journaling in a separate notebook or sketchbook, leaving the pages of their actual Bible clean and clear.
Some people make drawings above the header at the beginning of each book of the Bible.
Some people get special interleaved Bibles that have a blank page every other page, and they do artwork on the blank pages.
Some people add acetate sheets in between the pages of their Bible and draw on those.
Some people write sermon notes, prayers, and reactions to the text in the margins and call that Bible journaling.
Bible journaling is highly individual, and each person does it a little bit differently.
Is Bible art disrespectful?
Some people have commented on this blog post, saying that Bible journaling is disrespectful to the Word of God. I disagree. I think it's a beautiful expression of the meaning of scripture, and I have experienced terrific insight while journaling in my Bible.
HOWEVER. I am not going to try to convince you if you believe that the pages of your Bible are sacred and untouchable. If you're not comfortable writing, highlighting, or drawing in your Bible, then you probably shouldn't. If you feel that way and want to try Bible journaling, get a sketchbook and do it there.
God is the ultimate Creator, and he made us in His image. That means that we are creative beings capable of great artistry. For me, the logical extension of that creativity is processing and learning scripture through doodling, coloring, and painting, and that is not only not disrespectful, it is honoring to God and to His Word.
How am I going to read my Bible if I journal in it?
That is a very good question! I don't journal in the Bible that I use for reading and studying.
I have a Life Application Study Bible with lots of annotations, footnotes, maps, and diagrams. I love it, and I use it daily during my quiet time to read and study scripture. I highlight and write notes in the margins, but I never color or draw on these Bible pages.
I originally purchased an HCSB journaling Bible that I use to draw and color in, and I've recently gotten the ESV single column journaling Bible to try out because I like the text of that translation better than the HCSB. I've also heard good things about the Journal the Word Bible if you prefer the NIV translation.
So in short, you can't really read and study using the same Bible that you journal in because you do obscure some of the text. If buying an extra journaling Bible isn't a possibility, go the sketchbook route.
What are the benefits of Bible journaling?
Bible journaling helps you to focus on one or two verses at a time and gives you the opportunity to meditate on those verses for an extended period of time.
Bible journaling allows you to connect with and internalize the words of the scripture passage that you chose.
Bible journaling gives you a creative way to express your thoughts.
Bible journaling provides an opportunity to let go of perfectionism and use your talents to please and honor God.
Bible journaling presents a chance for people who've traditionally had a hard time connecting with scripture to get in and experience God's Word.
Bible journaling offers a meaningful way to relate to, understand, and appreciate the meaning of Bible passages.
Bible journaling gives you a time for reflection on scripture and what it means to you personally.
How do I start Bible journaling?
Here's my process:
Pray to the Holy Spirit for guidance and wisdom. I pray the prayer from Jen Hatmaker's awesome book called A Modern Girl's Guide to Bible Study which I initially borrowed from the library and then bought because it is so helpful and amazing. I journaled the prayer into one of the opening pages of my journaling Bible:

Select a verse. I have been going down through my list of 50 Bible Verses that All Christians Should Memorize, because those are seminal verses in my opinion. When I finish them, I will use a verse from my current Bible study or devotional. Choose a couple of keywords that you will highlight.
Create a drawing in pencil on scrap paper. The first step for me is to fold a piece of plain white scrap paper in thirds. I can use each third for one journal entry, which saves a lot of paper. Plus, each third is roughly the same size and shape as my journaling Bible margins, so that's good. I sketch out the whole thing starting with the letters and fonts. If I was going to draw something, I would sketch that out, too, but like I said above, I'm not much of an artist and I generally use my stamps or stencils for that kind of thing.
It is really nice to have a rough draft because then you don't have to do so much erasing in your actual Bible.

Transfer the pencil drawing to the Bible. You could probably put the pencil drawing underneath the page of the Bible and sort of trace it, but I just eyeball where things should go based on my initial sketch.
Ink the drawing. Once you have your pencil all done, go back over it with one of your pens. Let the pens dry for a minute or two (it happens pretty fast, but I have had smears especially when erasing).
Erase the pencil marks.
Color in the drawing with colored pencils or paint.
Go back and add any finishing touches with stamps, stickers, or other embellishments.
That's all there is to it. It's really simple to do.
Simple, but not quick. I usually spend about an hour on one drawing, so I don't get one finished every day.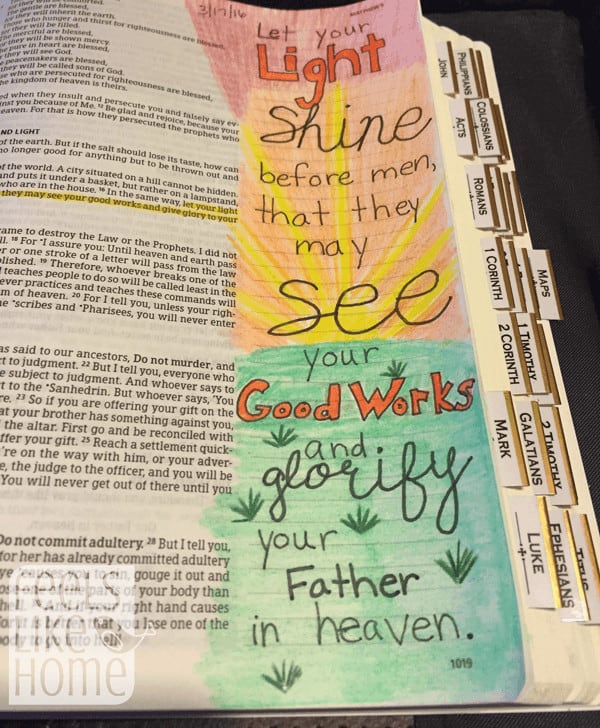 What tools do you need for Bible journaling?
Here's what I got at first, combining the recommendations of several friends:
Once you have the basics, you might want to add one or more of the following mediums to your Bible art journaling kit:
If you're like me and need some additional artistic aids, come back next week for the next part of my supply list - stencils.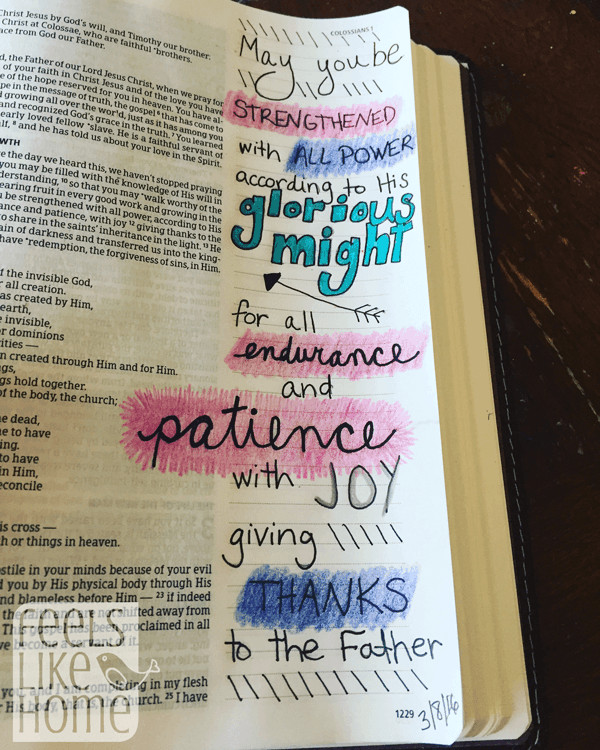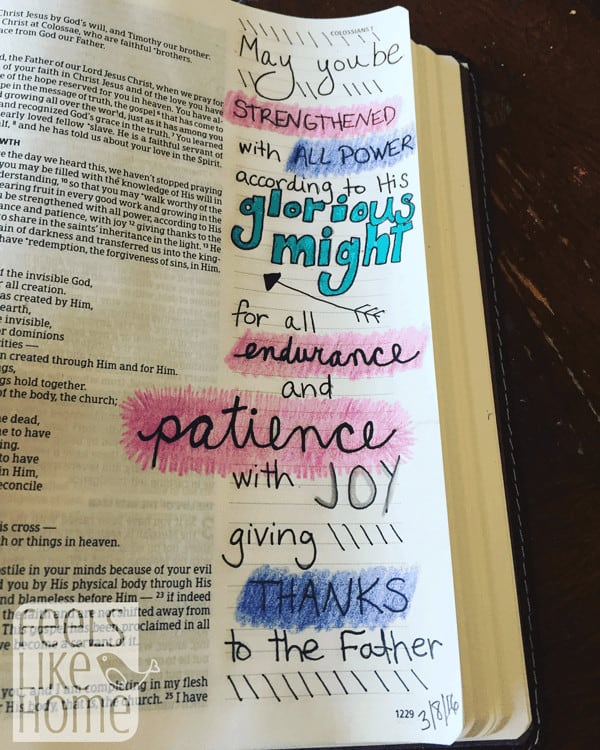 I have dived into Bible journaling with both feet. I love to do it. It is calm and peaceful, and I look forward to it all day long. Once you get started, I think you will find the same thing!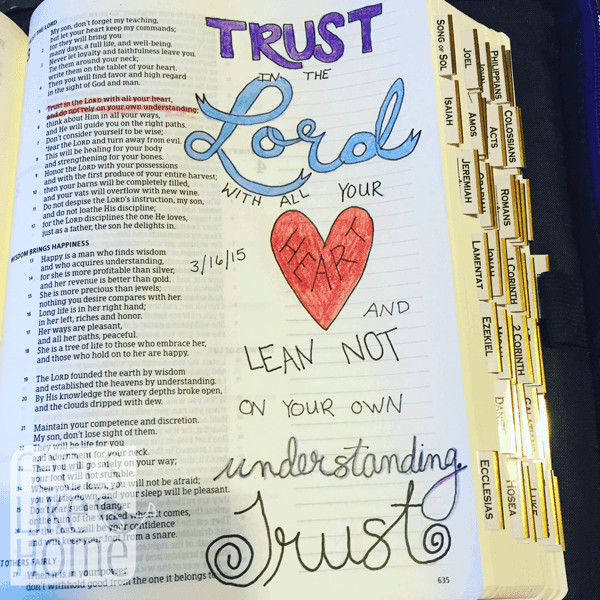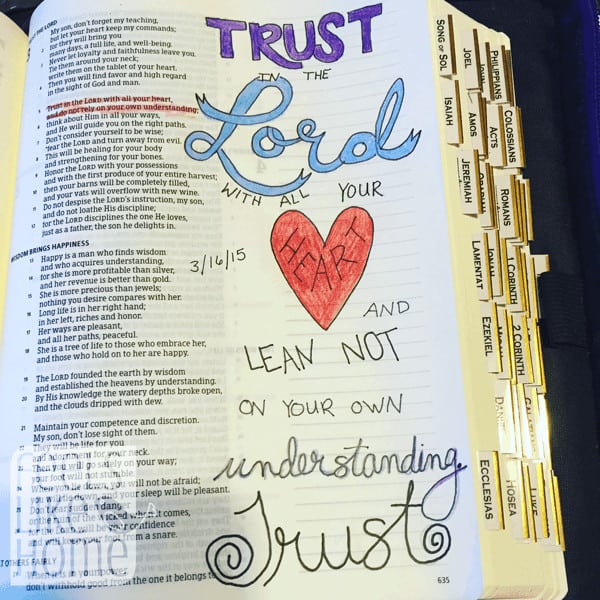 More inspiration and Bible journaling skills
The Complete Guide to Bible Journaling - The title says it all, right? This handy volume includes stickers, designs, and transparent pages that you can put right into your Bible.
Hand Lettering 101 - This pretty book teaches you how to use your own handwriting to create beautiful text using calligraphy skills.
10 Hand Lettering Tutorials - This blog post includes lots of resources for learning to do hand lettering.
Hand lettering accents - This tutorial explains how to draw accents like banners, flourishes, frames, and arrows.
A simple Pinterest search - If you search for "Bible journaling" on Pinterest, you are going to find hundreds, if not thousands, of sample Bible journaling pages. You can use them for inspiration or even copy elements of those designs into your own designs.
The most important thing about Bible journaling
There is one key to Bible journaling that I haven't mentioned yet:
Bible journaling is an individual practice of worship, and it shouldn't be compared to or held up against anyone else's practice.
You are going to search Pinterest, Instagram, or Google and find all manner of beautiful Bible pages. There are some truly amazing artists out there.
But God doesn't care how much artistic talent you have. He cares only about your heart and the fact that you are using His Word to inspire a work of art from your own hand. To Him, it is all beautiful worship.
I hope you have really looked at my examples above, and I hope you recognize that I am not a great artist. I am creative but not especially artistic, and my first couple of attempts were really bad. But I kept going, and my skills improved over time, and now I am (mostly) happy with the pages I create. The same progression will happen for you.
You know what, though? If I held up the designs above to the stunningly artistic photos I see on Pinterest and Instagram, I would feel like a sloppy, messy failure devoid of all talent and skill.
God does not see me that way! He sees His creation, perfect in imperfection, and He sees my earnest heart. My drawings are pleasing to Him because they are reflections of scripture through my eyes. YOURS WILL BE TOO.
I encourage you to try your hand at Bible journaling. Gather some supplies and a journaling Bible or sketchbook, and get started. When you look back over your work, you'll be amazed at what the Word has inspired in your heart.