Paint fades and washes off! Learn the secret of repainting a faded garden ornament so that it will stay bright and beautiful for a long time.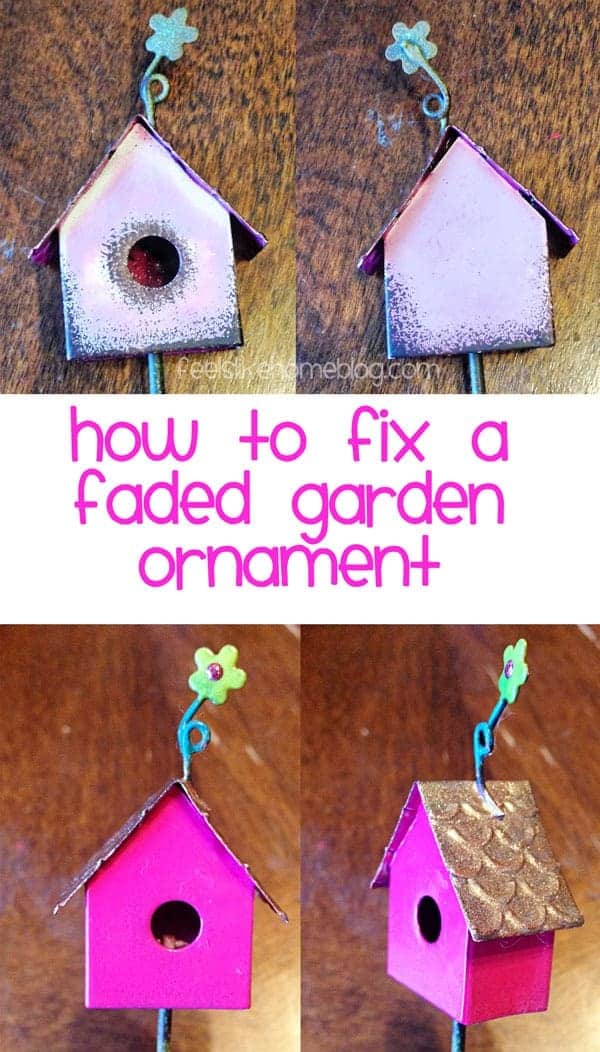 Pin
The other day, I wrote a post about cheap fairy gardens, and I shared a picture of the fairy garden my mom helped me to make before she died. I put it outside, on the porch in the shade, and I mentioned that my pretty pink bird house had disappeared.
I liked that birdhouse, at least in part because it was one of the last things my mom helped me pick out. It was from our last shopping trip together, and she chose it while I pushed her in a wheel chair through the aisles of the garden center.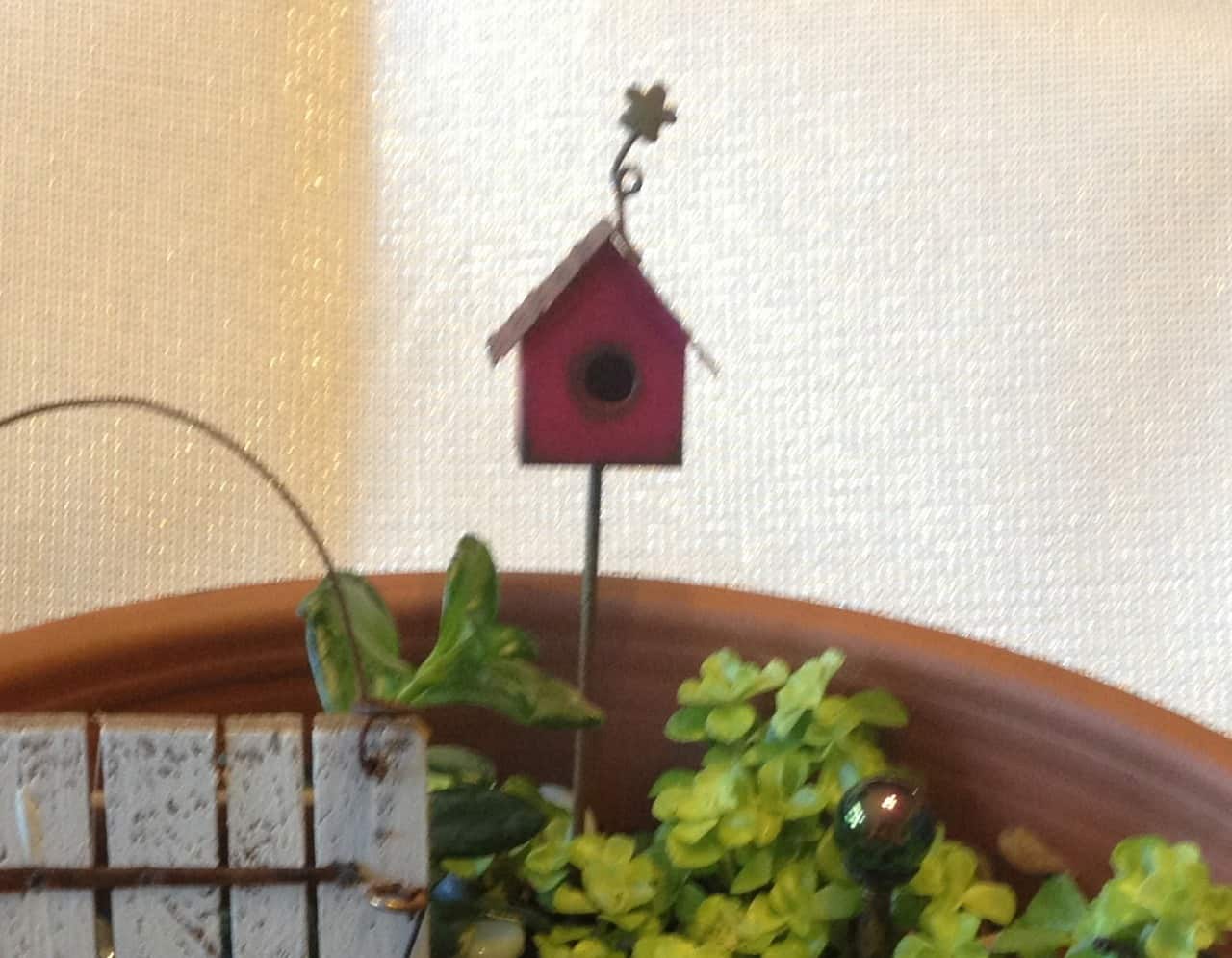 Pin
The next day, Grace and I went looking for the pretty pink bird house, and we found out it - in the leaf litter on the deck, under the picnic table.
The birdhouse looked very sad.
It looked like this, except it had a giant cotton ball of a spider nest in the top that I cleaned out before I took the photo.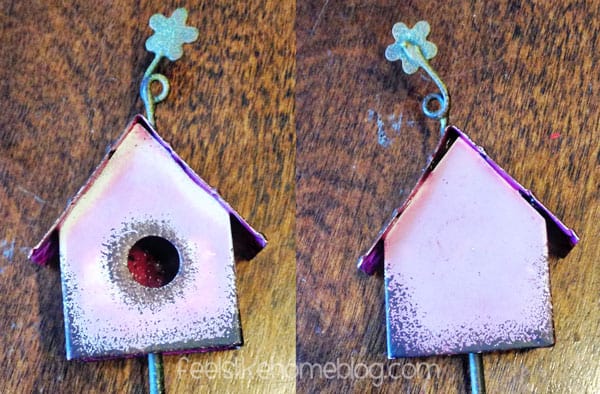 Pin
Pretty sad.
It made me sad.
I cried.
I had to fix my little birdhouse.
Here's what color it was before it became faded and sad -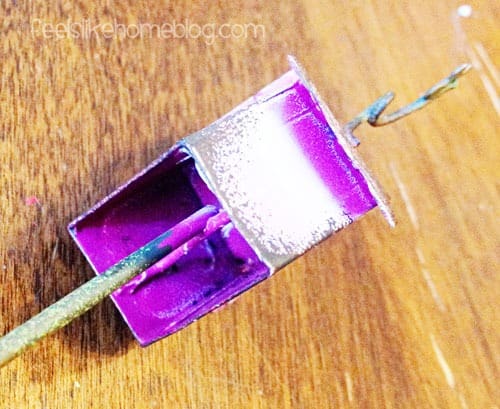 Pin
It was a fabulous hot pink, but unfortunately, the sun and the leaf litter faded it to a dull pinky white.
I decided that I wanted it to be hot pink again, and I set out to find a way to make hot pink happen.
I considered all kinds of paint, and I settled on my favorite - nail polish. I became hooked on painting with nail polish when we started painting our Mod Melts with it.
When I looked at my basket of nail polish, I found the perfect hot pink.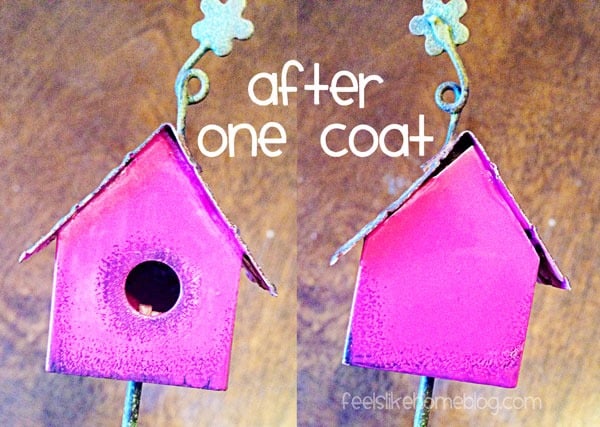 Pin
After one coat, it looked good. I could still see all the distressing, and the color was relatively even.
The distressed look isn't my favorite, so I decided to give it another coat to make the pink a little brighter.
Then, because I can't leave well enough alone, I decided to paint the roof (which looked perfectly fine beforehand). I didn't like how that looked, so I tried to wipe the nail polish off with nail polish remover - and wiped some of the original brown roof paint off.
All this happened on one side only, so the one side of the roof looked nice and brown and distressed and the other side looked weird and brown with white splotches and not nice at all.
So then I decided to use gold nail polish and put it on really thick and cover whatever was underneath.
It took three coats, but it worked. My pink house has a gold roof.
All that was left was to paint the little flower, which I did with some yellow for the petals and blue-green for the stem and a little spot of glittery pink for the center.
It's perfect.
I love it, and it makes me happy to look at it in my plants. My mom loved plants, and I love plants, and my daughter loves plants. I think it's in our blood.
The nail polish:
Hot pink was from OPI.
Gold was from OPI.
Yellow and blue-green was a random $5 Below brand.
Pink glitter was from Maybelline.
2020 note
I repainted this little birdhouse in November 2013, and as of July 2020, it has not faded even a little bit. It still looks as bright and beautiful as it does in these photos, and I still smile every time I look at it.
One thing to note is that I never put it back outside after it faded the first time. I have it in a houseplant in an east facing window, so it does get a good bit of direct sunlight, but it is filtered through a window. It may have faded if it was outside in direct and bright sun.
Here are some other gardening posts you might be interested in: