Pin
For most of the last six years and a half years, I have worked from home. For the first few years, I worked from my own MacBook on the couch or living room chair. Later, I had a much larger Windows-based machine (provided by my job), so I had to work at the dining room table.
We have a relatively small house with three bedrooms, and there just didn't seem to be a need for a home office. It worked just fine.
But then this past March, I got a new job (that is amazing!) with a national health insurance company, and one of their requirements was that I had a dedicated home office that could be closed off from the living space of the house.
The girls have always had bunk beds in the larger of the bedrooms, but one or both of them usually ended up in my bed by the end of the night. Joe, who doesn't appreciate co-sleeping as much as I do, decided years ago to sleep in the third bedroom. The arrangement, while definitely not what we pictured as newlyweds, worked pretty well for us for many years.
Unfortunately, there was not room in the third bedroom for a bed and a desk, so we had to change things up. Joe moved back to the master bedroom and disassembled his old bed. Grace can't come over to my bed anymore because there's no room (but at 10, she rarely needs to and can always sleep on the floor next to the bed if she needs to). Allie still comes over about half of the time, but she squeezes between me and Joe and, for the moment, it is working.
But on to the real reason for the post which is how we made my gorgeous home office.
After Joe emptied the room, I went to Lowes and got a paint sample kit. I chose 4 different aqua/teal colors, and the girls painted the clear stickers that came with the kit. We put them up in the room, and I looked at them at different times of the day in different lighting for a few days until I decided on the one I wanted.
Joe and the girls painted two walls of the room my chosen teal color. It's actually a little darker than it looks in these photos, and I got sparkles at Lowes that he added in to the second coat. You can kind of see in some of the pictures that there are little bright spots in the paint - those are the silvery glitter sparkles. The man at the paint counter said they were a little juvenile, and Joe said they were stupid, but I absolutely love my glittery teal walls.
We only painted two walls because I was afraid the small room would be too dark with all four walls painted teal. It's good because the girls' dressers are on the white walls, so it kind of sets my office space apart from the mess that is their clothing area. (You will notice below that there are no photos of the entire room, and that is why. Their side is a wreck.)
I ordered this desk from Amazon because it shipped free with Amazon Prime and had the largest top available. I also considered taking a 2-hour trip to Philly to the IKEA store, but their desk selection online was underwhelming. I really wanted something with drawers, and it would have cost a lot more to get that from IKEA.
When my home office equipment from my new company started arriving, I realized that I would need some risers for the desk. Even though I had the biggest desk surface available, I didn't have enough space for all the stuff. So I ordered two of these risers which I absolutely love. On a daily basis, I have about twenty Post-It notes tucked under the front edge of the riser to help me remember a myriad of things.
Finally, because the lighting in my office isn't the greatest (there's only one window and an overhead light), I ordered this desk lamp which has all sorts of different light temperatures for different times of day. Of course, I only ever use one.
I wish my desk were longer from side to side and would allow me a little more room to put my lamp, but it had to squeeze in between the bookshelf where we keep our board games and a dresser where some of the kids' things reside, so I had to settle for a shorter one.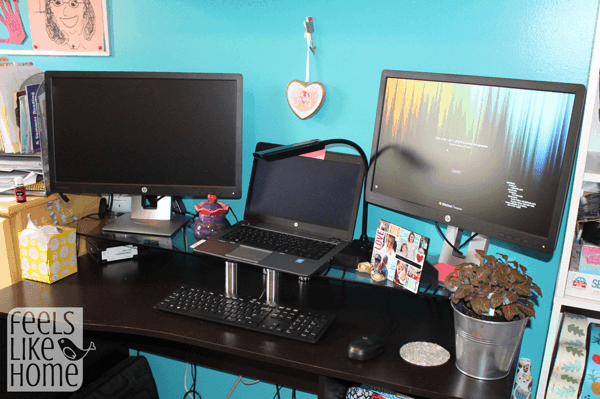 Pin
I am not a minimalist, if you have never noticed. I wanted two floating shelves above my desk to put trinkets and treasures on. I was short on money when I went to order the shelves, and I could only afford one of them. Now that it's up and decorated, I'm glad I only got one.
Joe hung my shelf with only a little aggravation. He would have rathered I put up a normal shelf with brackets because that would have been a lot easier, but I wanted what I wanted.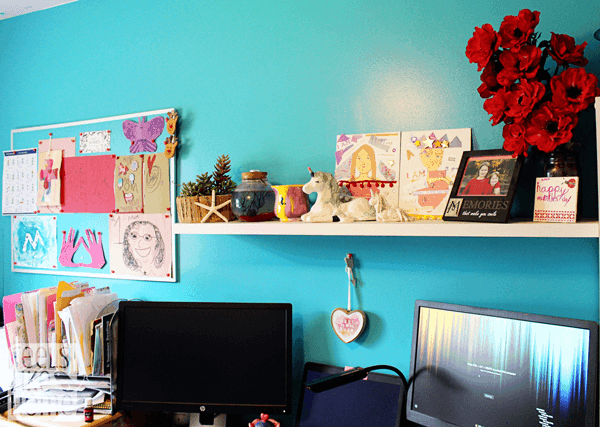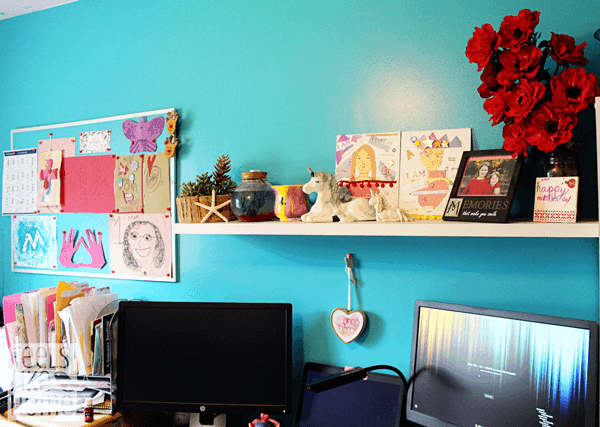 Pin
This is a longer view of my side of the room, showing my desk organizer. It's already stuffed full of papers because I use this as my professional work space but also my personal home office. I pay bills here, sort the mail, keep my planner, and organize most of my papers.
I'm not sure if you can tell from the photo, but I had Joe spray paint it silver for me (it came black), and I bought these gorgeous file folders to store my stuff.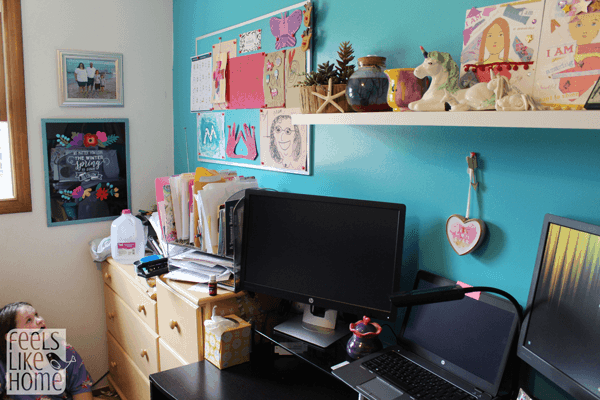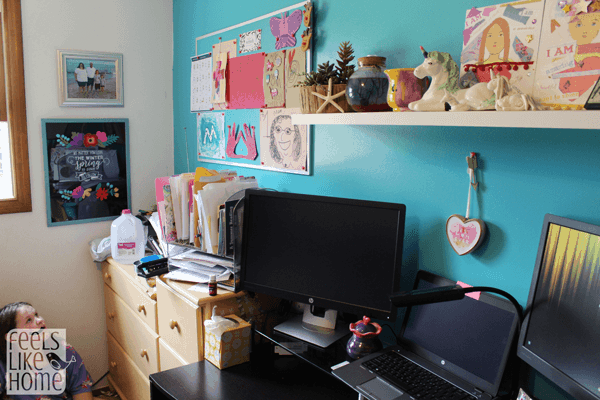 Pin
The artwork at the end of the room is homemade. My church had a craft night, and I painted this picture using a template they provided and these chalk markers. I love how it turned out, and it reminds me of the six month long trial I went through at the end of last year and the beginning of this year, and how God is faithful and good always follows hard.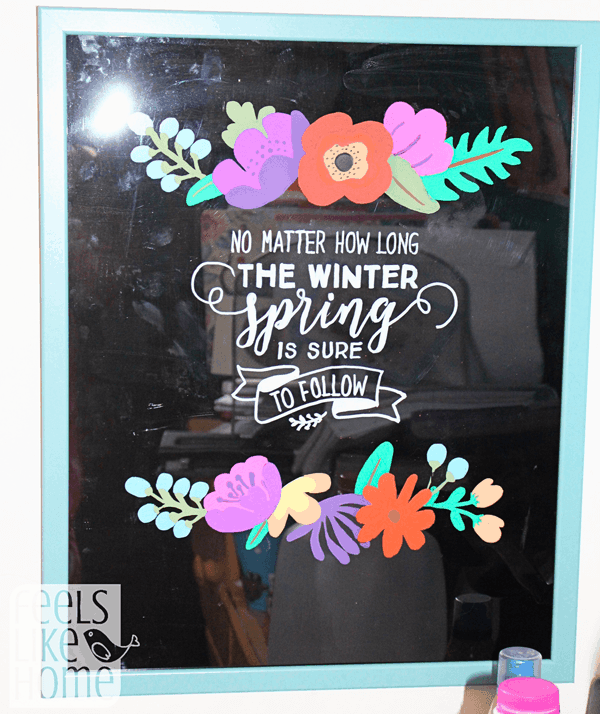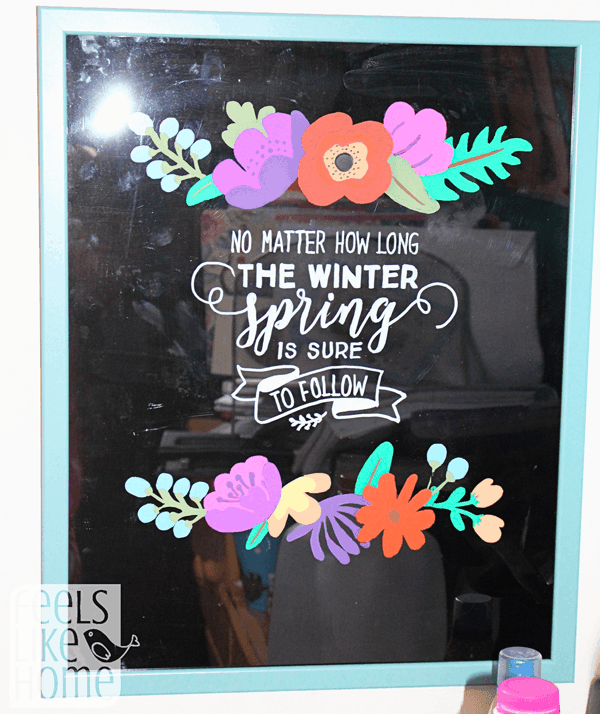 Pin
I also had Joe hang this photo from our beach trip in 2015 because I love it, and it makes me laugh.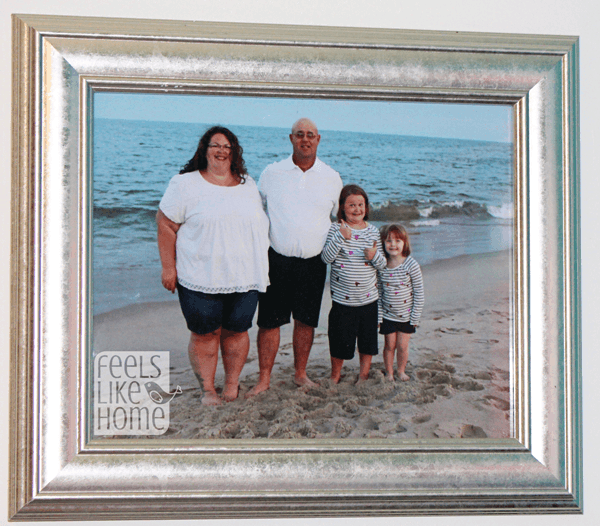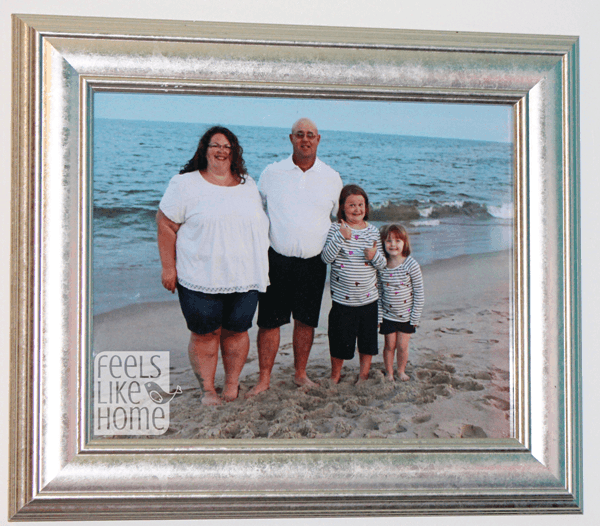 Pin
I ordered this bulletin board from Amazon, and it is the perfect size. I didn't want a brown cork board on my wall, so I convinced Joe to paint it with my wall paint, and it is so far holding up beautifully. I don't change the items on it very often (only when the kids make me a new piece of art), so I don't have to worry about many holes or anything like that.
The top row is Allie's artwork, and the bottom row is Grace's. The reindeer came off a Christmas headband at an office I used to work in, but I love them and they remind me of my girls, so I have kept them for years.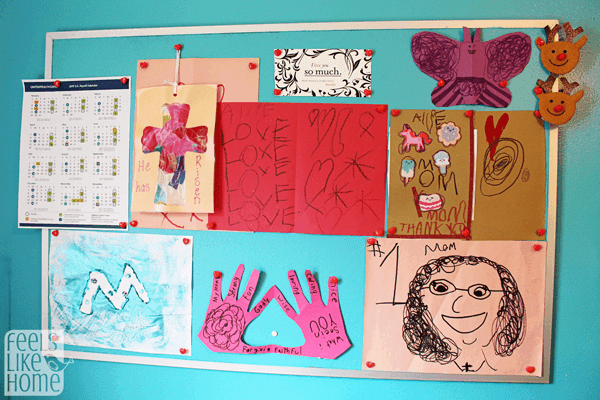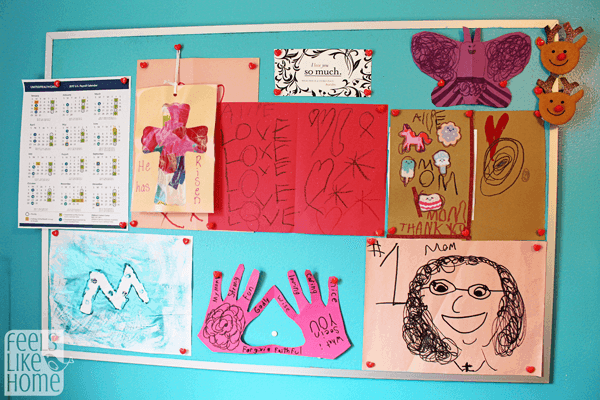 Pin
The next few pictures are close ups of the things on my shelf. First, from the left, is a succulent planter from SilkPlantsDirect.com. They reached out to me and asked if I'd review some of their products, and I thought incorporating them into my office was perfect. I have to be honest and say I wasn't completely thrilled with these succulents and will probably end up replacing them with something else, but for now, they work.
The starfish and marimo bowl came from NewDreamWorld on Etsy. I'm excited to try growing marimo balls. They are algae balls from a lake in Japan, and they are supposed to be very easy to grow. You just change their water every other week, keep them out of direct sunlight, and they are happy.
The next thing is a mug that Allie painted for me for Christmas a couple of years ago at one of those paint your own pottery places. She dripped glaze on the outside of the mug just before we left, and when it fired, those drips turned into a perfect letter t. I just love it.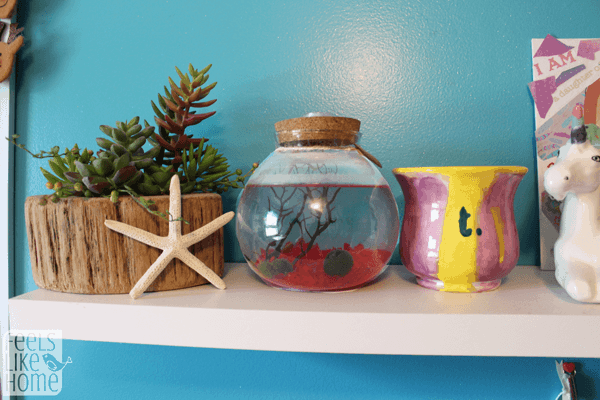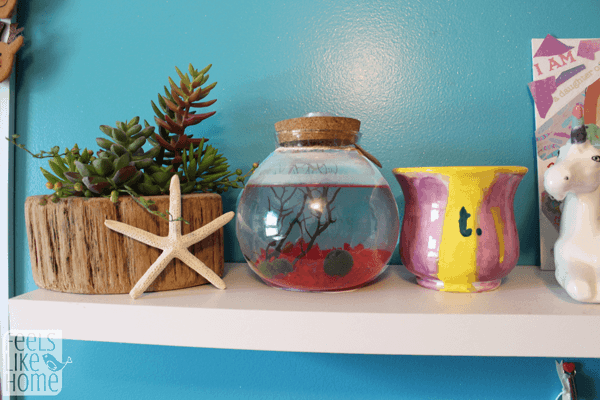 Pin
Next is a unicorn that Grace painted at the pottery place along with two air dry clay unicorns she made. The two canvases came from Girl Scouts and show words that the girls think of themselves. I love to see their personalities shine through. (Grace is on the left and Allie on the right.)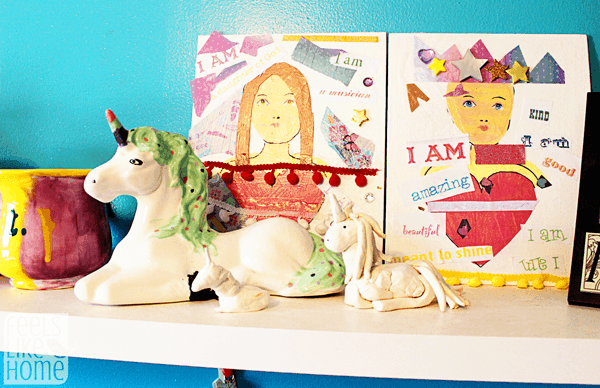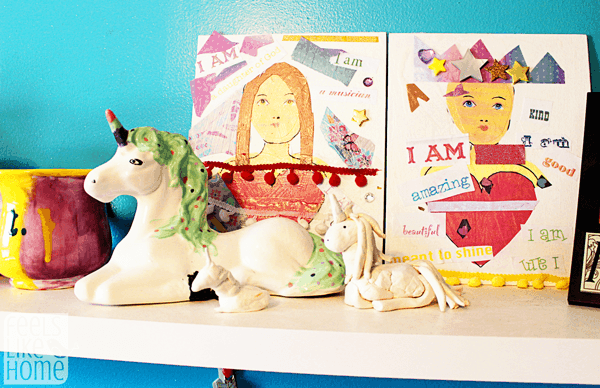 Pin
Next might be my favorite spot in the office. I have a photo of the girls from a local park, a tile that Grace made me for Mother's Day in 2014, and some gorgeous flowers fromSilkPlantsDirect.com. Even though I was disappointed with the succulents, these flowers totally made up for it. They came with stems about 18" long, and I cut them to 4 different heights to make a prettier display. They are full and lush and a real bright spot in my office. I smile every time I look up at them. They are held in a big mason jar that Grace painted at Girl Scout camp last year.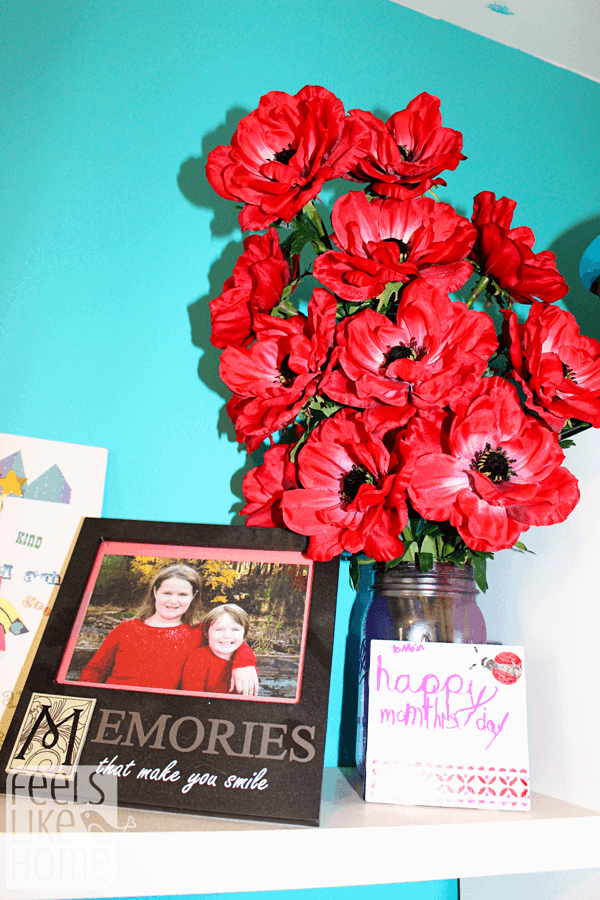 Pin
This is my office helper who periodically embarrasses me on conference calls by walking across my keyboard and dialing my work phone.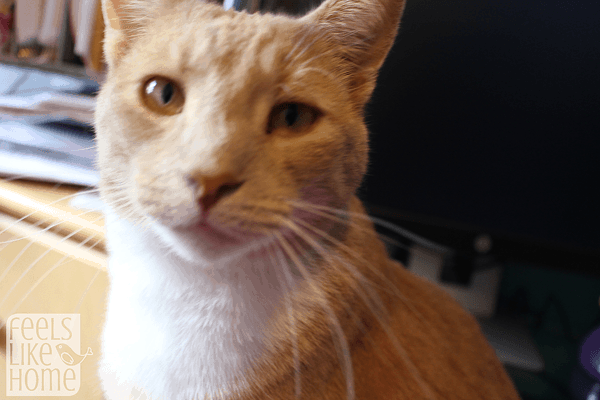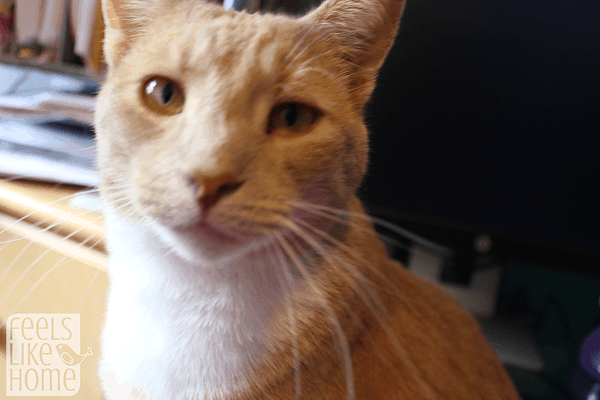 Pin
Back to the desk, the photo collage came from Shutterfly two years ago, and the pretty plant came from Lowes. I got the bucket at the Salvation Army store, and Joe spray painted it silver for me.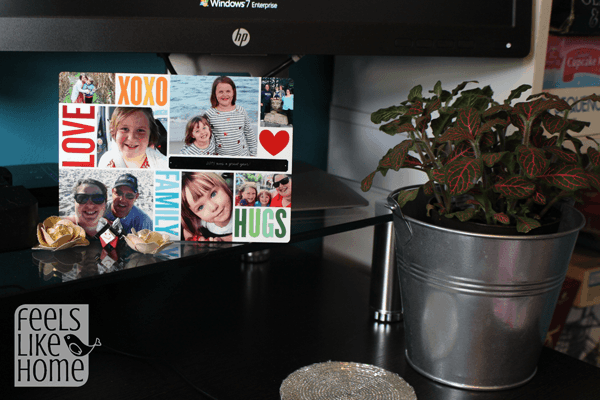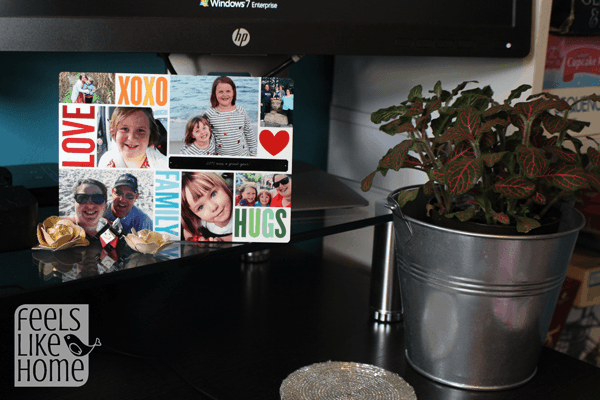 Pin
This jar is another paint your own pottery piece from Allie.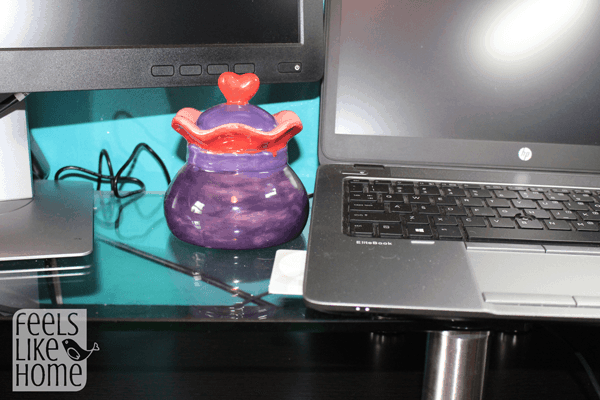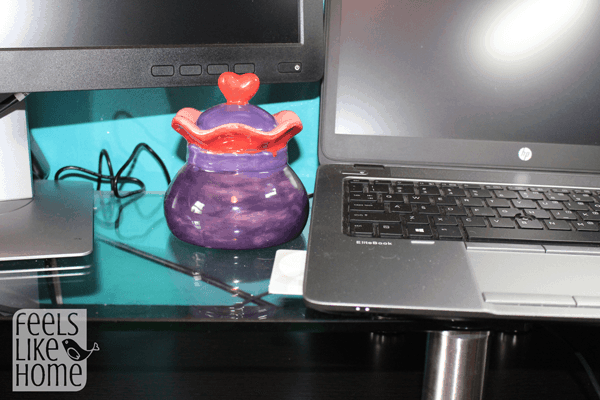 Pin
This heart was my Mother's Day present this year. It came from Kohl's. You can kind of see the sparkles in the paint in this picture.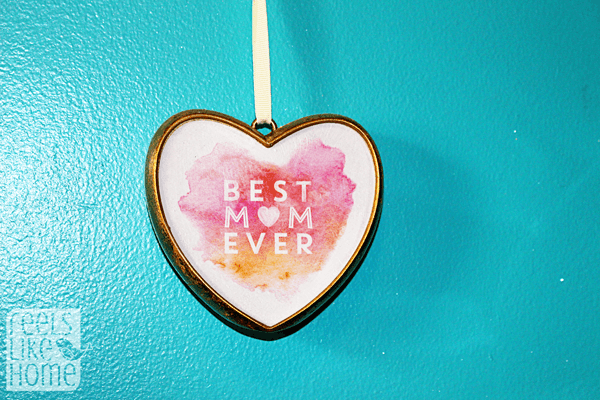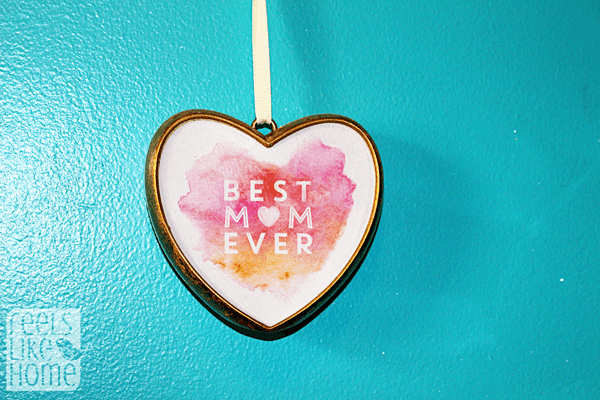 Pin
My drawers are my other favorite spot in the room. I ordered this cat wrapping paper from Amazon and used it to line the drawers. Then I got these modular drawer organizers to corral my stuff. Because of the size and shape of my drawers, I ended up buying three sets of the organizers.
I decided early on that I wanted my office to be teal with accents of red and silver, so I wanted all red office supplies. Here are the things I ordered from Amazon: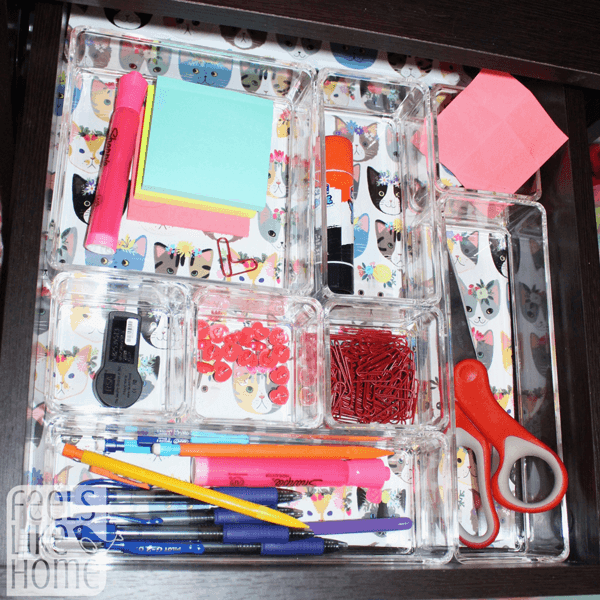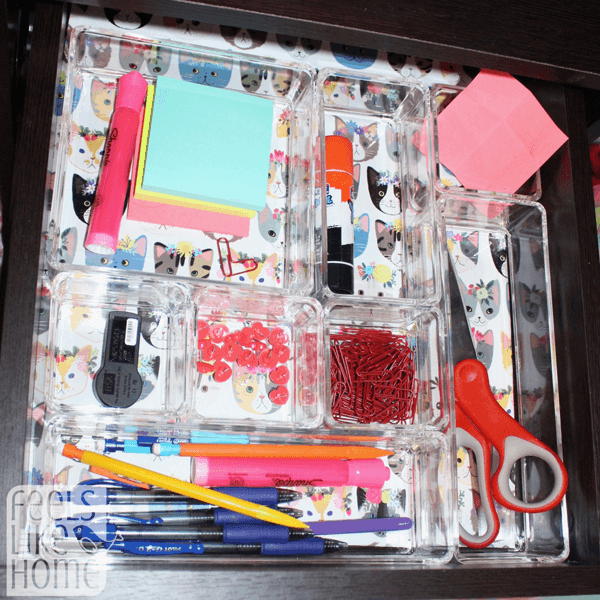 Pin
The second drawer has mostly my overflow supplies. My coasters sit down here, too. Because I have to drink a lot of water daily (due to my surgery), I almost always have a big glass of cold water on my desk.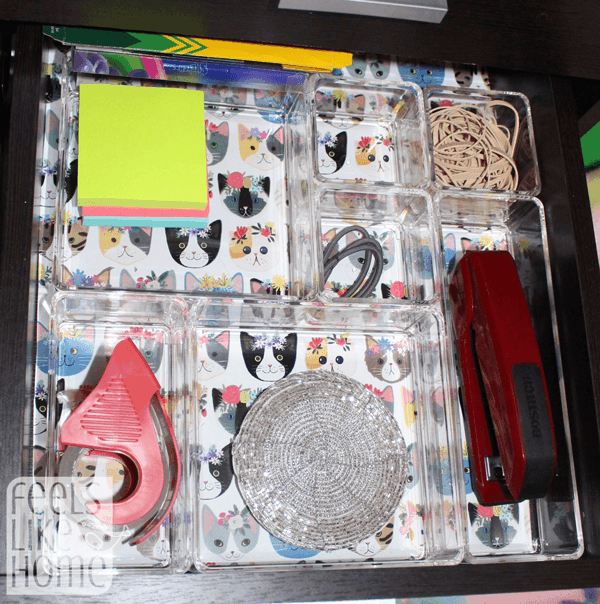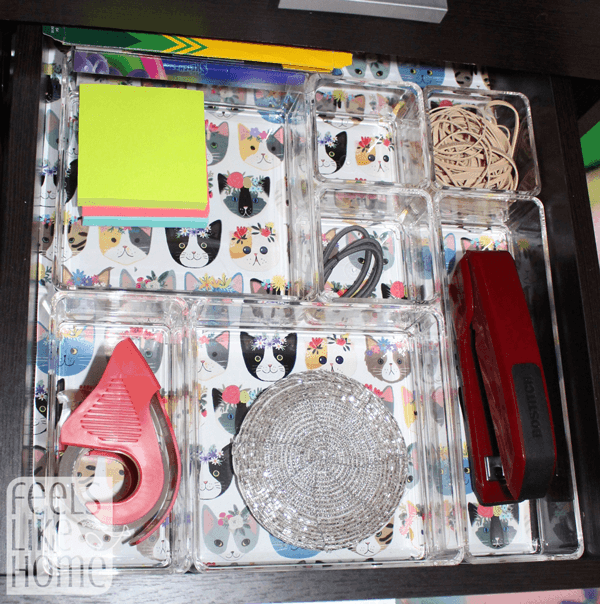 Pin
I decided on a whim that I wanted a water garden, so I stopped at a pet store here and got a bunch of aquarium plants and a betta fish to share my space. His name is Francis, and he is the perfect office mate. My water garden is slowly dying even though I bought this fancy grow light which pretty much turns my whole office pink for 10 hours a day. I think the decaying plant matter is poisoning Francis with nitrites, so every day I fish out all the dead leaves. I hope they all survive, but I'm not too sure at this point.
Francis also has marimo balls, this time from Amazon, because I am a little obsessed with them. His are much bigger than the ones from Etsy.
In front of his tank are the girls' marimo aquariums which also came from NewDreamWorld on Etsy.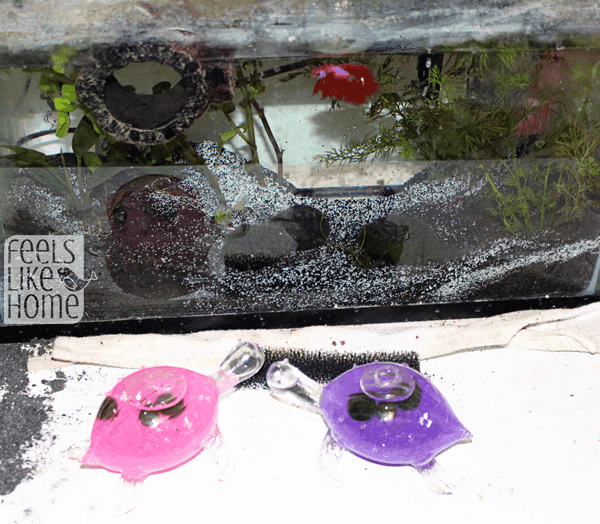 Pin
So that's my home office. What do you think?
I received the succulent planter and red silk flowers free of charge in exchange for my honest review of silkplantsdirect.com.