This homemade Cracker Jacks recipe is the ultimate in copycat buttery caramel corn goodness. It's the perfect snack for family movie night or taking to on the go.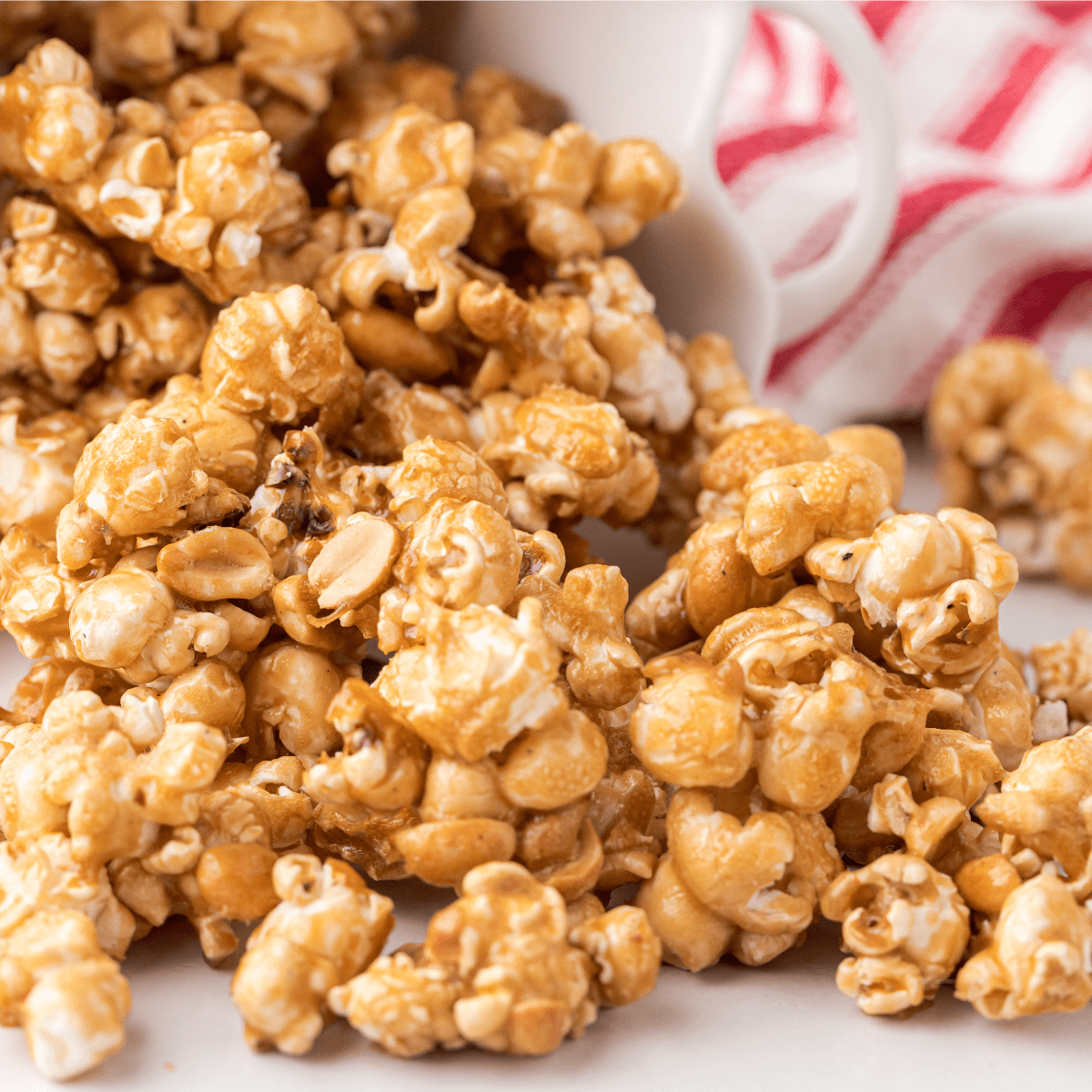 I have a bad habit. I probably have several bad habits, but let's not talk about those.
The one I'll admit to now is my Cracker Jack habit, but I don't buy Cracker Jacks. I don't get the little toy surprises that always came in the box.
Here's my secret: I make homemade Cracker Jacks, and I don't share my nighttime snack with my kids.
There, I said it.
The horror!
I make my Cracker Jacks at night, after the kids are in bed. The recipe is simple, and I whip it up most evenings after the coast is clear.
All you have to do to make this caramel corn is to heat the butter and sugars, then mix in the popcorn and peanuts, and bake. After baking, you break it up into pieces and serve. It takes less than a half hour from start to finish, and it tastes just like the Cracker Jacks you get at the grocery store without the preservatives.
You're going to love this recipe.
Homemade Cracker Jacks are delicious hot or cold, fresh or stale, by yourself or with a buddy.
2013 note - Since my kids have gotten a little older, I decided to share the Cracker Jack goodness. We make and eat this recipe for family movie night regularly. The kids love it as much as I do! (Was there ever any doubt they would?)
We make the caramel sauce while the popcorn pops, and it only takes a few minutes to put the snack together.
What is Cracker Jack?
Cracker Jack is a snack food that comes in a box. It's been around for over 100 years, and it used to be very popular at baseball games and movie theaters because it's self contained and easy to eat.
The actual Cracker Jacks snack is a popcorn and peanut mixture that's been coated with a sweet caramel syrup and baked. It's so easy to make at home that you'll never even consider buying a box again!
When I was a kid, there was a prize inside every box of Cracker Jacks. I don't know if they still do that (because I make my own now), but it was always exciting to see what you'd get.
What you'll need to make this Cracker Jack recipe
Equipment
You will need some standard kitchen equipment, like measuring cups and spoons, large mixing bowls, and a small saucepan. You'll also need a baking sheet or cookie sheet lined with parchment paper or sprayed with non-stick cooking spray to bake the Cracker Jacks. I recommend one with a lip around the edge so that none of the syrup mixture oozes out into the oven. You'll probably also need a popcorn popper of some sort. I have a stovetop variety and like it a lot.
If you have a candy thermometer, you can use it. Don't let the caramel mixture go above 250ºF. If it gets close, remove the pan from the heat.
Ingredients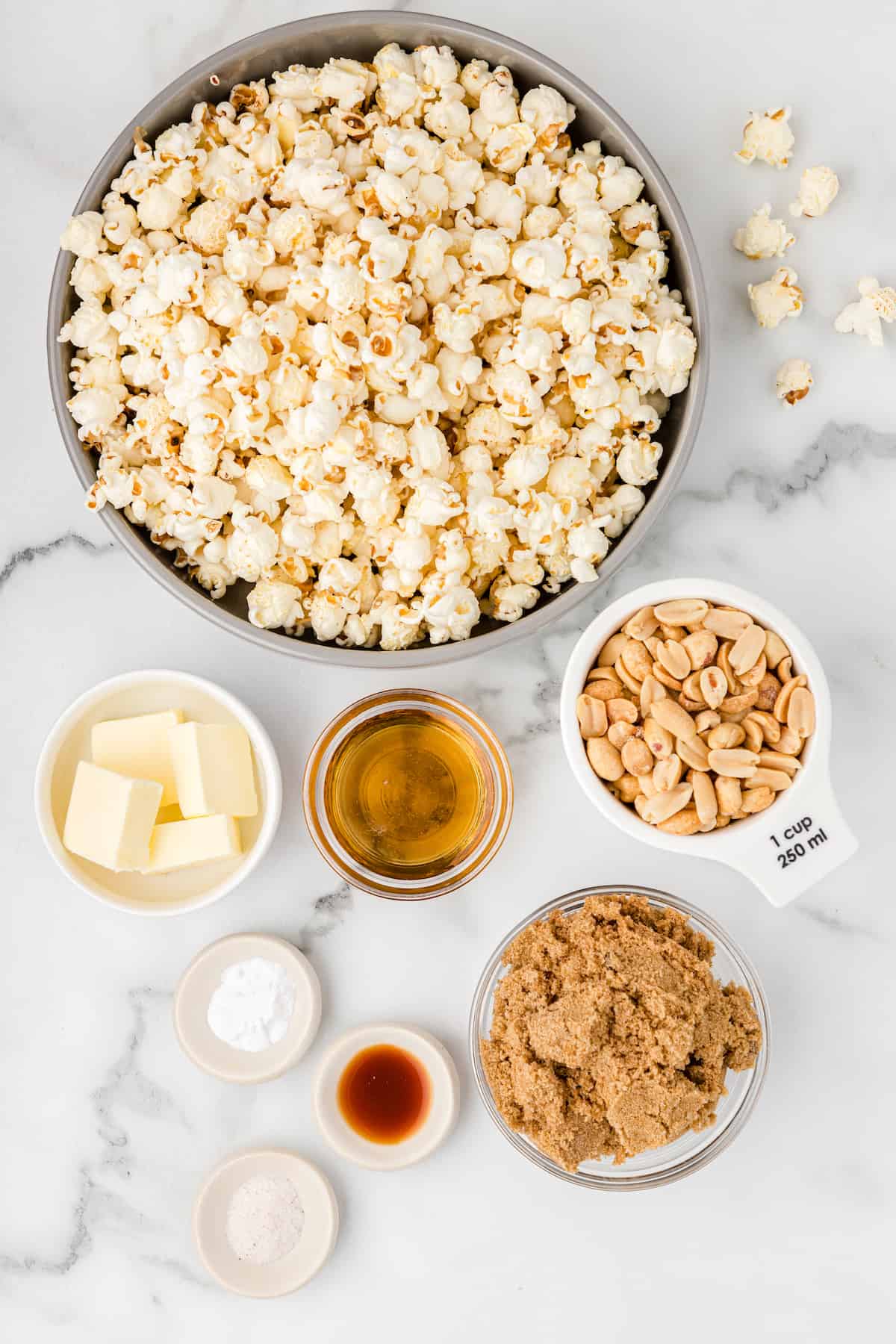 See the printable recipe card at the bottom of the page for measurements and nutritional information.
Packed brown sugar - You can use light or dark. Dark has more molasses than light, and a slightly richer flavor. That's the only difference. I prefer light.
Butter - You can use salted or unsalted. I prefer unsalted because the recipe already has salt in it, but if you only have salted, use it.
Light corn syrup - This binds the syrup together and is essential to replicate the flavor of the original Cracker Jacks.
Salt - Don't leave this out. It helps to balance the sweetness.
Baking soda - I have no idea why this recipe needs baking soda, but it does so don't leave it out.
Vanilla bean paste - I have a love affair with vanilla bean paste. It's thick and sticky and made from concentrated vanilla extract mixed with actual crushed vanilla beans. It's so much better than vanilla extract and doesn't have the bitterness that the extract has. If you have to, you can use vanilla extract, but it's better with the paste.
Popped popcorn kernels - I recommend air popped popcorn and not microwave popcorn because microwave popcorn is kind of gross.
Peanuts - I prefer salted, dry roasted peanuts for their flavor, but any peanuts will work.
How to make homemade Cracker Jacks
Preheat oven to 300ºF.
Mix the popped popcorn and peanuts in a large mixing bowl.

Line a baking sheet with parchment paper and spray the parchment with cooking spray.

Whisk together brown sugar, butter, corn syrup, and salt in a small pan over low heat.

Simmer the caramel mixture until the butter is all melted. Don't let it boil. This is very important. If you overcook the caramel, it will be too stiff to coat the popcorn later.

Cook without stirring for three minutes, then remove from the heat and add the baking soda and vanilla to the pot.

Pour the hot caramel sauce over the peanut and popcorn mixture. Stir gently with a wooden spoon until evenly coated.

Transfer to the prepared baking sheet.

Bake Cracker Jacks for 15 minutes at 300ºF.

Break into pieces before serving.

Cracker Jacks FAQ
What is the coating on homemade Cracker Jacks?
I don't know everything that's in the coating on the Cracker Jacks that you buy in the grocery store (and I'm pretty sure that I don't want to know), but in the homemade version, it's a very simple caramel sauce made primarily from brown sugar, butter, and corn starch.
Are homemade Cracker Jacks healthy?
Well, I mean... They are popped popcorn, and that is a healthy whole grain food. However, you coat the popcorn in a sauce made from sugar and butter, so you probably can't continue to claim any health benefits.
One serving of homemade Cracker Jacks is about 2 cups of popcorn, and it has 599 calories. So definitely not a health food.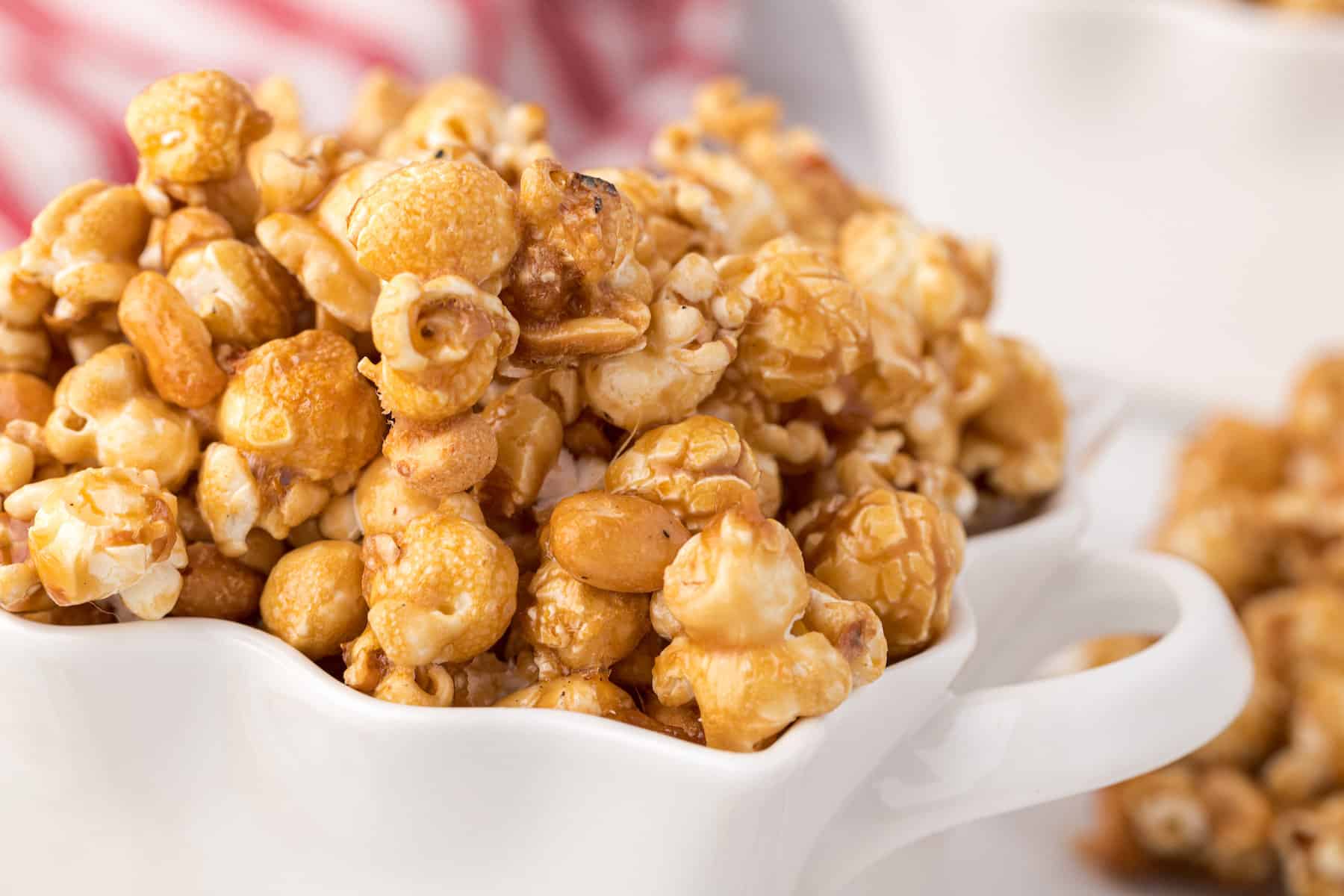 Are Cracker Jacks vegan?
As it is written, my recipe is not vegan because it contains butter. However, you could try to make it with a vegan butter substitute. I've never done that, so if you do, be sure to leave a comment below and let me know how it turns out.
I've also considered using coconut oil (the hard, heart-healthy kind) in place of the butter, but I haven't actually done it so can't vouch for whether it comes out well or not.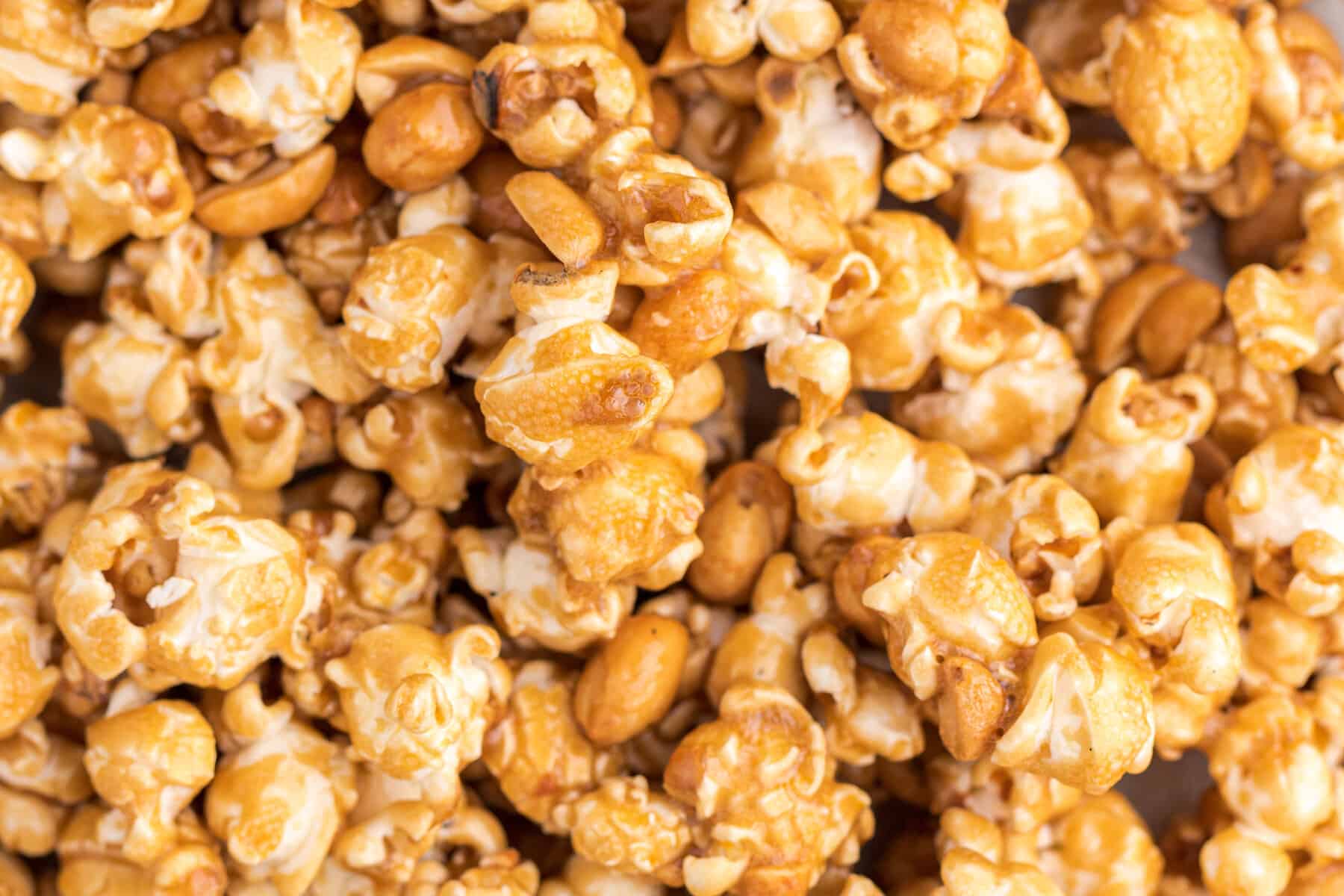 Can you make Cracker Jacks without nuts?
You can. It wouldn't be Cracker Jacks without the nuts. It would just be caramel corn. But it would still taste good.
How do you store homemade Cracker Jacks?
Allow the popcorn to cool completely before storing. Dump it into an airtight container or zippered plastic bag and store at room temperature up to a week. It never lasts that long at my house.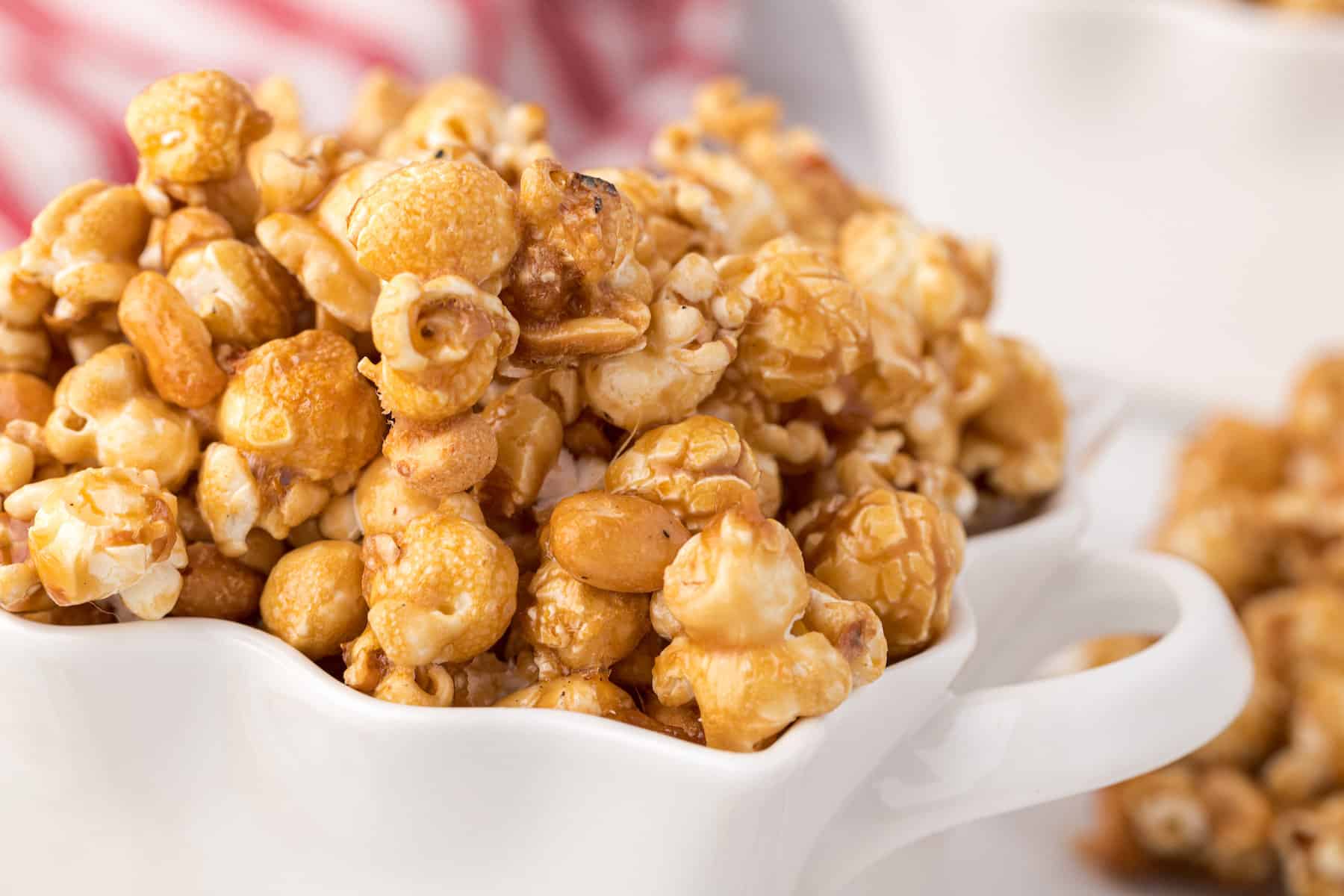 Cracker Jacks variations
First, let me say that I do not know why anyone would want to make a variation on this recipe because the original is amazing. But, if you must, here are some alterations to consider:
Replace the corn syrup with honey or real maple syrup - This will NOT taste like Cracker Jacks, but it will still taste good.
Add 2 tablespoons of molasses to the caramel mixture before cooking
Add mini pretzels
Add Chex
Add mini M&Ms
Replace the peanuts with chopped pecans or walnuts
If you like homemade Cracker Jacks, you might also like these recipes: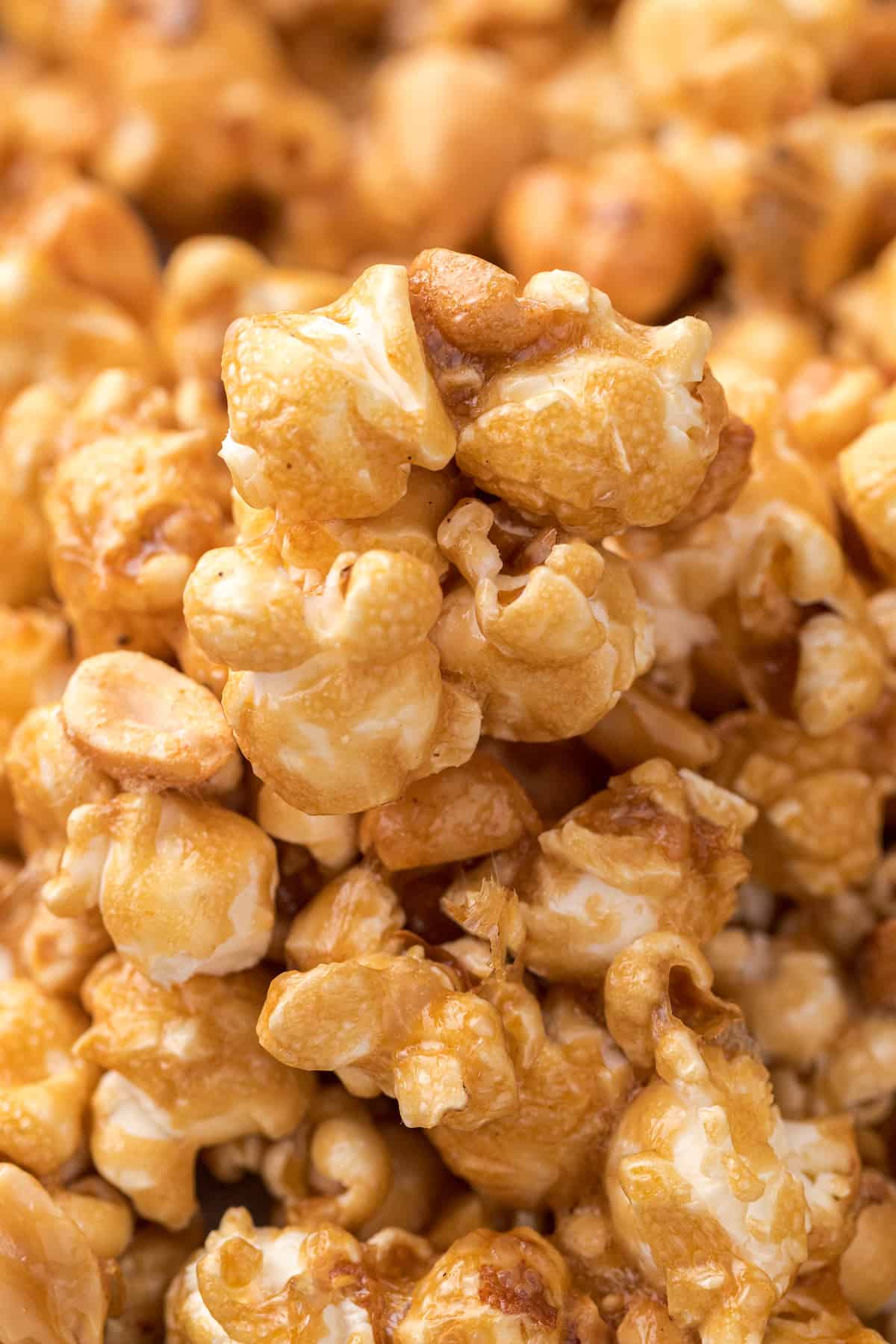 And you might like to try these other copycat recipes:
This homemade Cracker Jacks recipe makes the perfect caramel corn with peanuts. It's quick and easy, and it always delights a crowd. Try it tonight!
Recipe