I would have posted these photos anyway, but this is a sponsored post for Hershey, PA.
Last summer, Joe's brother gave Grace Hersheypark tickets for her birthday. We spent eleven hours at the park, staying from before the park opened until almost closing time. We all left exhausted but excited for our next Hersheypark adventure.
Shortly after that, we bought season tickets to Hersheypark.
This year, our first Hersheypark trip was opening day.
Allie is too small for a lot of the rides, but Grace is big enough to be her responsible rider for some things. This makes Grace feel very grown up, as you can imagine.
Hersheypark has over 65 rides - everything from crazy thrill rides (like the Great Bear) to little kid swings (which Grace says don't go as high as her swing at home). There are rides that everyone can ride together, like the giant historic carousel, rides just for kids, and rides just for adults.
We spend most of our time on the kids' and family rides, as you might imagine.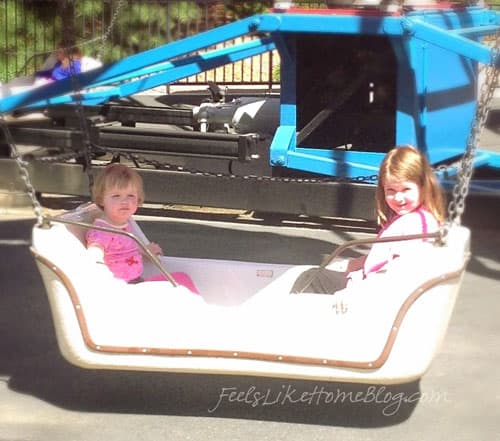 Pin
When I was about ten, I loved driving my mom and sister around Geauga Lake Park in these antique cars. We'd all pile into one, and Amanda would laugh the whole time.
I remember the smell and the jerky motion of the cars like it was yesterday.
Now it's Grace and Allie's turn to pile in and laugh the whole time.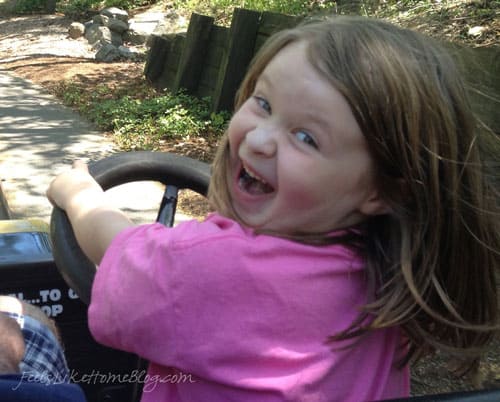 Pin
The first time, Joe and Grace sat in the front, and Allie and I sat in the back.
The lines were short, so we immediately jumped back in line so that Allie could drive her own car. Joe said she turned the wheel the wrong way the whole time. (Fortunately, there's a rail that keeps you on the track.)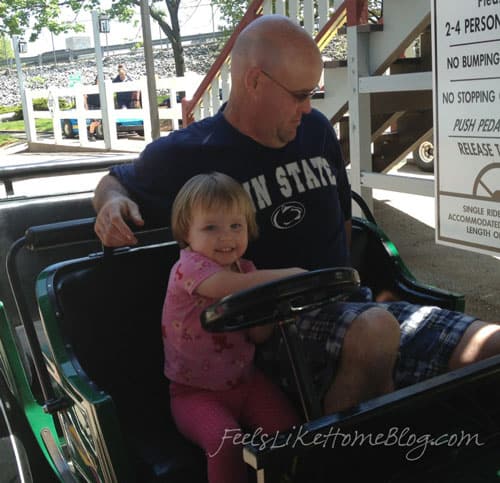 Pin
Of course, Grace couldn't ride while Allie drove. She had to drive her own car, separately.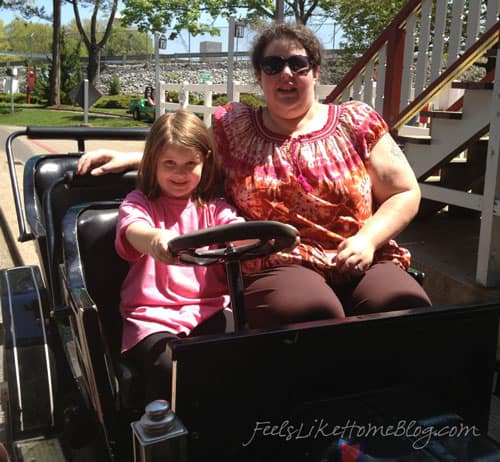 Pin
Allie fell asleep not long after we arrived, so Joe and Grace rode some grown-up rides like the Whip and the Music Express. (Can you tell that the ride isn't moving?)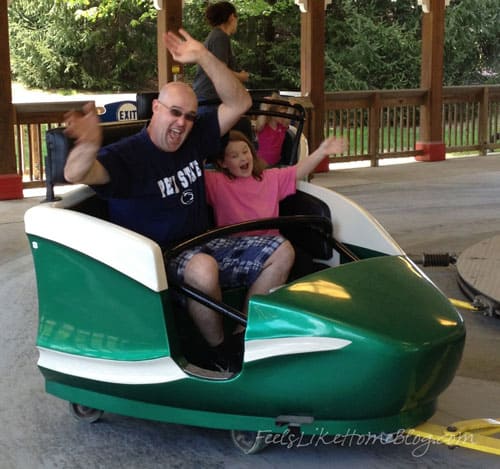 Pin
After Allie woke up, we had lunch. I was pleasantly surprised to find gluten-free pizza available by request at the pizza shop. There were other gluten-free options too, according to the park map.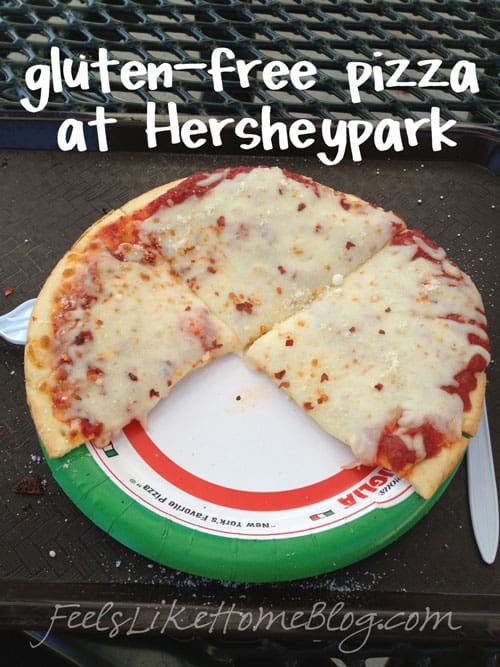 Pin
After lunch, we set out to ride the girls' favorite rides.
Since I've gotten older, I can't ride many of the fast, exciting, grown-up rides, so I stick with the things the kids like (for the most part).
We all love this steam train. It's in an old time pioneer area, and in the fall, they decorate it for Halloween.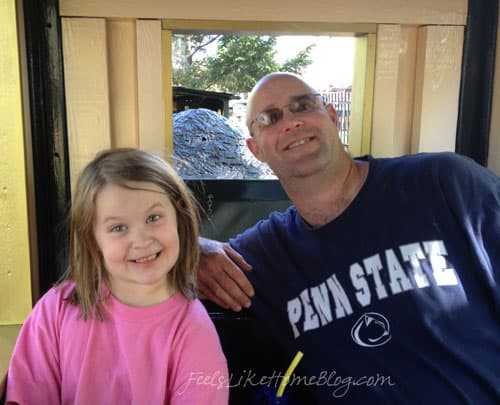 Pin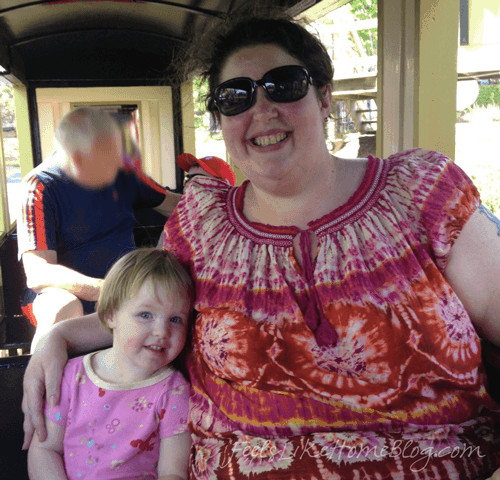 Pin
I love that the family and kids' rides are sprinkled all through the park. If they were all in one place, we wouldn't get to see the whole park, but we cover Hersheypark from one end to the other, stopping here and there for rides and shows.
Grace and Allie both love the seal and sea lion show. It's not to be missed, especially if you have kids.
We all like the Ferris Wheel and the Monorail, both rides for the whole family.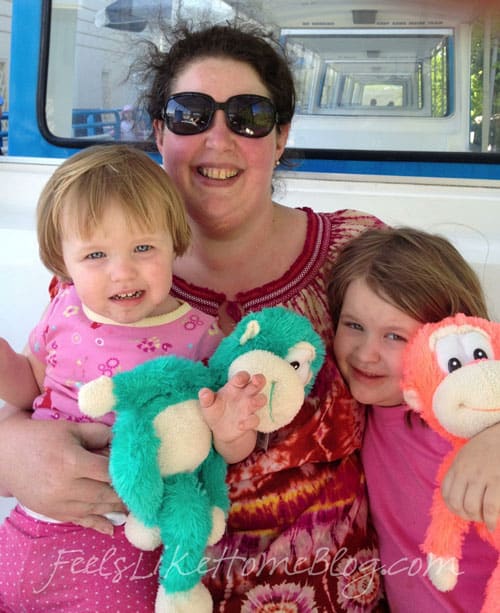 Pin
Joe and the girls rode almost all the kiddie rides. Grace is getting a little too big for some, but she still rides along with her sister.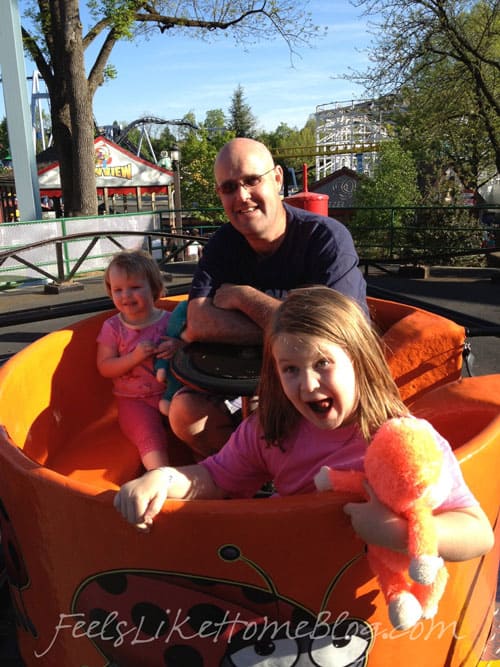 Pin
There were so many things to do that we didn't get to all of them on opening day. There wasn't enough time, and the girls got too tired.
Grace especially was dying to visit ZooAmerica (included in your park admission), but I told her we'd do that another day. You can get into it from Hersheypark or go just to the zoo through its separate entrance.
I'm hoping to get there every week or every other week all summer. It's important to me that we take a break and spend time having fun as a family.
Hersheypark also has motorized wheel chairs available for rent, so my mom is going to try to come with us to the park. The girls and I are really looking forward to that.
I participated in a campaign on behalf of Mom Central Consulting for Hershey Entertainment and Resorts. I received a promotional item as a thank you for participating.