Last Wednesday, Grace asked me if we could paint the living room hot pink.
"No, Grace, we are not painting the living room hot pink."
Can we paint my bedroom hot pink? she asked, examining me for a reaction.
"I don't know why not," I responded. "I can't help with the painting, so we'll have to ask Daddy if it's okay." We called Joe at work and asked if he had any thoughts on painting Grace's bedroom.
He had no thoughts, so I talked him into painting her bedroom.
Hot pink.
Knowing that I had a gorgeous bedding set at home, I let Grace choose a few paint samples, and we left the store.
At home, Joe got out the bedding and gave it to Grace. It was love at first sight.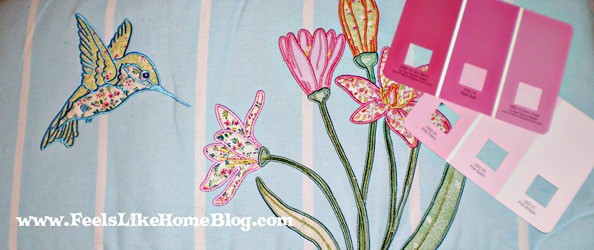 I love it! This is so beautiful! she said. This is for me? I just love it!
She's an old soul. I love the way she talks.
Probably because she talks like me.
The next afternoon, Grace and I met Joe at the store after work. I found paint samples that were close to the ones Grace had chosen but also matched the pinks in the comforter. We bought primer, 2 gallons of hot pink paint, 1 gallon of light paint, and rollers.
When Grace was born, Joe and I decided that she didn't need a fancy nursery. I made curtains with baby Snoopy on them (behind Elmo, whose sole purpose is to block out the sunset so Grace will go to sleep at night). We bought fitted crib sheets, but skipped all of the ruffles, blankets, and assorted things-you-don't-need.
Initially, we used wood animals to make a faux border around the white room. When Grace got old enough to reach them, she pulled most of them off the walls. We added some wallpaper stickers over the years. Some of those survived her little fingers; some didn't.
Last year at Christmas, we strung up some snowflake-shaped Christmas lights - and never took them down. Grace still turns them on every night.
Here's what Grace's room looked like when we got home last Thursday. Ignore the mess. It doesn't always looks like that.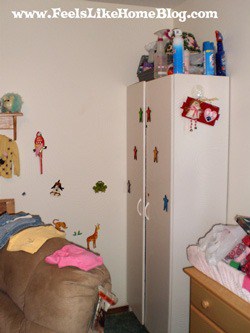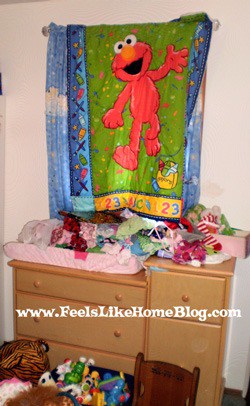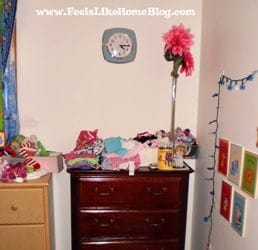 On Friday, Joe taped off the trim, moved the furniture, and sanded the old paint.
We weren't sure if the new paint would stick to the old vinyl latex, so the sanding was a necessary step, allowing the primer adhere to the wall. It didn't take long; Joe has one of those Mouse power sander thingies.
I think he should have been wearing a mask to sand, but nobody listened to the pregnant wife in the living room.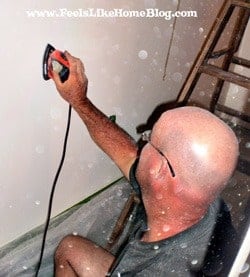 At 8 pm Friday, Grace should have been getting into bed. Instead, she, too, was sanding her bedroom.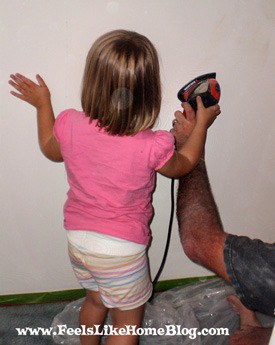 They eventually broke out the rollers and the paint trays.
On Saturday morning, the priming began. Grace and Joe applied primer to all of the walls.
Joe and I laughed at Grace applying primer. He would put it on her roller, and she would run around the room, rolling as if she were racing a car on a track. Around and around, laughing and rolling. She was so excited to be painting her bedroom!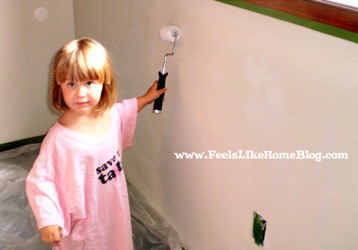 For the record, I thought they should also have put primer on the doors, but nobody listened to me.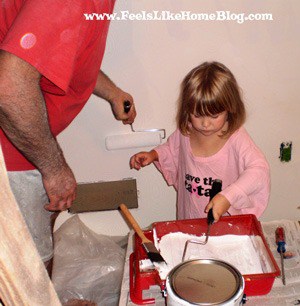 Unfortunately, when Grace's zeal for priming turned into finger painting (ten minutes into the process), she was fired and had to sit with me in the living room.
When the primer was all done, we went out for a bit. You know, so we wouldn't have to marinate in the primer fumes while it dried.
We came home, and Grace took a nap. Unwilling, as she wanted to paint. By the time she woke up, her room looked like this: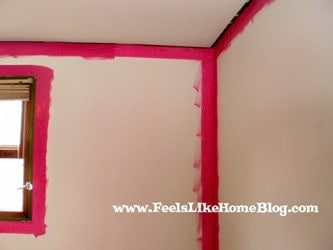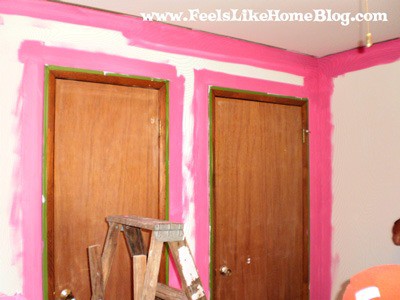 Joe had done all of the edging so that he and Grace could go crazy painting the middle of the walls.
Go crazy, they did.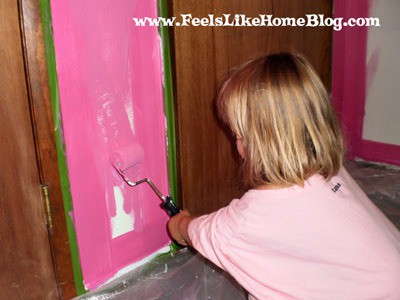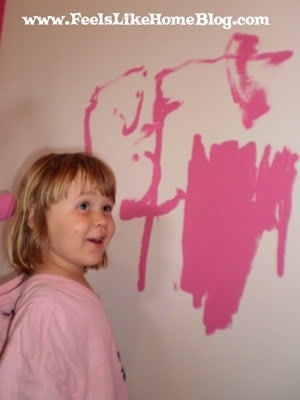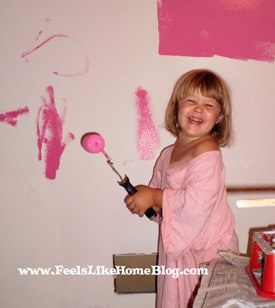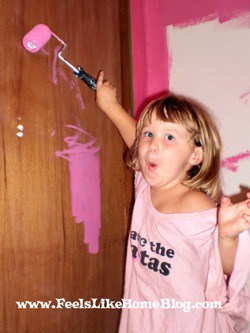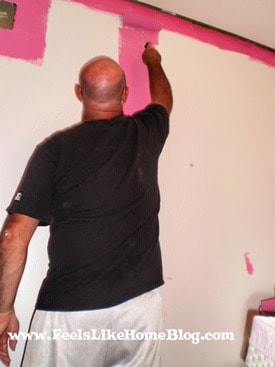 I actually got involved in the process (beyond just giving instructions, I mean).
When I came in to take pictures of Joe and Grace painting, I noticed that the (over priced) paint was low VOC, the safer kind of paint.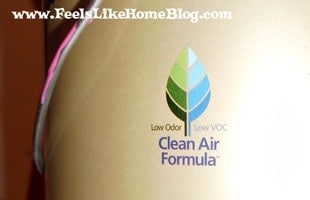 That made me feel safe enough to do some painting myself.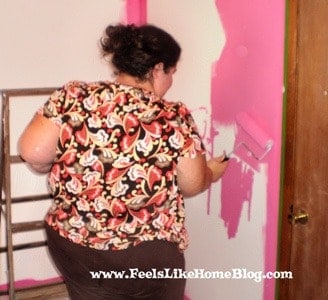 I'd never painted with a roller before, and it was not as easy as I expected. I painted a bit, enough to make a contribution, and then I retired to the living room.
Probably to blog or talk on Twitter.
I'm sure it was something important.
Here's what the room looked like after the first coat of paint.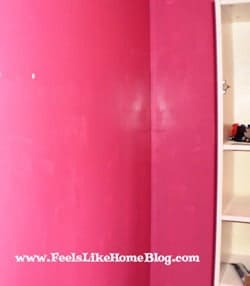 Unfortunately, the picture doesn't do the paint justice. It's much more bright, more dark, more pink. Less Pepto.
All three coats of hot pink paint on Grace's walls are dry (and they have been for more than a week). We put her beloved race car bed into storage and hauled out her crib to convert into a toddler day bed.
Never having used them as a baby, Grace thought the bumpers that came with her bedding were just so cool. She insisted they be tied onto the sides and back of her day bed.
In a moment of temporary brilliance, I tied the remaining bumper on to act as a soft bed rail. It's not terribly sturdy, but she's only fallen out of bed one out of the last seven nights.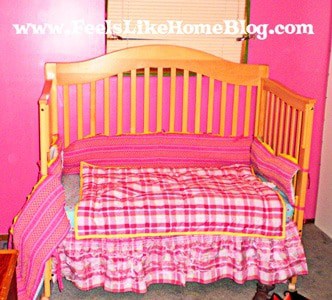 We tried several different furniture arrangements in an effort to give Grace a totally new room. In the end, we put the bed back where it had been before. It allows Grace to be in the dark, without our bathroom or master bedroom lights shining on her sleeping face.
When I was putting together a few pictures of the (mostly) finished room, I found this one of her, helping her Daddy to stir paint for the third coat. She wanted desperately to be involved in the process. It might have taken a little longer with her help, but it was an experience she'll remember forever.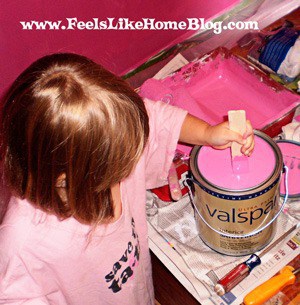 We still have a lot to do in the room. Grace asked us to paint her book shelf, her dresser, and her wooden toy box. They are going to be the slightly lighter accent pink with hot pink accents.
When we get around to painting them.
Joe and I also agreed that the ceiling needs a little paint. Joe's going to put a thick stripe on the ceiling, right next to the walls. That's going to be the lighter accent color, too.
I wanted to wait to take pictures until the room was really done, but I'm not sure when we'll get around to those finishing touches.
So. Here's the room in its almost-but-not-quite done glory.
The bed. Remember that this was a nursery bedding set? Those don't come with pillow cases. I'm not sure if I'm going to be happy that Grace wanted to keep her Elmo pillow case or if I'm going to look for one that coordinates with the bedding. I'll probably look for one.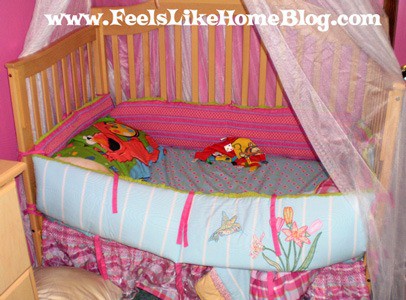 See the big pillow in the bottom left corner of the photo above? That's where Joe sits to read to Grace at bedtime. They have a really sweet routine.
I love this canopy. It is covered with glow in the dark stars, and inside, we hung ribbons, crystals, and some shapes Grace and I made out of glow in the dark perler beads. Aside from the hot pink paint, this canopy is Grace's favorite part of the room.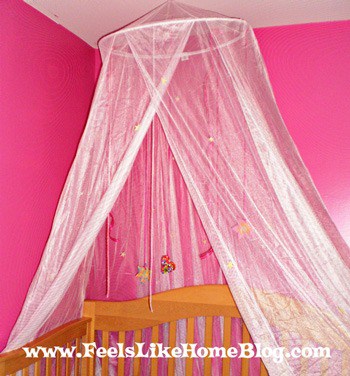 There's nothing new in this picture, aside from the paint. Joe and I got this shelf when I was pregnant with Grace, and Joe painted the little train cars. It's always been one of my favorite, most nostalgic items in her room, and I'm glad she wanted it put back up.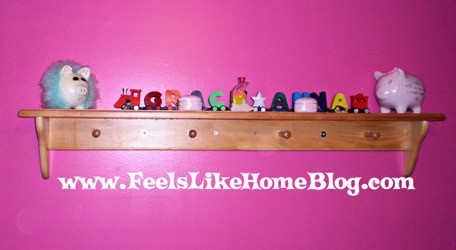 We didn't ask Grace if she wanted her stuffed animal hammock put back up. It's a necessity because she simply has too many toys.
The flowers are from Grace's old room, too. I found them when I was pregnant, and she's always liked them. The only bad thing is that they're sorta the same color as the walls now, and they don't really stand out like they used to. Not sure what I'll do about that.
Probably nothing.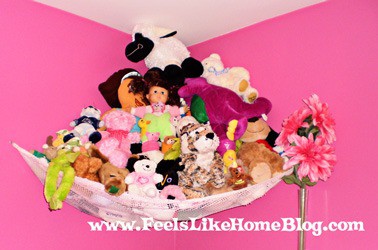 I really want to get the valance and curtains that match Grace's bedding, but I just haven't gotten time to go look at them in the store. For now, we're still using the Baby Snoopy curtains I made for her while I was pregnant.
The wall hangings are from the bedding set that I won. I'm thinking about changing the order, and putting the hummingbird on top so that it will contrast a little better with the clock.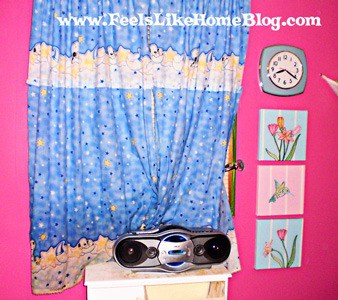 There you have it. That's Grace's new hot pink bedroom. She adores it, and I am more glad than ever that we ran with her idea when she asked if we could paint.
What do you think?