Is it possible to feel simultaneously foolishly inadequate and confidently parental at the same time?
It is. I know from experience.
Grace, Joe, and I thought it might be fun to play outside today.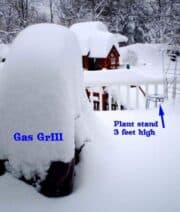 Pin
We had somewhere between 21 and 25 inches of snow fall today. Grace is somewhere around 40 inches tall.
The snow is fluffy and light. It was easy to brush away. Someone (okay, me) thought it would be fun for Grace to be waist-high in the powdery flakes.
Grace wanted to ride her sled. Joe said, "She could ride it down the porch steps. That would be fun, wouldn't it?"
I told him that it would either be fun or terrifying, and I didn't think we should find out which.
We went outside and played on the patio in the crazy deep snow for about four minutes before Grace asked if she could bump down the steps. I told her that she could.
What happened next played out nicely in my head. Grace plopped down onto the top step, slid down the steps on her behind, and landed happily in the snow at the bottom. I was imagining her fluffing it around like dust.
What happened in reality was quite different. Grace did plop down onto the top step, and she did slide down the first few steps on her behind. Then the whole thing went south.
Grace leaned over. Or something.
She was still laughing, but sliding turned into rolling. She rolled down the last couple of steps.
I was pretty sure that she wasn't hurt, but she was covered in snow. Her hair, her face, her coat, her pants. All caked with snow.
She tried to get up. The more she tried, the deeper she sank into the light, powdery snow. It looked like she were drowning. Flailing. Flapping her arms and legs to get up, but not going anywhere.
Grace was crying and scared, and I was worried that she might hurt herself somehow.
Grace needed help. I looked at the steps, but they were slippery and covered with snow. I was wearing sneakers, no traction. I was afraid I'd slip and fall right on top of her. Then she would be hurt.
I felt totally foolish for letting her try to slide down the steps to begin with.
"JOE!" I'm not sure why I yelled at the poor man who was just a few steps away. He was wearing boots, and I knew he'd have an easier time getting down to her. He did, and he carried her back up the steps to me.
I carried her to the bathroom where I wiped off her face with a warm washcloth and helped her out of her snow-caked clothes, shoes, coat, and mittens.
"Are you hurting anywhere?"
Noooooooooo, she sobbed.
"That was scary, wasn't it?"
Yesssssssssss. She took a sharp breath, and I hugged her.
"Do you want Momma to hold you for a little while?"
Yesssssssssss. Let's watch a moooovie.
"Should we have a snack while we watch the movie?"
Yesssssssssss. She stopped crying. Could my have a chocolate bar?
We sat on the couch. We watched a movie and shared a Fiber One bar. I hugged her. Knowing that she was not hurt, I felt confident and smug. All she needed was me.
If we ever get that much snow again, she will not be sliding down the porch steps.