I sat down to eat my breakfast this morning, looking as usual out the sliding glass door for my little gray and white kitty, to see if she wanted to come in.
She wasn't there.
I sobbed.
Before this weekend, I spent my days opening the sliding door to let her in or out, and I was happy to do it. Once exclusively a house cat, Molly preferred to be outside the last couple of years. One of my other 4 cats harassed her in the house, and she liked to run around and be in the dirt.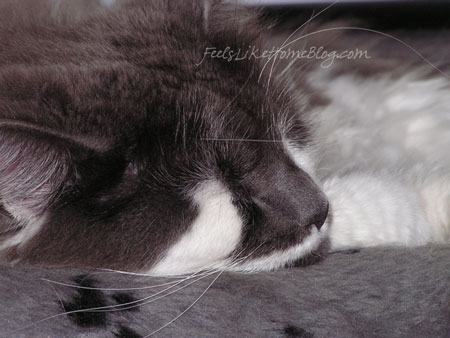 Pin
Joe's going to bury her in the backyard when he gets home from work today.
Molly said goodbye on Friday night.
I don't know how she knew. I don't know how I knew.
We both knew.
Seeing her on the back porch, I opened the sliding glass door. She pranced around the open door, rubbing her head and neck on it. She chirped a tiny meow, but she wouldn't come in the house.
"Are you going to run away from home, Girlie?" I asked her.
She said nothing in reply, no meow, no chirp, no purring. She just looked up at me and rubbed on the door frame.
"Okay then. I'll see you tomorrow." I said even though I knew I wouldn't.
On Saturday, she was nowhere to be found. I opened the door and called her even though my intuition told me she was not coming back.
I mentioned to Joe that I thought she'd run away, and I secretly hoped that she had. I hoped she would like her new home better than she'd liked ours.
I hope she does.
I got Molly as a tiny kitten, just a few weeks old. She was starving and puny. Her mother's milk had dried up; her teeth weren't yet ready for dry cat food.
Kittens' teeth and nails are like little daggers. The first time I picked her up, she bit me, hard. I took it as a sign that she was starving, that she was desperate for something nutritious to eat. I later decided it was just how she was, that she wasn't especially fond of me, that she was trying to defend herself.
I took her home and nursed her with an eye dropper until she was a fat kitten. She often sat with me, on my shoulder or next to me on the couch.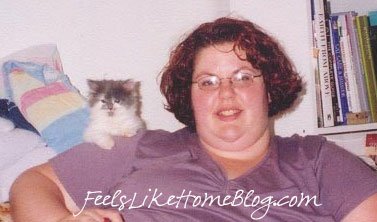 Pin
She was cute her whole life, but I stopped taking pictures of her when my kids were born. I'm sorry for that.
Both times I was pregnant, Molly would lay on my belly and purr. She never did that any other times, preferring to sit next to me on the couch or on my bed.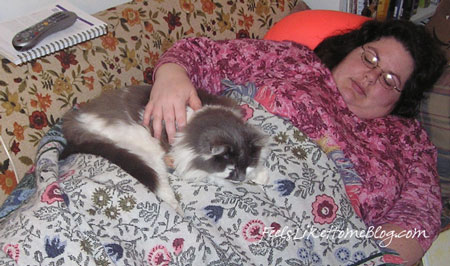 Pin
She was a small cat, and she had a knack for making a bed where none existed: a half-empty backpack, a pile of laundry, even a magazine on the floor. She liked to lay in the sink when it was dry, on the table, in my suitcase.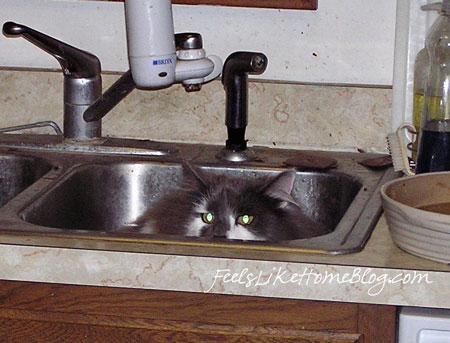 Pin
In earlier years, Molly got a haircut every summer, but her hair stopped growing long last year. It stayed relatively short, so it was easier for her to manage.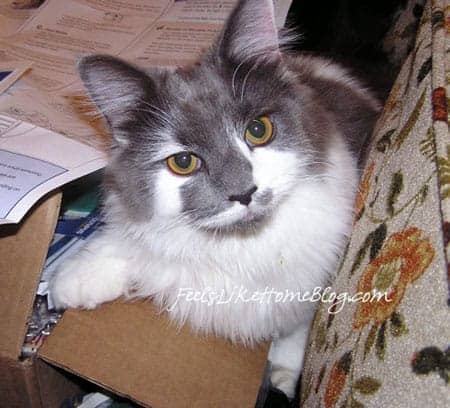 Pin
When Grace was little, she called Molly a Grabby Cat. Molly was always temperamental, and she didn't tolerate being harassed or poked or even petted. She could be really vicious. I only tried to clip her nails a few times; she always drew my blood. She had a ferocious growl, and she would hiss and strike with claws and teeth.
I tried in earnest to give her away at least five times.
As long as we left her alone, though, she liked to be where we were. She almost always slept next to both of my babies in their cribs, a fierce protector. She liked to be in the same room as us during the day, right up until Sammy chased her outside. When we were outside with her, she'd sit near wherever the girls were playing, content just to be close.
I didn't see her all day Sunday. I was sure she was gone, but I opened the door to call her just before going to bed. Sammy came running, trying to escape, so I pushed him back from the door and slipped out by myself. On the porch, I called her three or four times.
A sound, close and loud, startled me.
I grabbed a flashlight, now certain that Molly didn't run away but was hurt and nearby. I looked around in the yard, and then on the patio downstairs. I found her, lying on the porch where our cat door used to be, fur soaked and matted.
Even though she hated to be picked up, I grabbed her around the middle and brought her in the house. She didn't growl or hiss or fight, and I knew it was bad.
I laid her gently on a cardboard box, flattened to go in the trash. Covering her with a clean towel, I called my mom. She and my sister came over right away.
Knowing she hadn't eaten since Friday, I offered Molly some food on a paper plate. She struggled to stand up for a flash of a second, then laid her head down on the plate.
Just as I'd known she was saying goodbye, I knew she was not going to survive.
At the emergency animal hospital, the vet said she was paralyzed. There were no broken bones, but her tail and her legs had some kind of nerve damage. She could barely lift her head. She was cold, her temperature too low to register on the thermometer. She was septic.
Pain medicine made her comfortable, but she was fading. The only question was when.
Not wanting her to suffer any longer than she had, I signed permission to euthanize.
The doctor brought her back to us so that we could say goodbye.
I petted her for the first time since she was a kitten, most of 9 years. I rubbed her neck and head and shoulders. I cried, and I told her that I was sorry.
I was sorry for so much. Sorry that my children pushed her aside. Sorry that the fourth cat made her feel unwelcome. Sorry I agitated her. Sorry that I took her away from her mother. Sorry that I couldn't protect her from whatever made her paralyzed. Sorry that she lay dying all day, unprotected from torrential rain.
She blinked her eyes as if to say she understood, forgave me, and then she began to purr.
Goodbye Molly. I loved you, and I'm sorry.