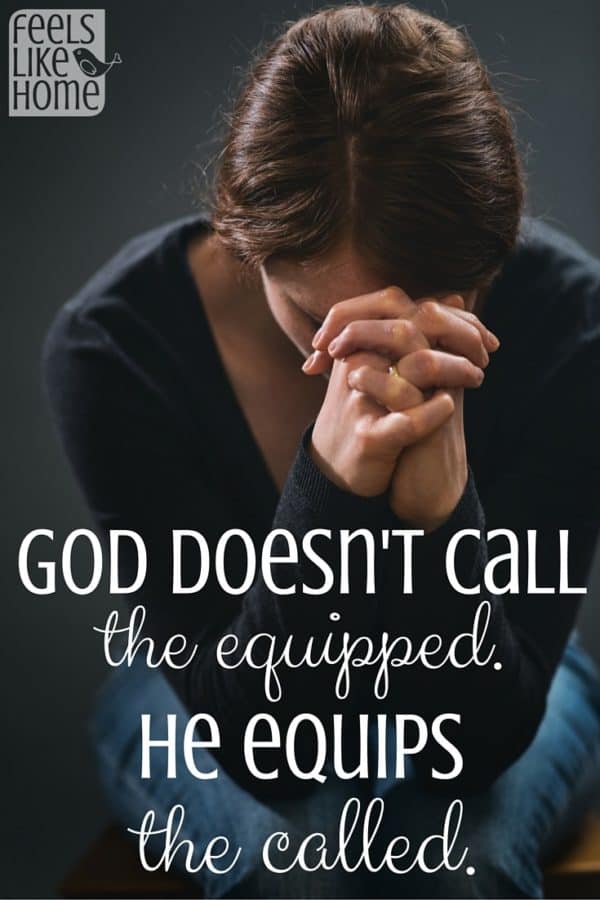 Pin
Hello my dear readers!
It has been a very long time since I wrote a post from my heart to yours (without a numbered list, ha!), but I thought it was time for that, for an update on my life like I used to post back in the days when this was a personal blog.
In February of this year, I lost my job at AboutOne. The company downsized, and everyone who was part-time was laid off. I was devastated, and I prayed harder than I've ever prayed.
Thanks to the goodness of God, I had a new job in less than two weeks. We called it "the job I didn't want" the whole way through the interview process. It was 25 miles from home, would require me to go in to the office 1-3 times a week, and was not in my field of education. Also, the job was only a 6-month contract. At the end of the 6 months, I could be out of work again.
When they offered me the job, they offered considerably more money than I had been making at AboutOne, and I couldn't say no.
In the end, the job I didn't want turned out to be the perfect job for me.
(Duh, because God orchestrated the whole thing just for me!)
The job was a challenge. I loved the work, and I loved my bosses.
I was very happy in my role, but the 6-month contract loomed over me for the entire course of my employment.
As the 6-month mark came and went, the project wasn't quite finished, and I knew I still had work to do. That was comfort even as I felt my stability slipping away from me.
I struggled daily with anxiety over my impending job loss and our financial future. I wondered if I'd find a new job that I would like as much as I liked my current job. I wondered if I'd like my new boss. I even purchased a few new shirts to wear on job interviews.
I prayed fervently, several times every day, that God would help my unbelief and lead me to a place of trusting His sovereign plan.
One night, as I prayed, a thought popped into my head.
Why not just email your boss?
Right then, I stopped praying and composed an email in my head. It went something like this:
Dear Boss,

I love the work that I'm doing here, but the project is winding down. I would really like to stay with the company after this project is finished, and I'm wondering if you have anything else coming up that might be a good fit for me.

Sincerely,

Tara
She emailed me back in moments and asked if I was in the office, which I was. I went to see her when my meeting was over, and she told me about a position that had recently opened up in her department.
A full time position.
It was just like the beginning. There were so many reasons not to take the job.
I haven't worked full-time for over five years, since before Allie was born. I was apprehensive and unsure of whether I was cut out for a full-time job. I was anxious about how the kids would handle me working full-time. I wasn't sure how we'd continue to homeschool if I worked full-time.
I pushed all that aside and thanked God for the blessing. The people I'd been working for for the last six months thought I could handle the increased responsibility of this new position. Not only was it a blessing, it was a compliment!
I met with the supervisor of the new position, and we had a great conversation. By the time her supervisor called to offer me the job a few days later, I had peace, knowing that it was God's plan for me to accept.
God doesn't call the equipped. God equips the called.
I know with all my heart that this job is God's plan for my future.
I am still apprehensive about what a full-time schedule will mean for my family life, but I am confident that my kids and Joe won't suffer. What probably will suffer (and the reason I write all this out in a post to you) is this blog. I won't shortchange my family to write here. This is important, but they are far more important.
So I will continue to post here as I'm able. It may be once a week, it may be less, but I will get back to it. I'll still bring you numbered lists and great content and cool products, just like you're used to.
I leave you with a Bible verse to encourage you on your journey. I hope it speaks to you as much as it speaks to me.
May he equip you with all you need

for doing his will.

May he produce in you,

through the power of Jesus Christ,

every good thing that is pleasing to him.

All glory to him forever and ever! Amen.

Hebrews 13:21 NLT