Over the years, I have tended to stay away from controversy. I have been both championed and lampooned, supported and criticized on blogs and in traditional media for defending my trademark, questioning Tweets, respecting The Pioneer Woman, and being a mom blogger. None of those things were relevant to my mission here, to help people enjoy their lives, so my site stayed quiet about them all.

I have been sitting on this post for a few days, not sure if I should publish it.

I cannot stay quiet. This is too important.

A few days ago, some girlfriends of mine were discussing a hilarious book that was available for free on audible.com. From the title (Go the F--k to Sleep) and their conversation, I assumed the book was for grown ups, a satire of the unfortunate ritual that is putting a toddler to bed.
When I was alone, I found the audible iPhone app and the book's file and turned it on.
The cool, hip, it won't kill you to hear the f-word once or twice part of my conscious quickly receded as Samuel L. Jackson's smooth voice came on, explaining how he said this to his daughter all the time.
Excuse me?
Do people really talk to their children like this?
Please tell me that they don't.

Joe and I most certainly do not. We do not swear at, to, or within earshot of our children or each other, and we bristle in anger if someone else does.
Out of respect for my friends, I wasn't going to write about this book on my blog no matter how strongly I felt at the time.
Then, I saw the book on the news this evening. They were talking about the New York Times best seller and its critical acclaim, and I thought, "Really? Are we talking about the same book?"
It saddens me deeply to think that this is the world in which we live, the world in which my children are growing up.
On the news, the author said something along the lines of "This is real life, you know? It's just how it works."
Rage boiled up in my stomach, through my chest, and into my cheeks.
This is not real life.
That is not how it works.

I will readily admit that I get frustrated with my children. I was on bed rest for more than 8 weeks with a very active and precocious 3-year-old in my care. I have an infant who cried through most of her waking hours for months (and, unfortunately, her waking hours often included our sleeping hours). Neither of them has ever gone to sleep alone; I'm pretty sure that they are physically incapable.
I understand frustration.
But no matter what emotion I'm feeling, I believe in treating people kindly and with respect.
All people.
My children deserve no less respect than my parents, no less than my pastor, no less than anyone else. All human beings deserve respect.
That anyone would treat their own children with so little respect saddens me deeply.
If you are thinking, "What's the big deal? This is a book for adults. No one would read it to her kids," I challenge you to look at the book. This is one page -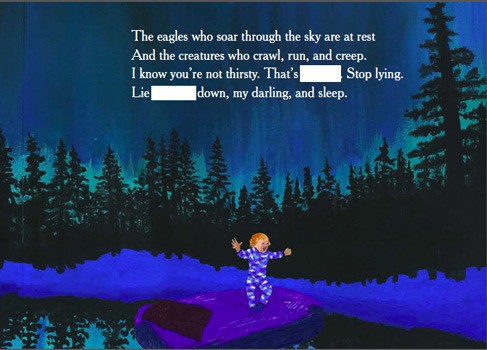 Kids will see this book. They will read it. Adults will read it to them.
Will they be tricked into believing that this is real life? That it's funny to disobey your parents? That it's normal and acceptable to curse at one another?
It's not acceptable. It's not real life. For me and my children, it never will be.