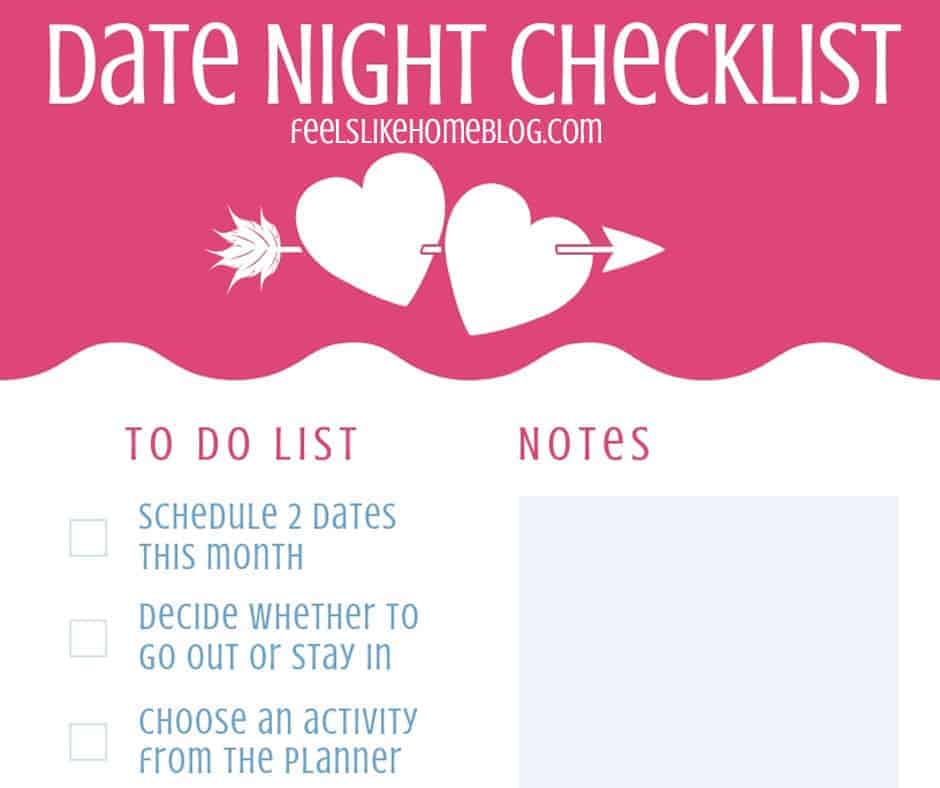 I am publishing a marriage series this week in order to celebrate the re-launch of
My Healthy Marriage Solution
, a 105-page collection of resources carefully selected to improve any marriage in practical, noticeable ways.
You can also check out the other marriage posts in this series:
And, as if
My Healthy Marriage Solution
and those posts were not enough goodness for your marriage, read on for a checklist to help you prepare for date nights with your hubby.
---
I look forward to date nights because they're fun and give Joe and me the chance to do interesting things with no child supervision whatsoever.
There's lots of evidence about why you should continue dating after you get married, but I don't need evidence to prove what I know intuitively: if I don't spend time with my husband without the added stress of our kids, we will not have the vibrant marriage that we both want.
Before you're married, when you're "just dating," you go out and spend focused one on one time together. Sometimes, you stay in and play a game or watch football - and spend focused one on one time together. During those early days, you learn about each other - your hearts and minds and spirits - and you become emotionally close.
Getting married and moving in together don't make those actions become irrelevant. In fact, I think they're more necessary than ever in order to prevent complacency. We need to actively work against taking our partners for granted, and dates are a perfect means to do that.
Joe and I didn't go on dates for the first four years of our marriage. Everything we did involved Grace who was born about 10 months after our wedding - even our anniversary dinners. Our relationship was strained (not just because of a lack of date nights, but that didn't help).
When Grace was about 3, we put her in ballet. Joe and I eagerly took her to her first class, expecting to watch her dance and twirl. To our surprise, the dance teacher gave us a 5 minute introduction to the class and then told us to come back in an hour. The parents were all kicked out and the door was shut.
Not knowing what to do with ourselves, Joe and I went to a nearby bookstore where we split up and perused the shelves pertaining to our separate interests.
Joe eventually exhausted the books he wanted to look at (he's not much of a reader), and he came to find me. I was in the marriage section when he did, and a certain book caught our attention. We decided to read it together and ended up reading aloud and answering discussion questions for the whole hour.
The next week, we took our book and workbook back to the bookstore and read to each other and answered more questions. It turned out to be a profound time in our relationship as we were forced to sit down, look into each others' eyes, and talk about our concerns and dreams.
I won't tell you that our relationship was fixed in that handful of hours over the course of the ballet class, but that time did lay the foundation for us to spend focused time together as a couple. It was the start of our date nights.
Fast forward nine years. We celebrated our thirteenth wedding anniversary in July, and we regularly go out for date nights - usually 3 a month. Plus, we spend additional evenings at home without the kids (usually after they're in bed or when they're huddled somewhere with a tablet).
Joe and I are both introverts who need a good bit of quiet alone time to recharge and refresh ourselves. We are both aware of this need, and we don't intrude on each other's time.
But we're also aware that our marriage needs quiet time together without other people so that we can connect, learn about each other, and remember why we got married in the first place.
Date Night Checklist
If planning a date night seems like more than you can handle right now, you need these pretty checklists. They'll walk you through planning and preparing for the dates in a simple, easy to follow format, and you'll be on your way to more date nights before you know it.
These checklists are appropriate for going out dates and staying in dates, and both have spaces to write down when you'll go, where you'll go, and what you'll do to prepare. All you need to do is procure a babysitter (that's a box for that) and make yourself look pretty, and you'll be ready to walk out the door.
In the image below, you'll see two different checklists. I created the blue one and was pleased with it - I love the medallion graphic on the left - but then I was struck that you may not want to use all that ink to print it, so I went ahead and created one with a white background for ink-conscious readers. Both checklists are included in the file, so you can just print the one you like better.
I hope you'll stop back and share with me what you do on date nights.
In the pages of My Healthy Marriage Solution, you'll find all sorts of date night resources, including a list of 86 ideas for date nights when you go out and 102 ideas for date nights when you're staying home. These pretty printable lists are not available anywhere else; I've published them only in My Healthy Marriage Solution.