Once a week, Grace goes to a preschool dance class.
On the first night of class, the teachers ushered the dancers and their parents into the studio and explained how the class would be set up. Each class has four parts, always in the same order:
15 minutes of Mousercise
15 minutes of tumbling
15 minutes of ballet dancing
15 minutes of tap dancing
And then, the teacher kindly threw us out. No parents are allowed in the studio during dance class.
On that first night, Joe and I walked around in a nearby bookstore.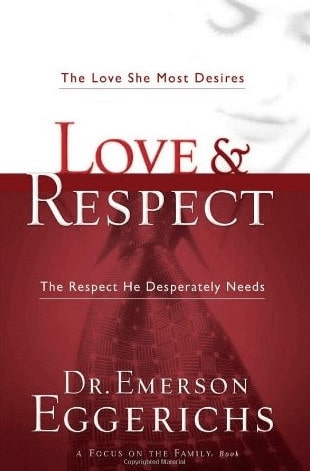 Pin
Separately. We're an old married couple; we have different interests. Joe perused the sports books and college football magazines; I looked through the homeschooling resources and Bible study journals.
The second evening began the same way, Joe to the sports section and me to the religion section. I had specifically been looking for a Bible study journal for moms. These days, I feel intensely motherly and not wifely at all. My mind is focused equally on the baby growing in my womb and the preschooler who needs my care and attention.
God knows. He knows that it's hard for me to relate to my neglected husband these days. As I scoured the Bible study materials, the book Love & Respect by Emerson Eggerichs practically leapt off the shelf at me.
Before long, Joe found me and asked what I was doing. At that point, I was sitting on the floor, reading Love & Respect. I read the flap to Joe:
Psychological studies affirm it, and the Bible has been saying it for ages. Cracking the communication code between husband and wife involves understanding one thing: that unconditional respect is as powerful for him as unconditional love is for her. It's the secret to marriage that every couple seeks, and yet few couples ever find.

Today, you and your mate can start fresh with the ground-breaking guidance that Dr. Emerson Eggerichs provides in this book. His revolutionary message, featured on Focus on the Family, is for anyone: in marital crisis...wanting to stay happily married...who's feeling lonely. It's for engaged couples...victims of affairs...pastors and counselors seeking material that can save a marriage.
Joe said that he would like to read Love & Respect with me. I showed him the accompanying workbook, and I suggested that we buy both. He agreed, we paid, and we found two comfy chairs where we could sit and read. We took turns reading aloud, a few pages at a time.
Love & Respect is set up so that you read a chapter of the book and then answer study and discussion questions from the workbook. The book is based on scriptures from the Bible, but the questions and discussion are relationship-focused rather than scripture-focused.
The thing I like most about the Love & Respect Workbook is that there are questions for husbands and separate questions for wives. It forces my normally quiet husband come up with heartfelt answers that we can actually discuss rather than just "Yeah, I agree."
I am thankful for the hour each week when we are forced to read and talk to each other during dance class. Our marriage is not in trouble, but I think this book and workbook can take us to a whole new level of communication and happiness with one another.
I don't have all the answers, and I'm not sure that Love & Respect does, either. I do believe that it can help Joe and I to related to one another in a more consistently positive way, and that will make our marriage happier and more fulfilling.
I'll let you know how it goes.