Thank you for your interest in the our affiliate program!
Affiliate income has unlimited potential! There's no limit to how much you can earn!
I no longer use e-junkie for my affiliate program, so please pay special attention to the new process explained below, especially if you were an affiliate in the past.
Affiliates earn 40% commission on all sales made through their referral link. If you endorse the book well, you can make a nice paycheck to put towards paying off your debts or your vacation fund.
The affiliate program is tracked via cookies. When someone clicks your affiliate link, a cookie will go into their browser and remain active for 90 days. This means that you will get credit whether they buy right then or if they think about it and come back in a month or two to buy.
If you've never before sold products through affiliate marketing, be sure to read the Affiliate Marketing for Beginners section at the bottom of the page.
Step One - Sign up
 [wp_affiliate_view]
Step Two - Get your link
This part is really easy. When you sign up, your link is listed right there on your affiliate page.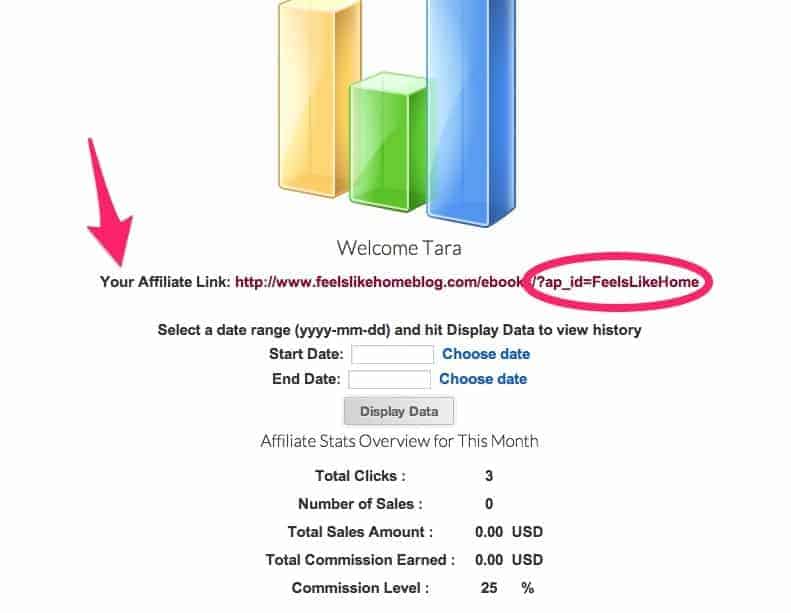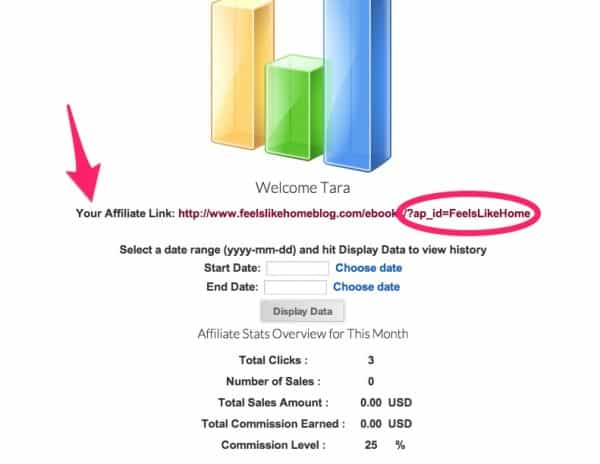 See the arrow? You can use that link to send potential customers to my main eBook store where all my books are listed.
If you prefer to send potential customers directly to a specific book or page, all you need to do is add that part to the end of the URL, to make it look like this:
https://feelslikehomeblog.com/ebooks/25-simple-steps-to-make-money-blogging/?ap_id=YOURID
You can add that to any page, product, or post, and remember, that cookie stays active for 90 days.
Step Three - Use your code
You can use your link as a text link or with an image. Please feel free to use any of the images on the sales pages or the ones from the Ads tab of your Affiliate account. If you don't see something that you think will work for your site, send me an email. I can't guarantee you that I'll have time to create the perfect ad for you, I will do what I can to help you.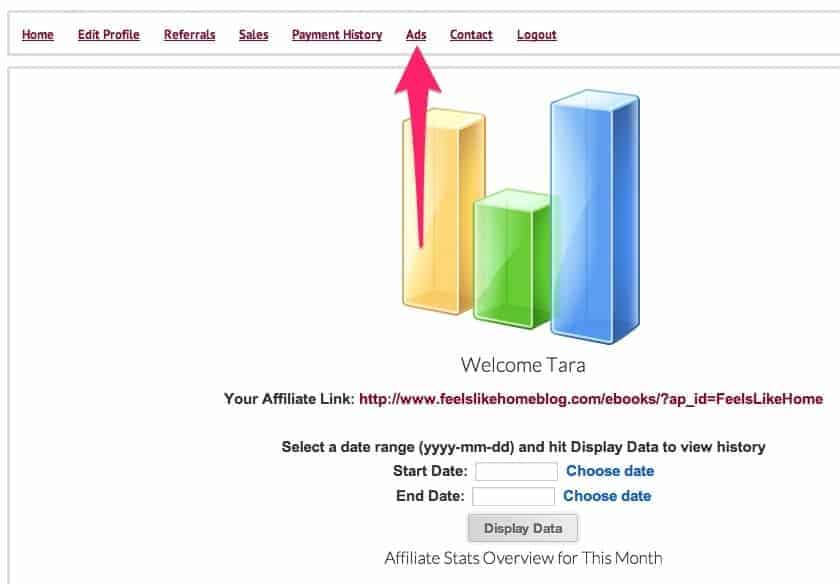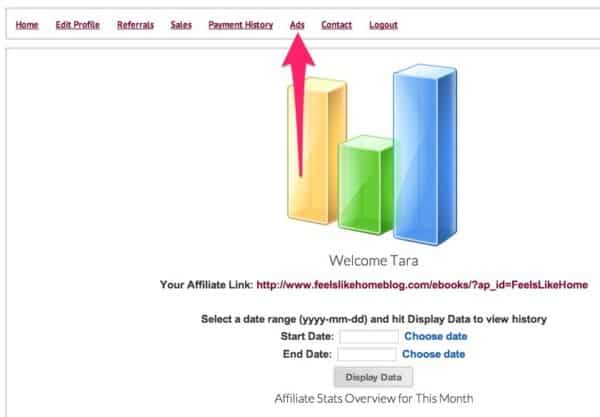 When you're successful, I'm successful, so I will do everything I can to help you! To that end, if a review copy would help you to promote the book (or if you want a guest post from me or to publish a short excerpt from the book), just email me. Like I said above, I'll do what I can to help you.
Payment
Payment is made during the first week of the month for all sales during the previous month. All payments are made through Paypal, so make sure your Paypal email address is correct in your affiliate profile.
Affiliate Marketing for Beginners
If you've never sold products using affiliate marketing, you should read these articles from Problogger:
The first thing you should probably do is read the book so that you can write about it from your own experience.
Ways to Promote Your Affiliate Link
By far, the best way to promote any product is to share your personal experience with it.
Write about your reaction to the ebook, including your link, on your blog.
Talk about your holiday plans on your blog and include your link.
Talk about how the book is going to save you time and money and frustration and include your link.
Talk about how you're implementing the suggestions in the book and include your link.
Host a "let's work through the ebook together" group. Gather a few friends (in person or online) and do the steps or studies together. Each member of the group could write his or her response on his or her own blogs or you could meet up and discuss in person or on Twitter or Facebook. (Remember to send your friends to get the book through your affiliate link.)
Share your affiliate link on Twitter, Facebook, Tumbler, and other social networks.
Place an ad in your sidebar or at the top or bottom of your posts using your affiliate link.
Email your friends and family who might like the book and include your link. (Please, don't spam anyone!)
Most Importantly
Don't annoy people. The best plan is to do a few of the above and to spread your efforts out over a week or two or even longer. Remember, your cookie is active for 90 days, so readers could go back and buy long after you introduced the book.
Make your affiliate links the only links in your post. Don't link to my homepage and to six other articles on the same topic. If you want to make sure people to click your affiliate link, make it the only link there is to click.
Promote the sales! Everyone loves a deal, and if you promote special sales and coupons, you will increase your sales significantly.
Make sure you always disclose your affiliate relationship before the link appears in your article, per the FTC guidelines for product endorsements.
Have questions?
You can email me. Make sure to put AFFILIATE QUESTIONS or something like it in the subject so that it gets a high priority.