This super quick and easy baked ziti recipe can be made with regular pasta or gluten-free pasta, making it the perfect dinner for any table! We have used this recipe for years! It is the BEST! Made with ricotta, mozzarella, and Parmesan cheeses and ground beef or sausage. The meat makes it so good, but you could make it meatless too. There is no recipe better than this cheesy, creamy, Italian wonder. Classic, simple comfort food.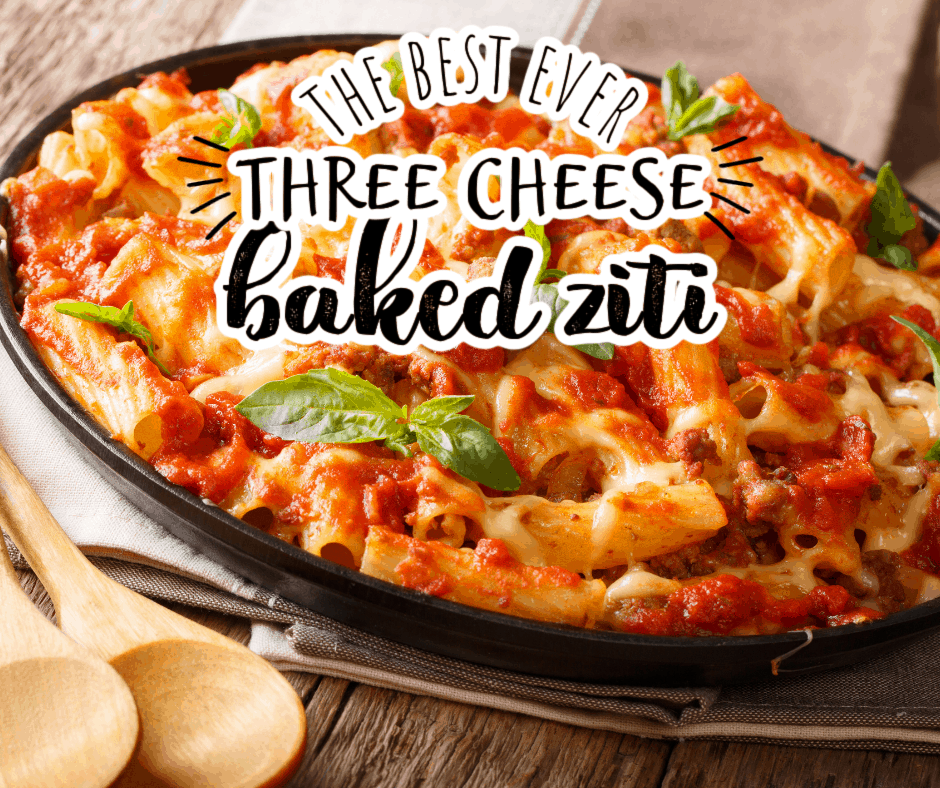 I am super busy, working 40 hours a week as a Project Manager in addition to blogging, homeschooling, and attempting to do something along the lines of keeping up a home.
I don't say this to brag about my busy-ness or to say that I'm busier than you, because I expect that you're just as busy. No one I know has time to spare.
Joe and I work together really well, but we don't have extra time to spend on meal preparation.
We squeak out the moments we can when we can, and we always eat, but long everything from scratch affairs are a thing of the past.
Especially during the summer, my family needs quick and easy options that everyone (even our crazy picky children) will eat.
This recipe is one of those.
How to Make Easy Baked Ziti
Prepare the pasta according to the package directions, removing pasta from the water while still firm. Drizzle with olive oil to prevent it from sticking while you prepare the sauce.
Preheat the oven to 350º.
While the pasta is cooking, make the sauce. Heat a tablespoon of olive oil in a large skillet over medium heat. Heat the sausage, crumbling it as it cooks. Add the onion and sauté until it is translucent and soft. Press the garlic into the skillet and add the Italian seasoning, red pepper flakes, and 32 ounces of spaghetti sauce. Mix well and set aside.
Spread a thin layer of sauce in the bottom of a 9x13 pan. Drop spoonfuls of ricotta cheese over the sauce, using about half of the cheese.
Mix a couple of spoonfuls of the spaghetti sauce with the pasta, then spread it over the ricotta in the pan. Pour the rest of the sauce over the top.
Top the pasta and sauce with the remaining ricotta cheese and then sprinkle with Parmesan and Italian blend cheeses.
Bake for 20 minutes or until bubbly and heated through.
Recipe