The last time I put together a sensory bin for my girls was a disaster.
Well, it was a disaster for Allie. Grace loved it.
Like always, I failed to pack it up and put it away, so it's still sitting in a dishpan in my dining room. I'm just on the ball like that.
Anyway. I learned a little something from that St. Patrick's Day experience and No Time for Flashcards. I put a few cups of fruity o's (or whatever the generic Fruit Loops are called) in a bowl with a SOLO cup, a tiny scoop, and two tiny wooden bowls, and I handed it to her.
She played. She filled a cup and used it to pour cereal into a tiny bowl. She scooped and smelled and tasted. (I know you aren't supposed to eat food in a sensory bin, but I like to make my own rules.)
In short, she loved it for a whole 5 minutes, which is 4 minutes longer than she enjoyed the last sensory bin.
She was definitely overstimulated before.
Feeling like I'd conquered the giant, I made a frugal sensory bin with three packages of Easter eggs from the dollar store.
Total cost = $3.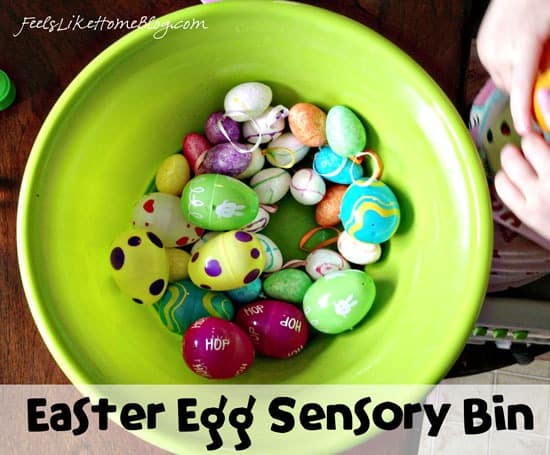 Pin
Materials
1 large bowl

2 packages of small styrofoam eggs
1 package of plastic Easter eggs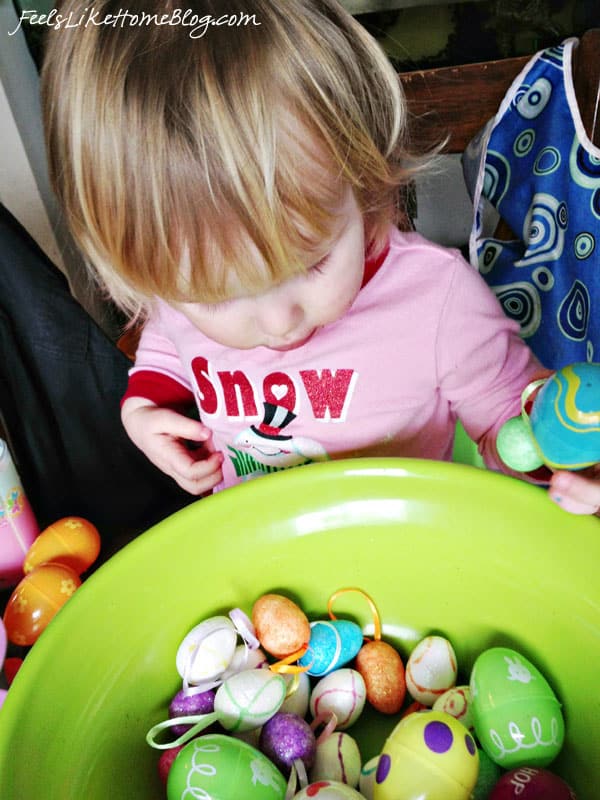 Pin
I thought Allie would really go for this one, since everything was approximately the same shape.
Not so much.
She played with the contents for about a minute before collecting all of the plastic Easter eggs and throwing them to the floor.
As my friend Allie suggested, as soon as my Allie threw things on the floor with intent, I took the whole bowl away. We'll try again another day, maybe without the plastic Easter eggs.