How to make a DIY dry erase activity book for toddlers and preschoolers - This unique learning book allows children to draw, color, and trace and is customizable for any age. Fun no sew ideas for kids. Could be used on road trips or at church. Great for 2 through 5 year olds and maybe older too. Lots of pictures. Awesome idea using cheap materials.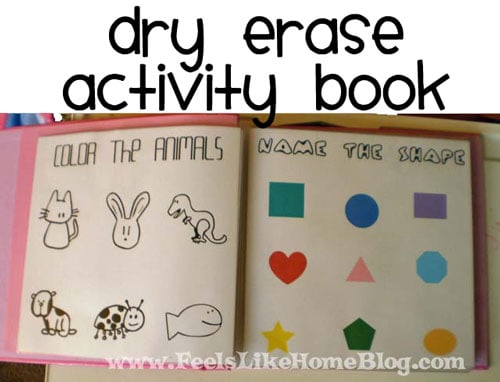 Grace is showing an interest in writing, so I've been looking for activities for her to do to that will help her to improve her fine motor skills.
A couple weeks ago, I found a dry erase activity book at Simple. Messy. Fun. that I thought Grace would like. I checked out her inspiration at Somewhat Simple, and I decided to make one. (Links removed because the sites have been taken down.)
How to Make a Dry Erase Activity Book
The first thing I did was to look for a photo album that would hold all of the pages. I didn't want to spend a ton, so I was happy to find an 8x8 Disney Princess album kit on clearance for $10.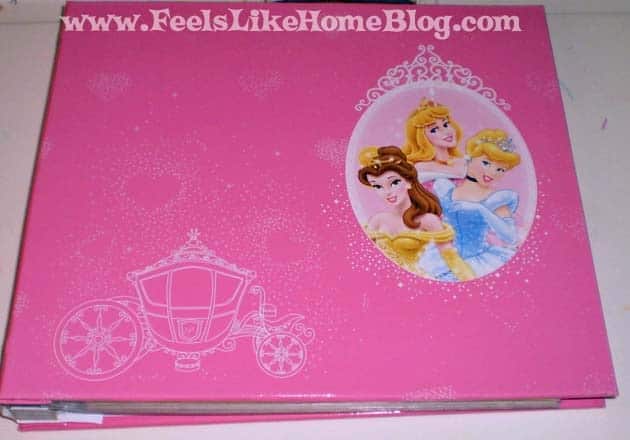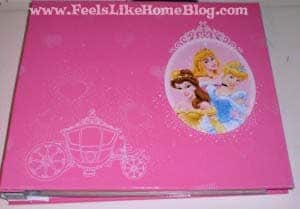 Alternately, you could buy a 3-ring binder and page protectors to put in it.
Dry Erase Activity Book Materials
To make one book, I gathered the following:
A Note About the Pages
I scoured the internet for printable preschool activities. I found great ones at the following sites:
Somewhat Simple - I printed many of the pages from the original book. Some, though, were too advanced for Grace and a few didn't print nicely. I left those out.
Somewhat Simple's Seasons Book - I liked these tree pages, and I thought Grace would like making them into trees based on different seasons.

Printables from 1+1+1=1 - I love Carisa's printables and have used them in a variety of situations with my kids. They are organized by theme (lots of characters that kids love!), and most are free to save.
Fisher Price Alphabet Coloring Pages - I didn't use these, but Simple.Messy.Fun suggested them. They're cute.
Handwriting Worksheets - I put Grace's name in, and printed out worksheets that she could trace in capital and lower case letters.

LefthandedChildren.org - Grace is a leftie; Joe and I aren't. I thought some left-handed specific writing worksheets would be helpful.

Putting Together the Activity Book
This is a ridiculously easy project. Really.
The hardest part was finding worksheets that I thought would be challenging enough for Grace to learn something, but not so hard as to frustrate her. I wanted things that she'd eventually be able to do for herself, and things that she wouldn't get bored with after the first time she did them.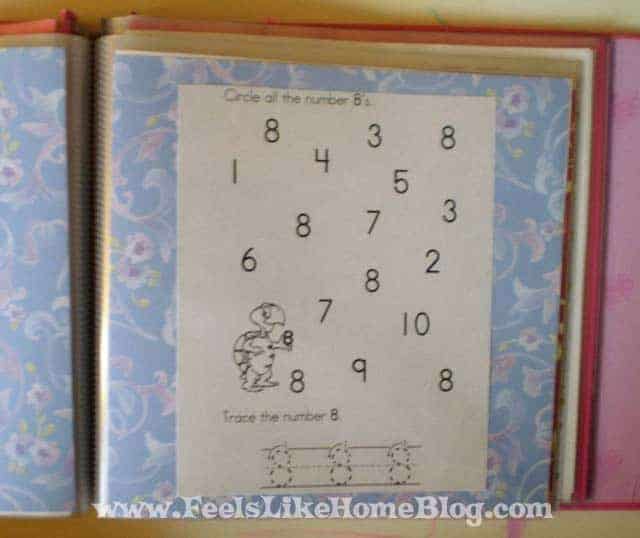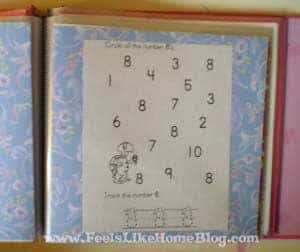 When you find a worksheet that you like, print it out.
Because my album was 8x8, I had to print all of the pages scaled down 80% so that they would fit on the page.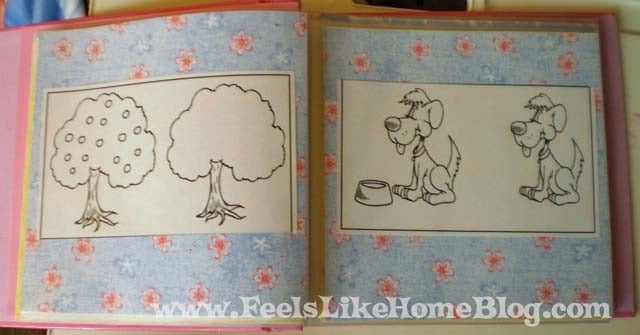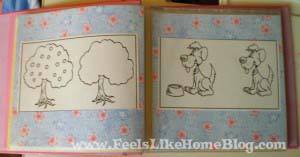 Trim the edges of the page so that the worksheet will fit in the page protector.
If the page is smaller than the page protector, use double-sided tape to stick it to scrapbook paper.
When you have enough pages printed, put them in some kind of order.
I chose to put the alphabet activities together, the number activities together, and the coloring activities together. You may chose to have no order at all, but you should make that decision.
Give it to your preschooler. That's it.
To Use the Dry Erase Activity Book
I bought a package of different colored dry erase markers for Grace. They erase nicely - when they're fresh.
If she draws in the book and leaves it for a day or two, it dries and becomes next to impossible to wipe away without window cleaner. Rather than spritzing the book with Windex, I use Glass Wipes to wipe away the dry erase markers.
I hope your kids like their book as much as Grace likes hers!