Two mothers stopped me in separate incidents today to tell me how much they miss the stage of toddlerhood that Allie's in right now.
"Oh, she's so adorable!" one gushed. "I miss that!"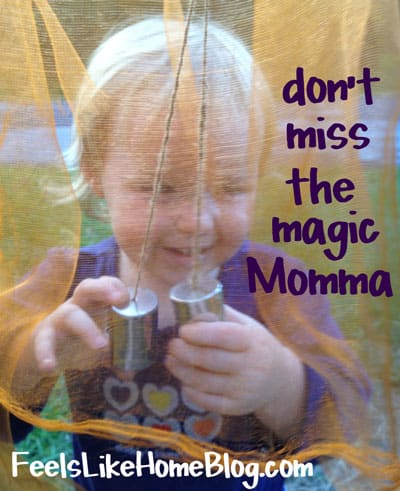 Pin
The other, tickling Allie's ample tummy, cooed at her, "I loved when my kids were this size. They're magical!"
Allie greeted her tickles with rowdy giggles.
I responded with a frazzled sigh. It's easier to love this stage when you're not in the midst of it.
This stage is exhausting. I chase people all day long. I change diapers and pick up messes and entertain. I fall asleep before a respectable hour.
I'm weary.
Allie's feet never stop moving. She runs from attractive nuisance to attractive nuisance. She destroys and endangers.
Allie rolls in the dirt in parking lots. She disassembles waiting rooms. She says butt when she goes to the bathroom.
She's learning and tinkering and trying really hard to fit in to a world that often makes no sense to her.
All I can do is keep up and try to keep her out of harm's way.
After she'd had her fill of tickling, Allie jumped up and out of my friend's reach. She came over to me, grabbed my neck with both hands, and squeezed.
Lub oo, Mummy, she said.
"She just said, 'I love you,'" Shelly marveled. I was skeptical; I'd heard only babbling.
And then, in a moment of divine radiance, she said it again. Lub oo, Mummy. and she kissed me on the lips.
My heart jumped and tears blurred the world.
My weariness melted away, replaced with elation and a swell of enormous indescribable feelings for my little person. I hugged and kissed her back.
There is something magical in this age, and I almost missed it.
When did your toddlers first say I love you? Share in the comments.