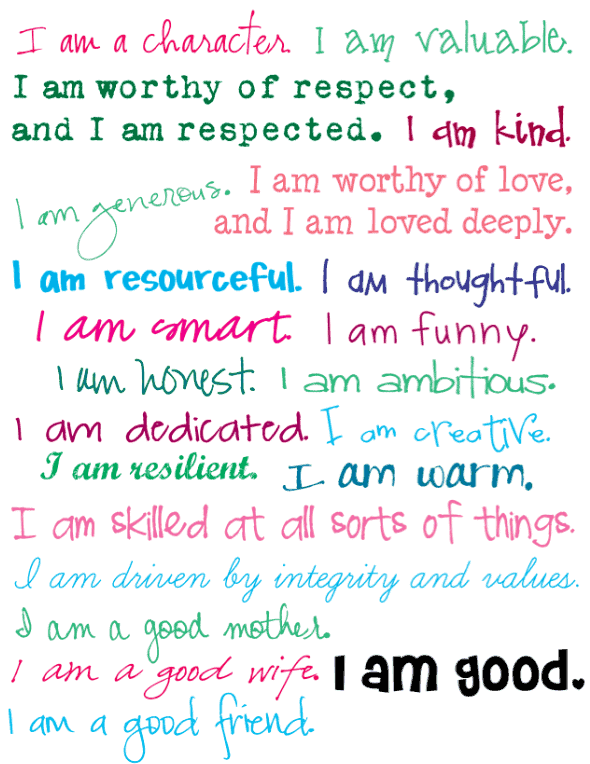 Yesterday, my friend, Cindy, left a comment on my blog. Though we disagreed in the particulars, her comment made me see that I was making the situation into more than it should have been. I was making it about me, and it was not about me at all.
Immediately, I jumped into self-bashing mode. Why do I always do that?, I berated.
Lousy feelings abounded. They weren't insults necessarily, but the feelings that insults produce your heart. They are the feelings that follow years of bullying, being voted most annoying by classmates, of insecurity, of not being enough.
You know the feelings.
I felt like I'd been self-centered. I felt beaten, foolish, boring, worthless, neurotic, inconsiderate, and fat, ugly, and lazy just piled on (because they always do).
Why is the bad stuff so easy to believe?
Cindy stopped by to leave another comment, just a few minutes later. Those words lifted my heart.
Cindy's words touched me, not because they were true (though they are) but because I never thought of them before.
Not ever.
I'm completely serious.
Among other things, Cindy wrote:
Please don't be so hard on yourself, Tara. You don't deserve it.
And it was only then that I realized I don't deserve it.
I'm much easier on my kids, on my husband, on everyone else in the whole wide world, than I am on myself. I'd give anyone the benefit of doubt, but I can't give myself the same courtesy.
I wish I could say that I've changed myself today, that things will be different going forward. I'm the same old me.
I created a printable out of Cindy's words, some words that friends shared on Facebook, and some other words that I wanted to add in my self-love fest.
I am kind.

I am thoughtful.

I am smart.

I am valuable.

I am resourceful.

I am ambitious.

I am dedicated.

I am creative.

I am funny.

I am honest.

I am generous.

I am warm.

I am resilient.

I am driven by integrity and values.

I am skilled at all sorts of things.

I am a character.

I am worthy of love, and I am loved deeply.

I am worthy of respect, and I am respected.

I am a good mother.

I am a good wife.

I am a good friend.

I am good.
I hope you'll grab my printable. I hope you'll print it and frame it and hang it somewhere that you'll see it each and every day.
I hope you'll print and frame it and give it to someone else.
She needs it, too.
A few years after I made this pretty printable, I made 40 beautiful graphics with 40 powerful positive affirmations on them. Check them out here.