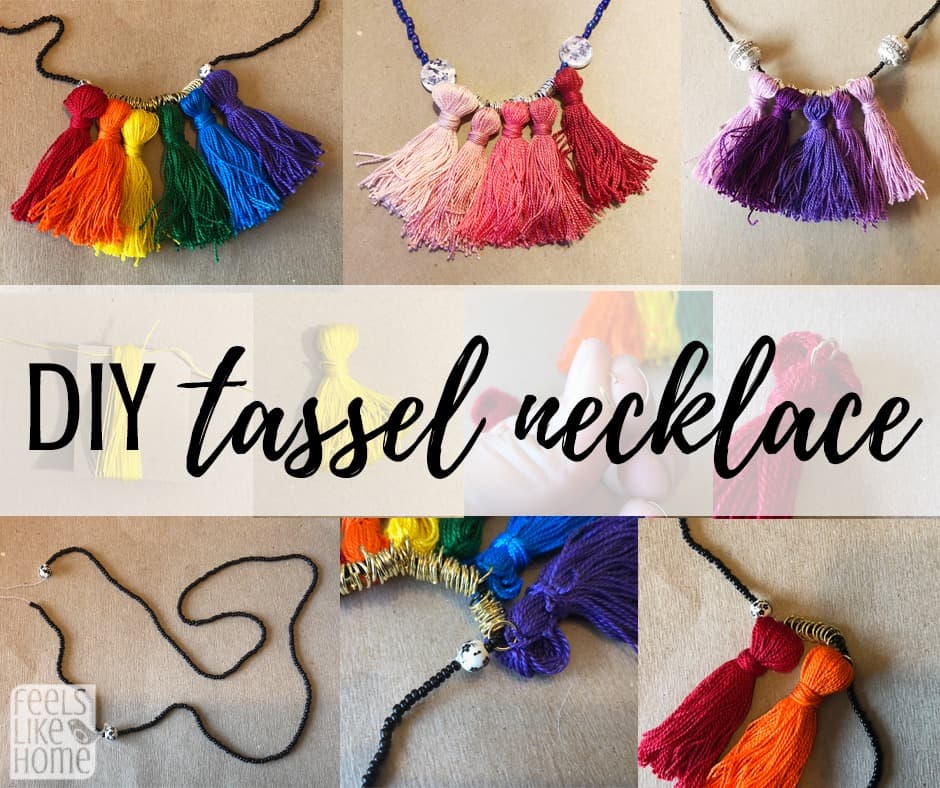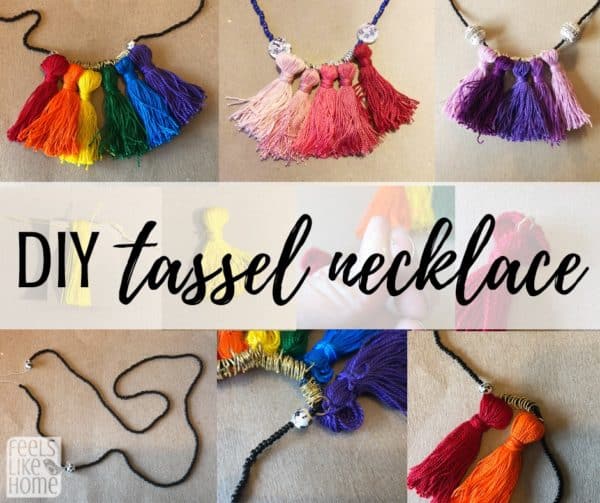 Pin
I love bright colors. All colors. Well, maybe all colors except yellow. Yellow is not my favorite.
Tassels have been the in thing in jewelry for quite a number of years now, and I have a few different pieces of jewelry with tassels on them, but I saw a colorful tassel necklace at a store recently and was inspired to make my own.
I thought these necklaces came out so well that I made six of them - three for me, two for Grace (who's 10), and one for Allie (who's 7).
I love how easy these necklaces are to put together, and I love how cheap they are to make. Embroidery thread costs between 30¢ and $2 depending on the thickness of the thread and where you buy it. I paid $1.69 for my large hanks, and I got 2 tassels from each one with some thread left over. I think a regular-sized hank of thread would probably only make 1 tassel. Each necklace takes 3-6 tassels.
So there you go, you will need 3-6 hanks of embroidery thread for each necklace.
DIY Rainbow Tassel Necklaces Materials
Embroidery thread (This pack is great because it contains 35 different colors - lots of similar hues for an ombre look and contrasting colors for a rainbow! Note: These are NOT the big hanks I used that gave me 2+ tassels per hank. I think you would only get 1 tassel per hank in this pack.)
Scrap of cardboard approximately 2"x3"
Pen or pencil
Seed beads in a matching or complementary color (I had intended to use seed beads but went to Joann Fabrics to get my beads, and I found some beads that were slightly larger than seed beads there, and I loved them. So I went ahead with those. Some of them are about twice the size of seed beads and some are even a little bigger than that yet. They all worked just fine.)
Accent beads (There are about 50,000 different ones on Amazon. Get anything except plastic pony beads because those would look very juvenile.)
Beading thread - This is my favorite favorite beading thread. It's cotton, I think, which makes it easy to tie, but it is thermal bonded which makes it extra strong.
How to Make DIY Rainbow Tassel Necklaces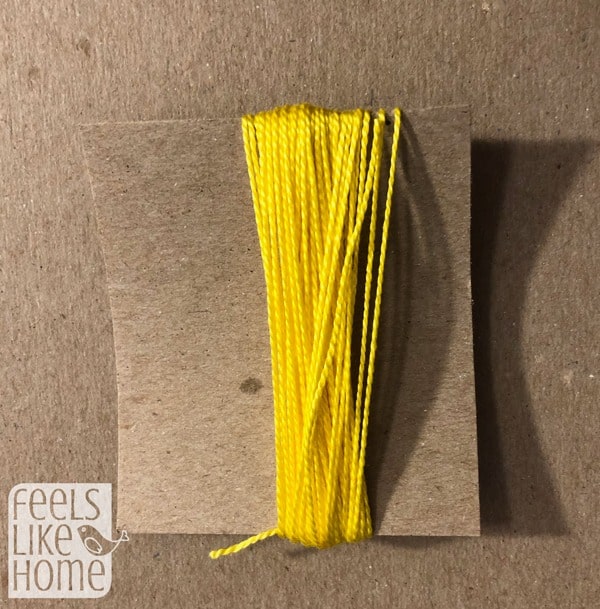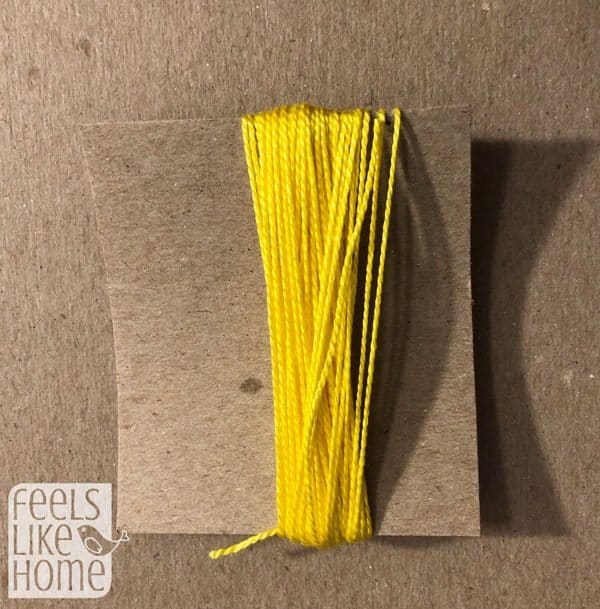 Pin
First you have to make your tassels. Start with a scrap of cardboard that's about 2" by 3". Wrap embroidery thread around it 50 times, or until it is the thickness you like.

Next, cut a small length of thread, about 6" and use that to tie the top of the thread wrapping, as tightly as possible. I don't do very well with this step and always wish I had gotten my tassel tied a little tighter.

Next, slide the string off the cardboard and onto a pen or pencil. Cut a longer piece of string, approximately 12".

Tie this string around the tassel just under the pen, forming the head of the tassel. I like mine to be on the smaller side, so I actually stopped using the pen about halfway through.

Next, wrap the ends of the string firmly around the tassel, securing your knot and making a nice, wide middle.

Using a darning needle (because they are big and blunt on the end), wrap the end of the string under where you just wrapped it from the top of the tassel to the bottom. Somehow, I didn't get a photo of this, but it should make sense when you're actually doing it.

Open a jump ring. If you've not had much experience making jewelry, let me explain jump rings to you. There are two ways to open them, the right way and the wrong way.
The right way is to twist the jump ring so that the two ends separate as in the photo above. You can attach them to whatever you're attaching them to, and then simply twist the ring again to put the two ends back together.
The wrong way is to pry the ring apart, distorting its shape. When you do this, it is virtually impossible to get it round again, and in this project, that could mess up the final necklace by making the tassels get stuck on the seed beads.
Attach the opened jump ring to the tie near the top of your tassels. You should have one jump ring per tassel.

Cut a length of beading thread that's about twice as long as you think it should be. You can always trim off the excess, but if you cut it too short, you will have to restring the entire thing, and that is a royal pain in the neck. String your seed beads almost as long as you want the finished necklace to be. When you get to the right length, add one of your accent beads, and then add another 40 or so seed beads.

Add the first tassel and slide it overtop of the seed beads, right up against the accent bead. Add 10 more empty jump rings and then the next tassel. Repeat this pattern until you add the last tassel. (Don't add any empty jump rings after the last tassel.)

Add the second accent bead and tie 3 or 4 secure knots in the thread, pulling tightly so that there is no leftover string between the seed beads and the last accent bead. Trim the ends of the string close to the knot and then work the thread a bit so that the knot is pulled into the accent bead and hidden from sight.
That's it! Enjoy your pretty necklace!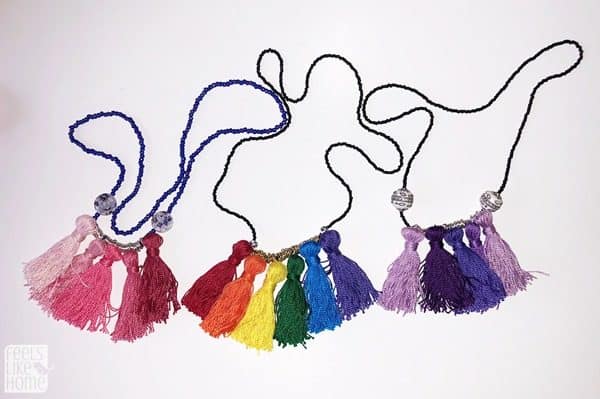 Pin
I have made a variety of these now with big and small accent beads, and I think every one is gorgeous. I can't wait to wear them all!
This was my initial design, but I sort of think now that it's a little too bright: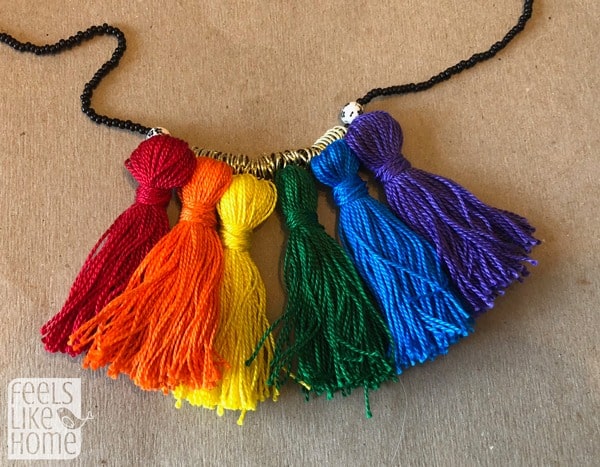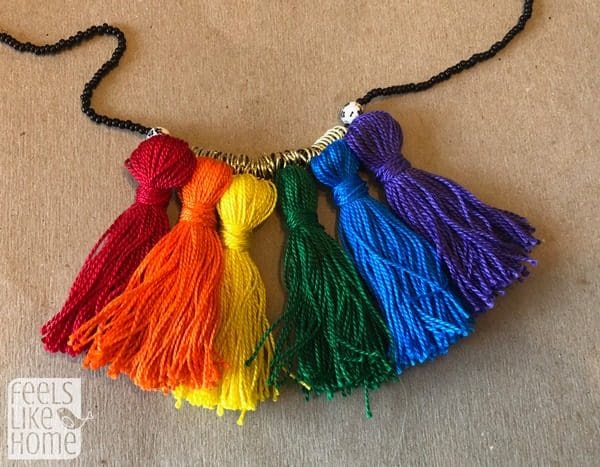 Pin
This was my second go 'round. I was thinking it had a more understated ombre look: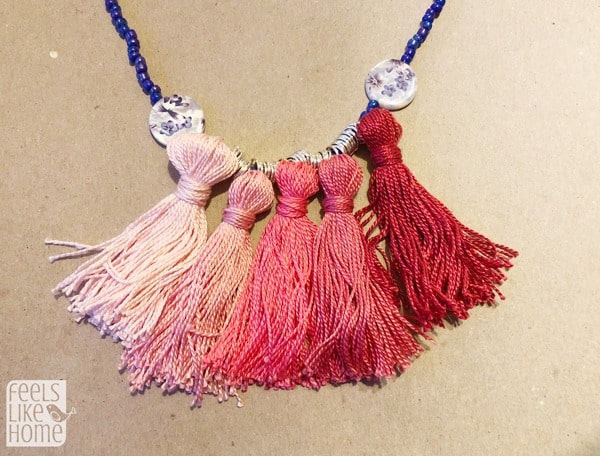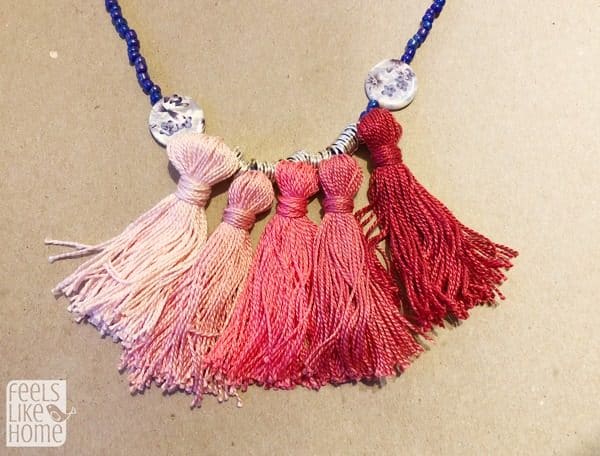 Pin
Grace picked out everything for this one on her own. I wouldn't have picked black beads (I had a pretty iridescent blue), but that's what she wanted.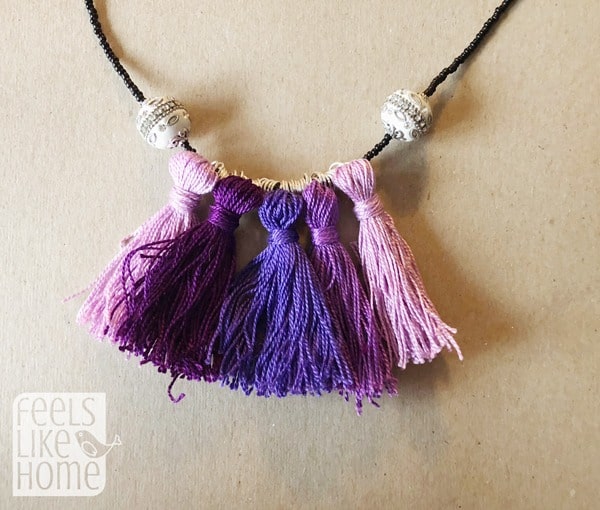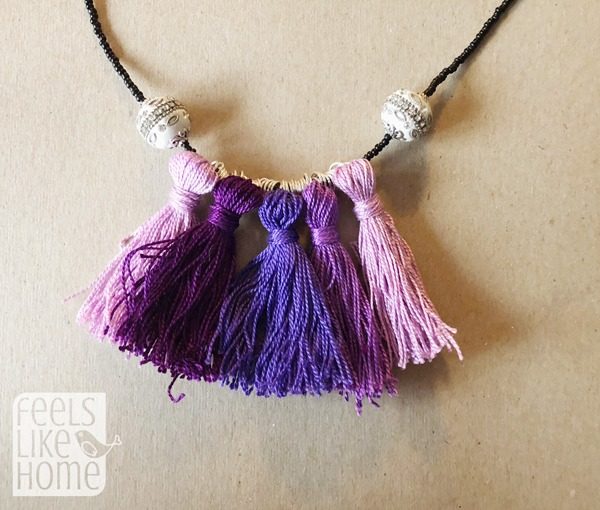 Pin
And here she is wearing it. She was so excited!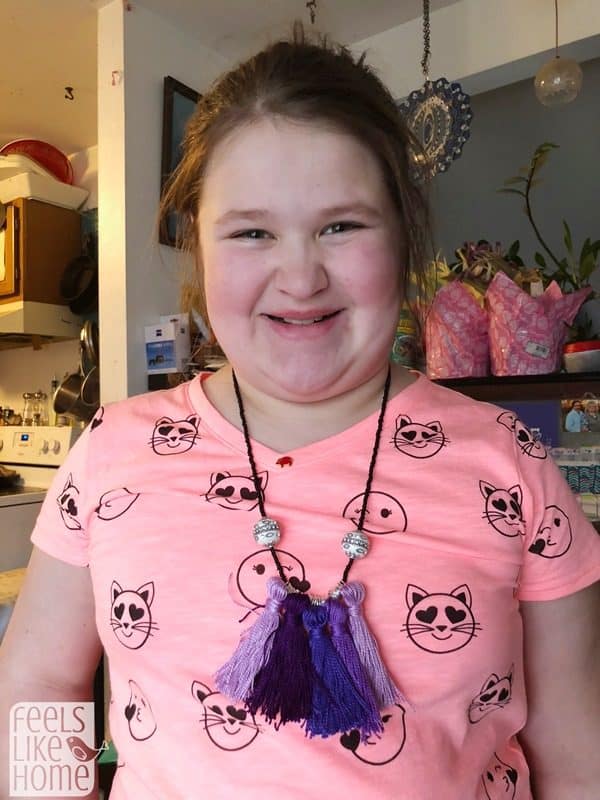 Pin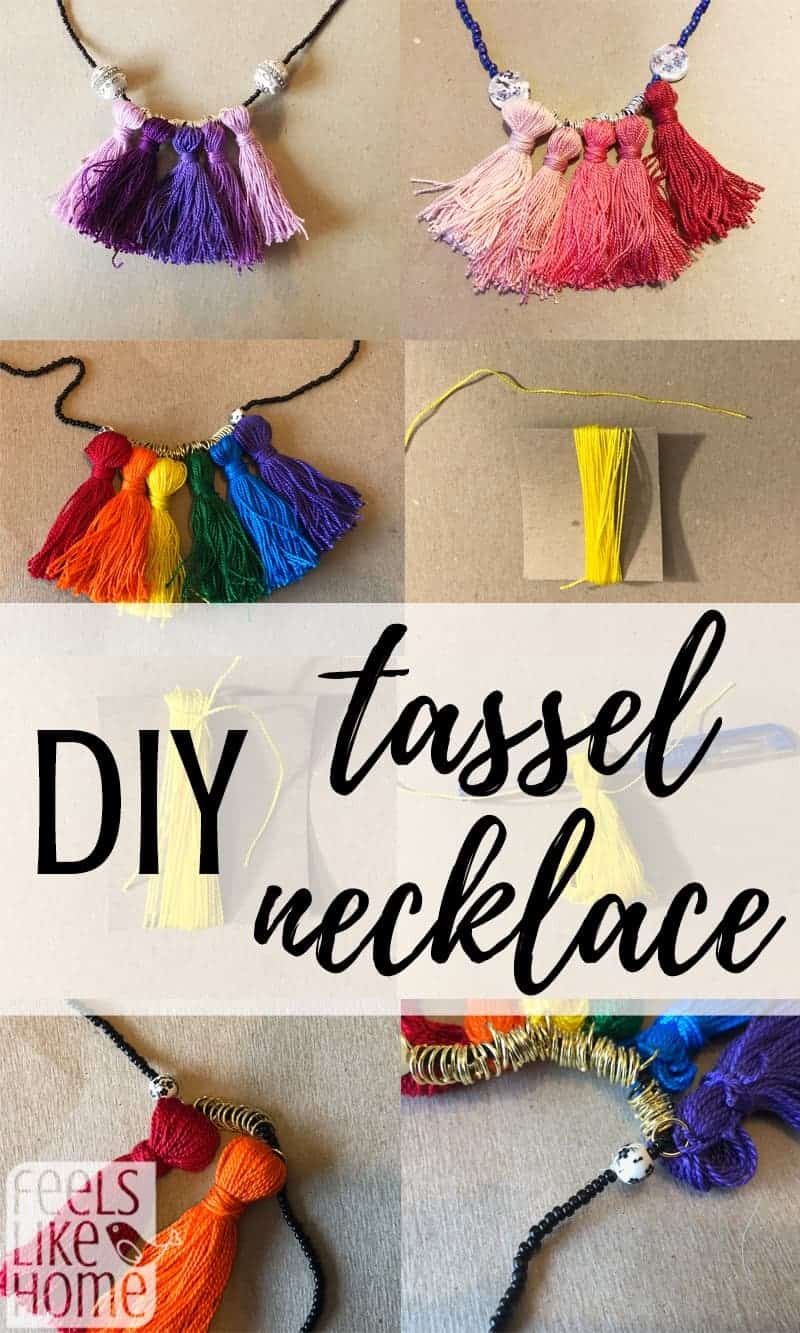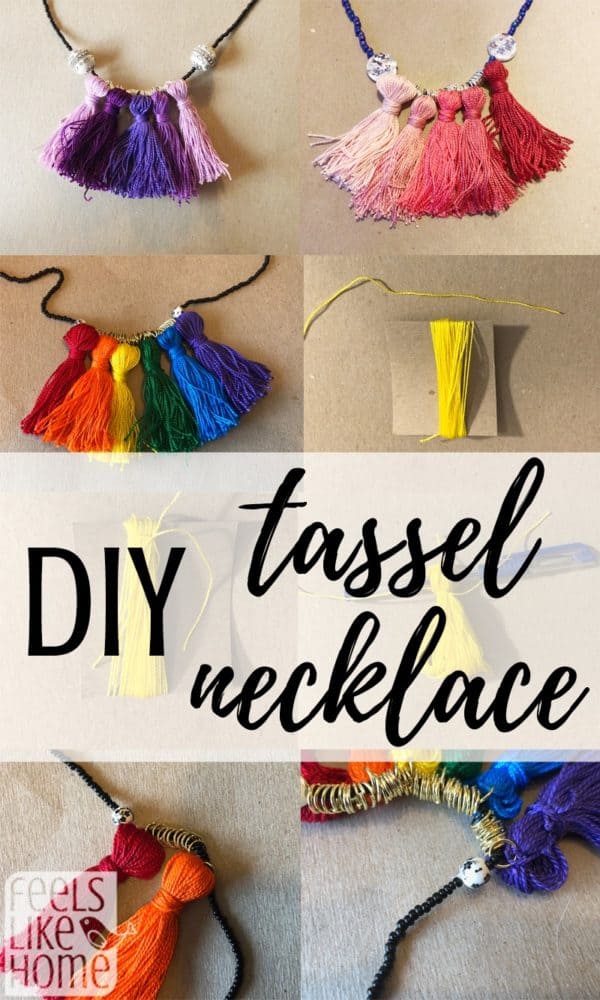 Pin