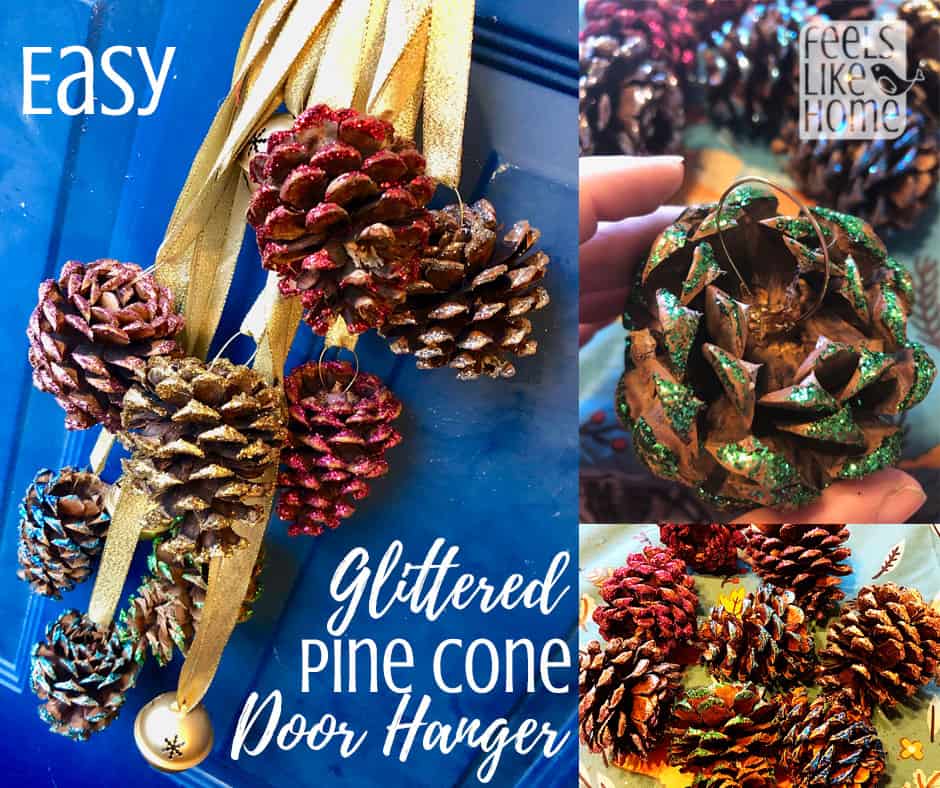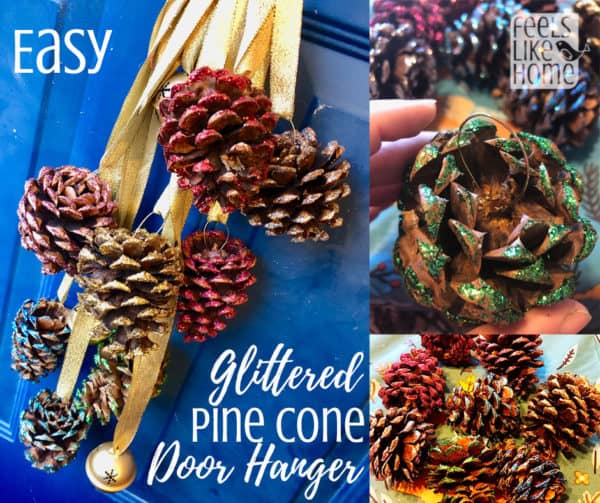 Pin
Of all the cool and cute and interesting DIY pine cone projects I am posting today, I think this one was my favorite. Like my children, I love glitter and sparkles and, of course, jingle bells.
After my door hanger was all done and photographed, I realized that it would probably be cuter if I wrapped the top ring with ribbon. But then, Joe came home with a pretty live evergreen wreath, and we hung that on top of the ring and the bare ring didn't matter anyway. Just keep that in mind if you're going to use your door hanger as a standalone craft - you may want to take a pretty ribbon and wrap it the whole way around, hot glueing at the beginning and end. Then put that glue-covered seam under the ribbons that are holding the pine cones and jingle bells, and no one will ever see.
CraftProjectIdeas.com provided some of the materials for this project.
DIY Glittered Pine Cone Door Hanger Craft
Materials
Pine cones - I wish I had a source for pine cones, but the only thing I could think of was to harvest them from the local state park, and I'm pretty sure that's illegal, so I bought them by the bag at Michael's. Each bag was $3 and they smell like spicy cinnamon which I love.
Screw eyes or craft wire and hot glue - I did this project before I bought a package of 1-inch screw eyes, so I improvised with craft wire and hot glue. That worked okay, although one of the loops came off and had to be reglued the next day. I think the screw eyes would be a lot more reliable, but the craft wire worked just fine and is still in place a couple weeks later.
Glitter in several different colors - I used 8 colors; you only need a little of each.
Craft glue - For adhering the glitter
Pretty ribbon - You will need more than a single roll. I used 1-½.
4 or 5-inch craft ring - The size doesn't matter all that much.
Instructions
First, select the pine cones you will use. I chose eight that were all roughly similar in size, but you could vary the sizes if that appeals to you.
Next, glitter the pine cones. I just ran some glue along the tops and outsides of the little pine cone scales and sprinkled the cone with glitter while the glue was still wet. I worked on one pine cone at a time, collecting the excess glitter on a piece of computer paper and dumping it back into the jar so as not to waste. Here are the glitters that I used: red, hot pink, pale pink, silver, gold, royal blue, teal, and green.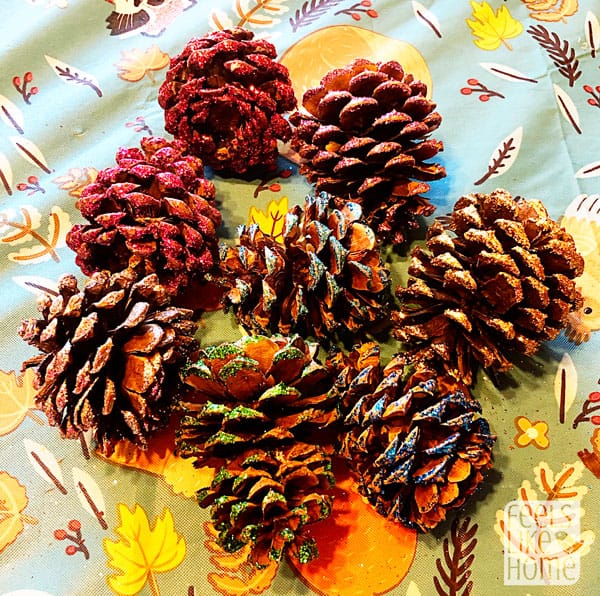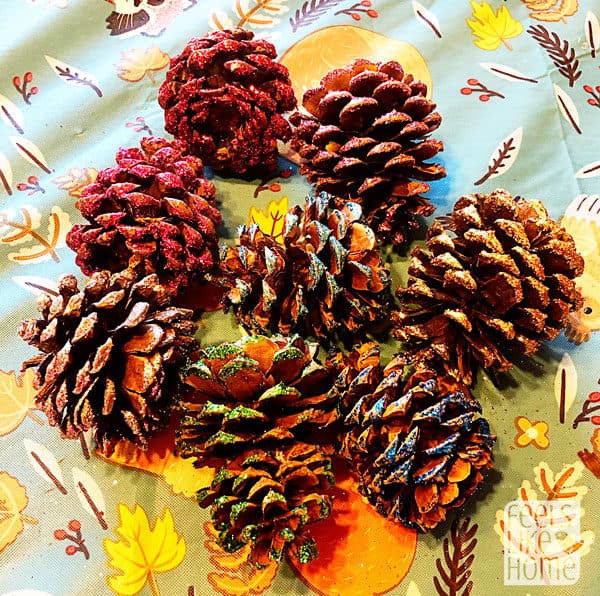 Pin
3. Next you will attach the loops to hang the pine cones. As I said above, I completed this project before I had screw eyes, so I used a loop of craft wire and hot glued it in place. This worked well enough, and it made a large loop that the 1-inch ribbon easily threaded through.
I still think screw eyes would be a better option because they are more secure, but the ribbon would not thread through as easily and would get a little pinched, unless you opted for finer ribbon or a thin cording, both of which would be nice options.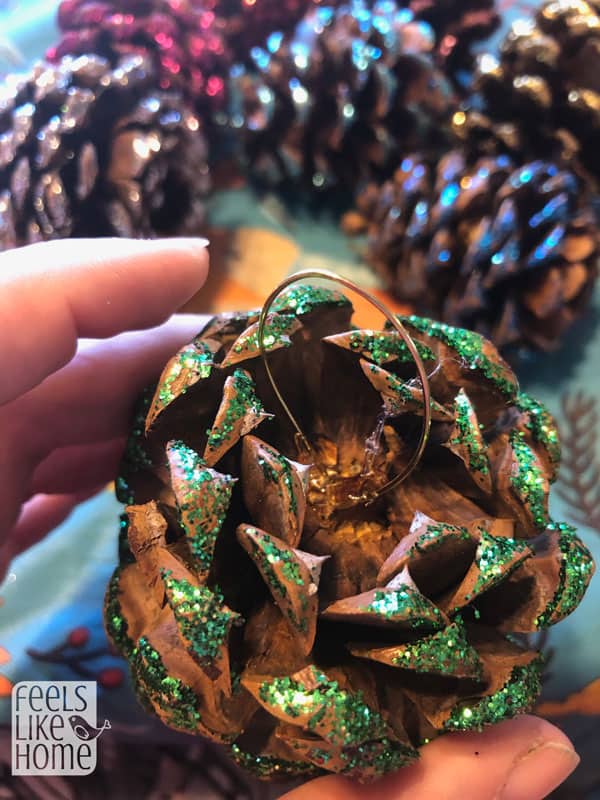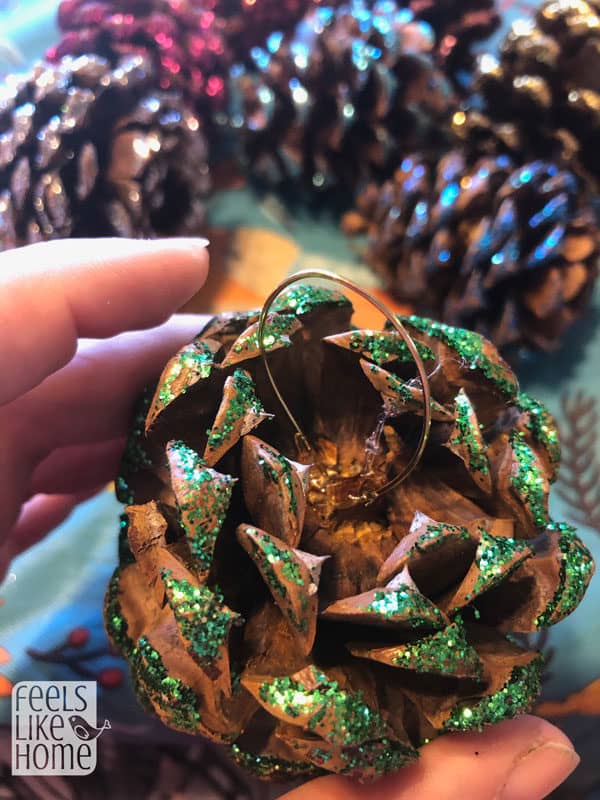 Pin
4. Once the loops are all set, thread a length of ribbon through each wire loop and through the central ring, either hot gluing or tying the ends to make one large loop of ribbon.
Pay attention to the lengths of the ribbons as you neither want all the pine cones to hang at exactly the same level, nor the pine cones to be helter-skelter all over the place. I have three pine cones hanging in the middle, and it bugs me. I wish I had adjusted one slightly so that it hung either above or below the other two.
At this point, I held up my creation, and my sister said, "That needs some big jingle bells," and I agreed with her that it was missing something and that some jingle bells might be just the trick.
They were. I love how they look and sound when the whole mass of ribbon and pine cones and bells rattles against my front door.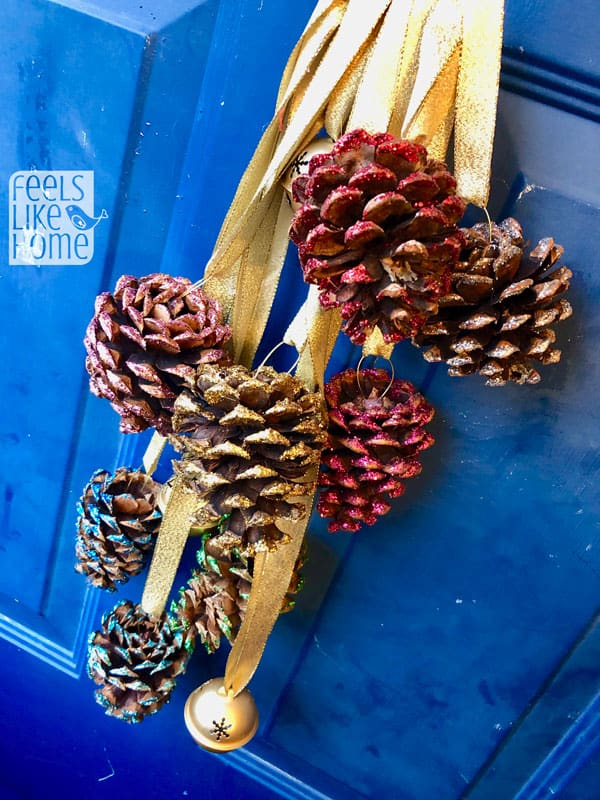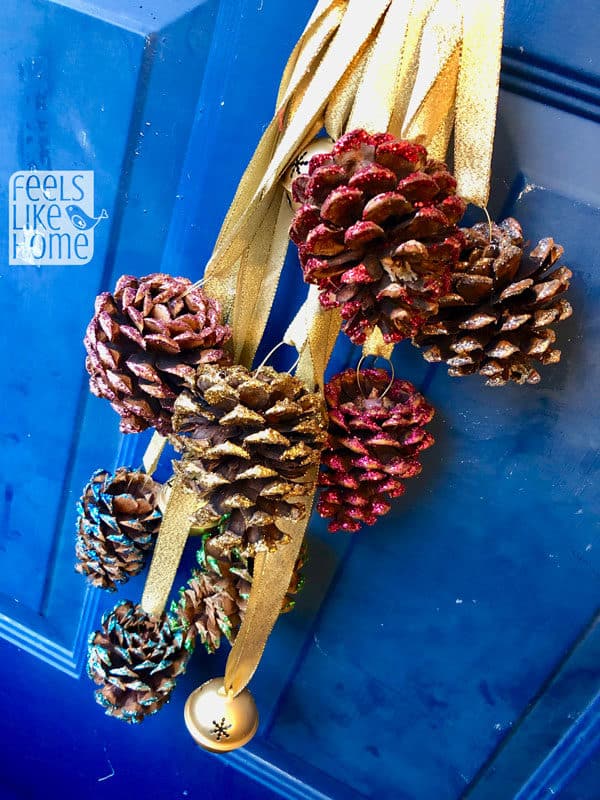 Pin
This project is so customizable; you could certainly use more or fewer pine cones, more or fewer jingle bells, different colors of ribbons, and different colors of glitter. You could make your door hanger monochromatic by using all different shades of blue with silver bells and ribbon or make it festive by using all bright reds and greens. Your only limit is your imagination and creative spark.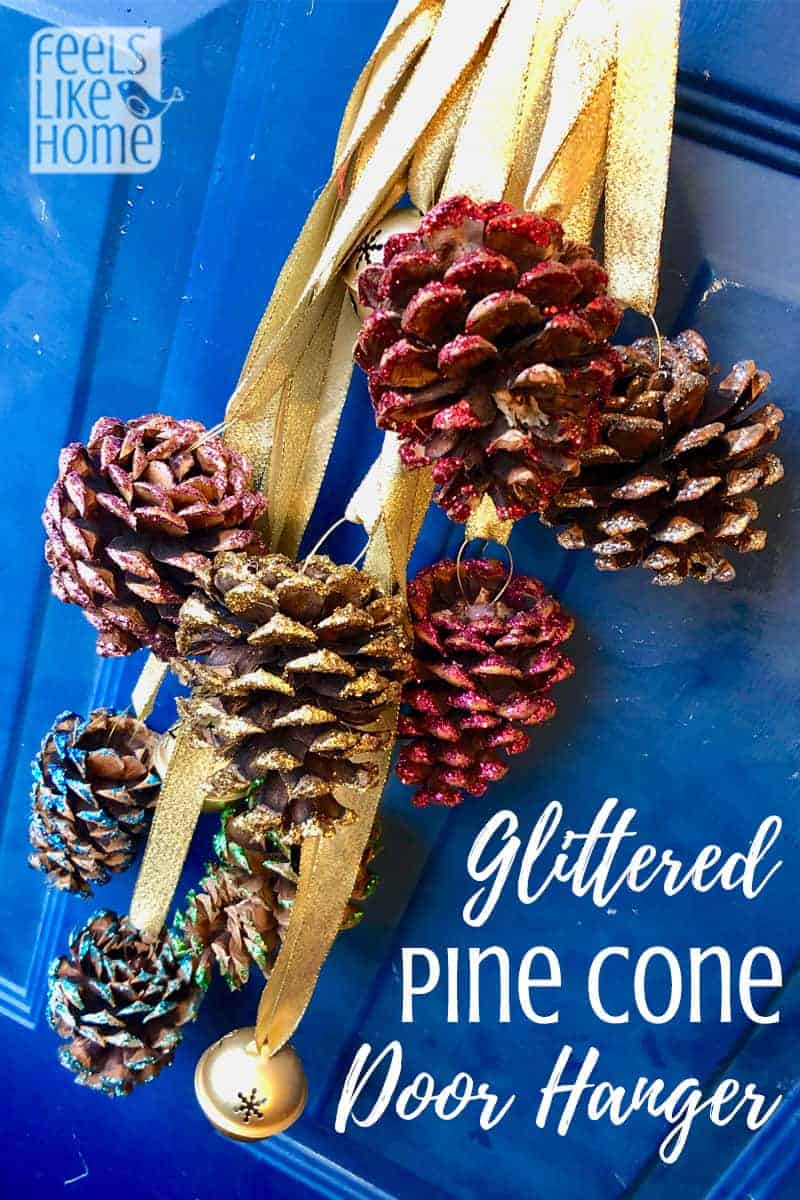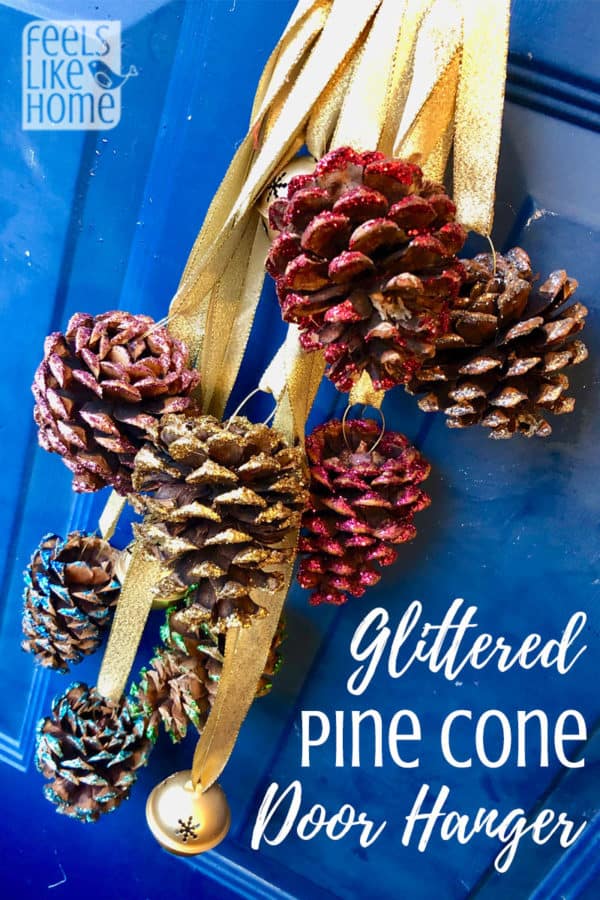 Pin